Sometimes the hero crashes through the front door. Sometimes the thief slips in the back. Both can be champions. Manchester United slipped through Wembley's back door in the EFL Cup final, stealing a three-two victory from a Southampton side only a fool would deny were better on the day. José Mourinho is many things but not a fool. Speaking to Sky Sports on the pitch after the trophy presentation, Mourinho admitted, "Southampton do not deserve to lose in ninety minutes; we should be playing extra time."
Only the linesman, who confused Manolo Gabbiadini with a teammate, considered the Saints new £14 million striker offside on eleven minutes. Only the linesman could not benefit from video review. Condemn the game's governors for that, however, not its officials. Without argument, So'ton should have been up one-nil.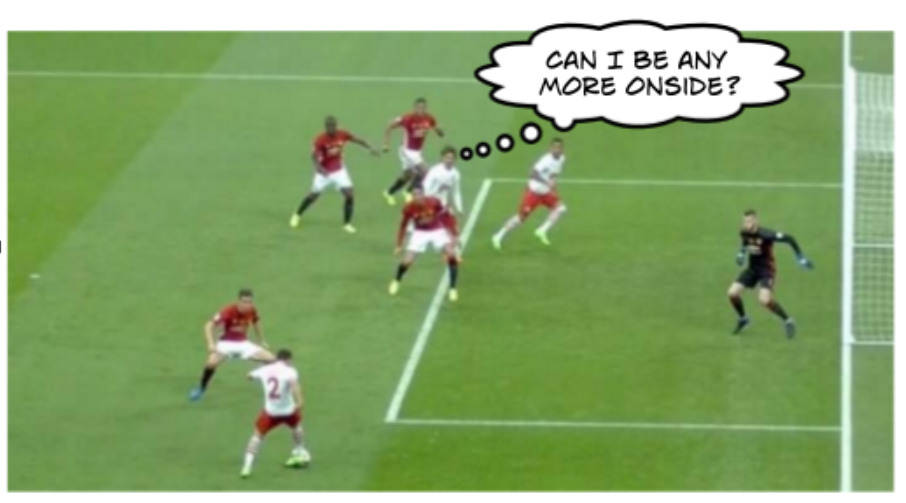 Those who claim the match would have unfolded differently had the correct call been made have statistical probability on their side but in what manner the worm would have turned is not for them to say. United's recent run has revealed a new resolve within the squad. They've overturned early deficits in one or two matches. It's doubtful United cave and Southampton certainly did not let up after being unfairly denied. So, with little difference in either team's attitude, perhaps United still scores a brace. Then, having not been gifted a break, perhaps Mourinho's squad don't sit on their lead as they did on either side of the interval. Maybe they push harder, find more. Maybe Mourinho makes changes sooner. Maybe Jack Stephens is (undeservedly) sent off by Andre Marriner seven minutes after the goal rather than being shown yellow. No one in this plane of existence can say and the reality one inhabits is the only one which matters. So, let's stick with it.
That includes you, Martin Tyler. As Wayne Rooney was presented with and lifted the League Cup, the Sky Sports announcer hailed his side's resurrection, announcing, "Manchester United are back to their winning ways." While it's Tyler's job to present a compelling story, inferring this United squad is on par with any among Sir Alex Ferguson's many champions is premature at best, hyperbole at worst. Southampton's play exposed two realities Mourinho must alter in the near future for United to rise to their former greatness. They must learn to deal with speed on the flanks and to defend crosses into the box with far greater authority.
Those are the weaknesses Claude Puel's well-prepared side exploited throughout the match. Nathan Redmond and James Ward-Prowse sent ball after ball into the United box. Although Gabbiadini was the more opportunistic, both he and Dušan Tadić caused Chris Smalling and Marcos Rojo fits throughout the contest. Gary Neville, who knows a thing or two about coping with pacy wingers, offered a more realistic assessment than his colleague. "Southampton have performed brilliantly well throughout. United have won in moments."
United did indeed win in moments. Southampton may have felt hard done by after Gabbiadini was at first denied but it didn't occur with them behind in added time. They had seventy-nine minutes to set matters straight. On the whole, that is exactly what the Saints did. Yet, matches are typically decided by small differences rather than glaring errors. No official was to blame when Oriol Romeu, an experienced defensive midfielder even at twenty-five, committed a foul just outside his own eighteen-yard box. No one can blame the linesman because the shortest player in the So'ton wall, Steven Davis, even more experienced at thirty-two, barely jumped as Zlatan Ibrahimović kicked the ball just over his head. Nor can they blame him when the tallest player on the pitch, Saints' 'keeper Fraser Forster at 6' 7″, failed to stretch out in time to reach a ball well inside the post.
GOAAAAL! @Ibra_official just smashes in the free-kick and puts @ManUtd in the lead! #beINEFLCup https://t.co/O6oAF9jzxQ

— beIN SPORTS USA (@beINSPORTSUSA) February 26, 2017
Finally, Southampton's center halves can't blame anyone for leaving Jesse Lingard and Ibra completely unmarked in the box for United's second and third strikes. LIke Henrikh Mkhitaryan for United, defender Virgil van Dijk was injured. Even so, Puel remained confident his defense could "shackle" Ibra, though. He was wrong. The Saints may have bossed the match virtually from start to finish but you need only look the other way for an instant for a thief to steal all that's precious to you. The Frenchman's defense lost their focus three times and paid the price. As thieves, United were not the better team; they were the winning team.
39 min – Lingard's goal.#EFLCupFinal #ManchesterUnited #Southampton #MUNSOU @EFLCup @ManUtd @SouthamptonFC pic.twitter.com/apoaJUiI8M

— Goals. (@whimsygoals) February 26, 2017
In the aftermath, while United players leaped for joy. Paul Pogba and Ibra were interviewed together, as they often are after matches. Asked his thoughts on the Swede's heroics, the younger Frenchman answered, "It's why you bought him."
Zlatan being Zlatan, he immediately took exception to the remark. "Bought me?" he countered indignantly. "I came for free. What about you?"
The moment allowed for levity but the €105 million question is exactly the one Pogba will have to answer throughout his career. One can only hope he is learning from the senior man a true champion isn't defined by money.
Mourinho stood in the background, an almost sad look on his face. When the Sky reporter later asked the United boss why he appeared so emotional, he replied, "It's not easy to win championships, to win trophies several times, especially with the pressure I put myself under." Only the man himself knows his remark's true context. Did he mean the challenges he has set himself in terms of  clubs he has managed? Or was he expressing relief at coming back from the brink after the carnage his self-destructive impulses wrought last season at Stamford Bridge? Whichever, there is no denying the victory represents a small measure of redemption. That it came after his squad almost self-destructed themselves rendered the moment all the more powerful.
Crediting his players with the victory, he remained detached throughout the celebration, only accepting the trophy from a jubilant Paul Pogba after the entire squad had touched it. Even then, he did not smile, instead holding it aloft with one hand, solemnly waving to Untied supporters with the other. It is still February, not June. United are sixth in the table, have Rostov in the Europa League and Chelsea to face in the FA Cup, where they will not survive on the back of a similar performance to this one. There remains work to do.