Zlatan Ibrahimovic has already started to etch his name into the pantheon of great Manchester United strikers. There were initial doubts whether the then 34 year old could handle the rigours of the cut and thrust Premier League, after years of dominating a sub-par Ligue 1.
Cynics and naysayers were determined to stick to the guns that were long held, evidently erroneously, against the Swede. 'He talks a good game but Zlatan never does it against English teams and he's over-rated'. The four goals he scored against their international side seemed to have been attributed to a fluke and a one-off.  An enigma, a walking ego, Zlatan has been branded a lot of things in his time. It's all water off a duck's back to him. One thing for sure is he is a born goal scorer.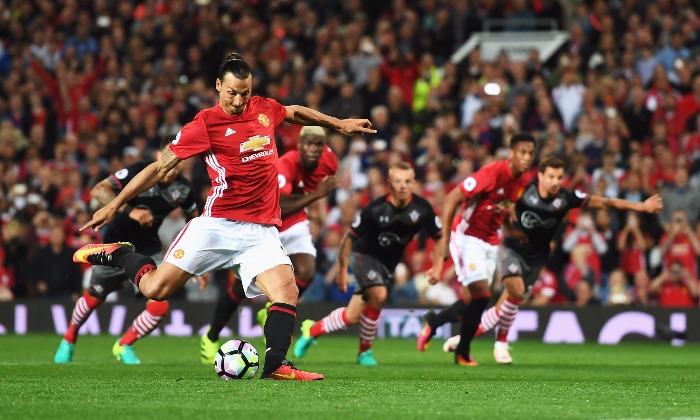 Seldom bereft of confidence, Ibra likened himself to Indiana Jones following his hat-trick against Saint-Etienne last week. This was based on his ability to win and always get the job done. Opposition defenders can relate to that link, with many of them dreading entering Zlatan's Temple of Doom this season. The Swede has clocked better than a goal a game at Old Trafford, the arena he was almost destined to thrive in.
It goes without saying at 6 foot 5 that Ibra has a presence and that is the vital ingredient he has given United that they were so desperately missing in previous years. True to the song that endears him to the United faithful, he is hard as f***. This willingness to put himself about was demonstrated in his first major game where he out-muscled the defenders of the reigning champions to net the winner.  He does tend to have his clumsy moments due to his gangly frame and memorable instances this season involve buffeting into Seamus Coleman and Craig Dawson of Everton and West Brom respectively. Defenders know they have been in a game, that's for sure.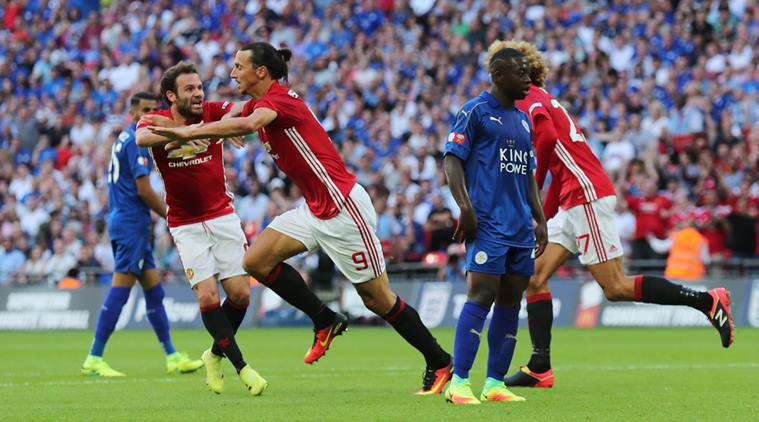 Not since Robin Van Persie wrote himself into United folklore with his 2012-13 title winning heroics have United had a striker who guarantees 20 plus goals. It was an obvious link to make in explaining United's fall from the very top. Those numbers invariably lead to success, emphasised with United the only English side to still be fighting on four fronts.
Anywhere Ibra has gone, he has tasted silverware: Amsterdam, both Milan clubs, Turin and Paris. In truth, he was the driving force at the San Siro and Parc des Princes in bringing home trophies. In a way, coming to United at this stage of his career was a ballsy decision. Many thought conquering Ligue 1, hardly the steepest tasks of late, was the start of writing his footballing obituary. He had offers from America and China but Ibra's ego, always relishing a challenge, told him to come to England and prove the doubters wrong.
So many were banking on him to fail in England, hoping Father Time would creep up on even the mightiest. It is testament to his dedication to his profession that at the grand age of 35 he hardly ever misses a minute and is one of the first names on the team-sheet. That speaks volumes when you see the start of Wayne Rooney's end at the more tender age of 31. Condition and attitude are as important as performance to Ibra, therefore you would not be surprised if he has the capacity to extend his time at the highest level for years to come. A swansong does not appear to be on the near horizon.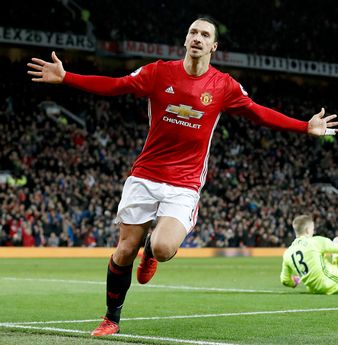 United are in a position of strength with regards to the Swede's contractual situation. They have the tantalising option of extending his stay by an extra year. His agent, Mino Raiola, is renowned for driving a hard bargain but it is hard to envisage Ibra willingly looking for pastures new, not when United are clearly building something.
The incentive for Ibrahimovic to build on this year's foundations and have one last crack at winning the league in every league he has played in surely will be too tempting to spurn. United are combining exciting football with winning once again, with Ibra the indisputable focal point. United are fighting on all four fronts which means Ibra will surely usurp Van Persie in the goals tally of recent years.
Zlatan Ibrahimovic has well and truly left his mark at United already. Not bad for someone washed up and over the hill.