Manchester United continued their late February Premier League boycott with a trip to St Etienne for what they hoped would be a formality in their Europa League progress through the Round of 32 tie with St Etienne. Looking to maintain his squad's momentum heading into the EFL Cup final at Wembley against Southampton on Sunday, José Mourinho fielded a strong side, surprisingly including hat trick man Zlatan Ibrahimović.
That said, Ashley Young started his second consecutive match in Antonio Valencia's place at right back. Mourinho's other defensive stopper, Marouane Fellaini spelled the suspended Ander Herrera.
Wayne Rooney, who trained lightly with the side Tuesday, did not travel. Thus, the display window was only half filled for Chinese Super league clubs looking for last minute buys before their transfer window closes on Tuesday next. Rooney has allegedly told the club he prefers to stay until summer, at the least. Despite first acknowledging the decision was Rooney's to make, his manager has reciprocated by expressing his desire to have the captain remain. That another Chinese club might come in for Young was an unexpected headache for a manager balancing four competitions.
Shandong Lueng's manager is Felix Magath, explaining the interest. While Young still goes down too easily on occasion, he has developed into a reliable, hard-nosed role player for United. Anyone who remembers Magath's championship run with Bundesliga side Wolfsburg knows the German loves him some grinders, and not the kind you eat if you're a roly-poly goalkeeper.
Henrikh Mkhitaryan's near-post run and flick from a Juan Mata pass put the match to bed on the quarter-hour. Pushing the aggregate score to 4-0, the away goal meant Les Verts would need five goals to defeat the Red Devils. St Etienne boss Christophe Gauthier's disgusted look when the net bulged behind Stèphane Ruffier and Mkhitaryan peeled away, spreading his arms in the Leo di Caprio King of the World pose from Titanic, expressed the Frenchman's view regarding the likelihood United would sink like a stone.
Keeping such veterans in the squad and playing a strong side in a seemingly straightforward second leg confirms Mourinho's intent to restore the champion's aura the club enjoyed under Sir Alex Ferguson. Aggressive tactics come with consequences, however. Mourinho must constantly deal with reporters, agents, and players themselves, considering there isn't sufficient match time available to keep everyone happy. After the match, José tried to dismiss his mounting injury concerns, suggesting to BT Sport's reporter "you can get injured leaving your house" or "in your garden." Who knew he was an American baseball fan, especially admiring retired pitcher Bobby Ojeda? Nonetheless, the gaffer must hope his secondary options are up to the pressures a Wembley final presents when a player such as Mkhitaryan pulls up clutching his hamstring shortly after scoring.
Mkhi walked briskly off the pitch, straight to the dressing room, only speaking to the manager over his shoulder as he went. His pace was a positive, suggesting the strain is mild. Still, it would be risking a great deal to throw him back into the fray three days later. Mourinho almost certainly will be looking elsewhere for a number ten against So'ton. Rooney may or may not be available to start. More likely, Marcus Rashford will partner Ibra, Paul Pogba will occupy a more forward role, or Juan Mata will move inside from the right. A deep squad provides luxurious options.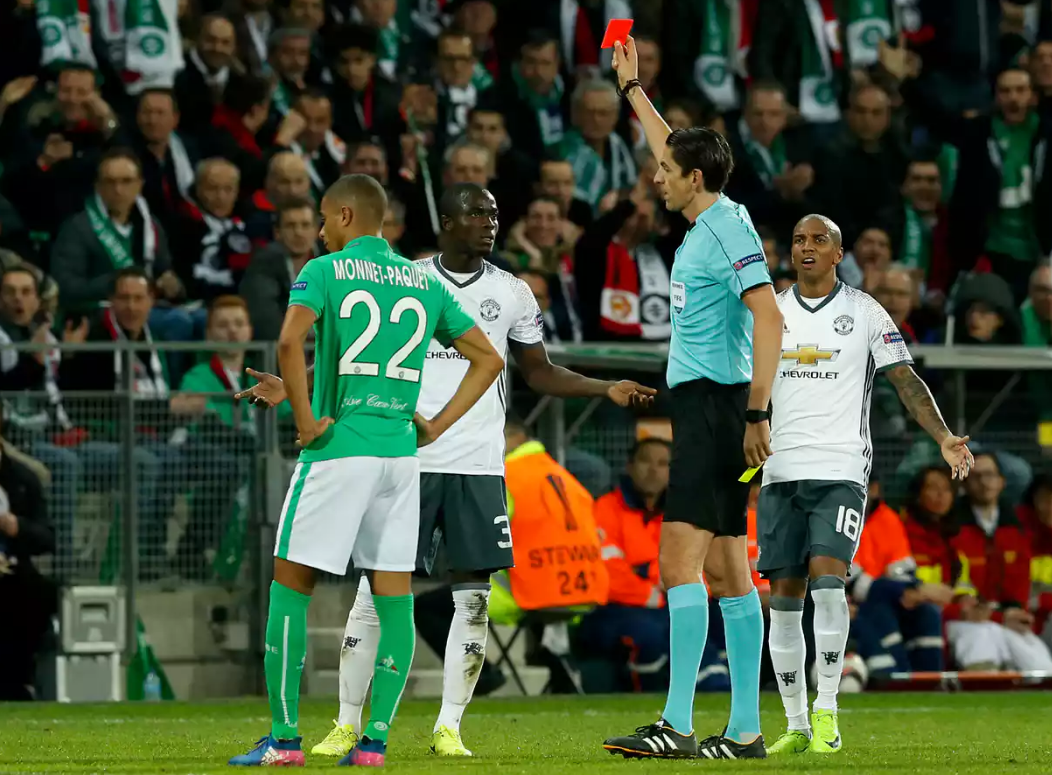 Some were required sooner than would have been liked. Bastian Schweinsteiger came on for Michael Carrick in the second half, with indications the latter may have suffered a calf injury. Then, Eric Bailly drew the second of two yellow cards in quick succession. While the first was deserved, the second appeared to be unwarranted on review, the fouled player barely touched but going down in an agonized heap. If United do not appeal the card, Bailly will miss the next round's first leg and still be on the books for a single yellow, meaning another caution would see him banned again.
Otherwise, United's Europa League progress played out with no further critical moments. They will move their focus to Wembley. Should they hoist their first meaningful trophy with Mourinho in charge (sorry, Community Shield) we already know the celebration will be muted. Taking care of business will surely see them fall off the pace again in the Premier League. While Manchester City and Arsenal will be idle, their scheduled matches against United and Southampton respectively postponed, Tottenham, Liverpool, and Chelsea all stand to put some distance between themselves and the others.
Lost on most, however, was a unique aspect which contributes to football's reputation as the beautiful game. United won the match but its players, coaches, and supporters were left bittersweet over concerns for their midfield Armenian. St Etienne's players and coach were gutted at being eliminated from European competition so early in the match. Their boisterous fans didn't seem to mind, though. They came to party and, down 4-0 on aggregate, party they did until the final whistle and beyond. Sometimes you have to wonder whether all the angst involved in urging your club to greatness is missing the point.