Luke Shaw arrived at Manchester United from Southampton as a youthful prodigy. Having started his career at the South Coast side as a sixteen year-old, he had become a first-team regular, and broken into the national side.  Competition was fierce at the time but the club managed to fend off the likes of Chelsea and Liverpool.  A lightening quick full left-back, capable of bolting up and down the line efficiently, but one that could still do with guidance.
Patrice Evra was sold around the same time that Shaw.  Those in charge felt he could give no more.  Supporters felt that the Frenchman would have been a perfect candidate for the newcomer to learn from in terms of experience. But sadly the club is seeing knock on effects from that as Shaw's professionalism is questioned time after time.
Under Louis van Gaal there was concerns about Shaw's weight, and they've resurfaced again under Jose Mourinho. The Portuguese has his doubts over the left-back's desire to be a top player, which, he believes may be down to receiving too much money at a young age.  It was also worrying to note how much time he spent hanging out with Memphis Depay.  Young players will naturally gravitate to each other, but considering his exit amidst attitude problems, would cause concern.
Shaw's application is also lacking and it doesn't help that he's in awful shape. This is regularly being whispered around Old Trafford, so I have little reason to believe his agent whose quotes last week are clearly driven by vented interest.
Jonathan Barnett told IBTimes UK: "I am angry with these reports suggesting Luke Shaw will leave Manchester United in the summer. I am angry at the irresponsible journalism.
"Luke Shaw is happy at Manchester United and, also, Manchester United are happy with him."
Now, there's a counter argument but since when did people believe every word that came out of a football agent or their client's mouth? Cristiano Ronaldo stated "I'm staying [at Manchester United]" days before completing his move to Real Madrid, whereas Sol Campbell cancelled his Arsenal contract for "a move abroad" before joining Portsmouth.  More recently, Mino Raiola dissed speculation regarding Paul Pogba signing for United during the summer.
As a journalist it's important to double source because of vented interests. An attempt ought to be made to source the information to the best of their ability before making the giant step which is to deliver the news.  We have all been guilty of sharing that tweet which turns out to be bogus no matter how vigilant we are.
But an anonymous Twitter account renowned for copying and pasting Manchester United related news ironically had a go at a journalist who wrote an exclusive on Shaw's future at Old Trafford.
Miguel Delaney, Chief Football Writer for the Independent, was settling into his new gig at the paper when the exclusive came to surface. It was suggested by Utd Report that he was only writing the story to make a good impression in his new role, which, is something Delaney probably achieved in the interview process.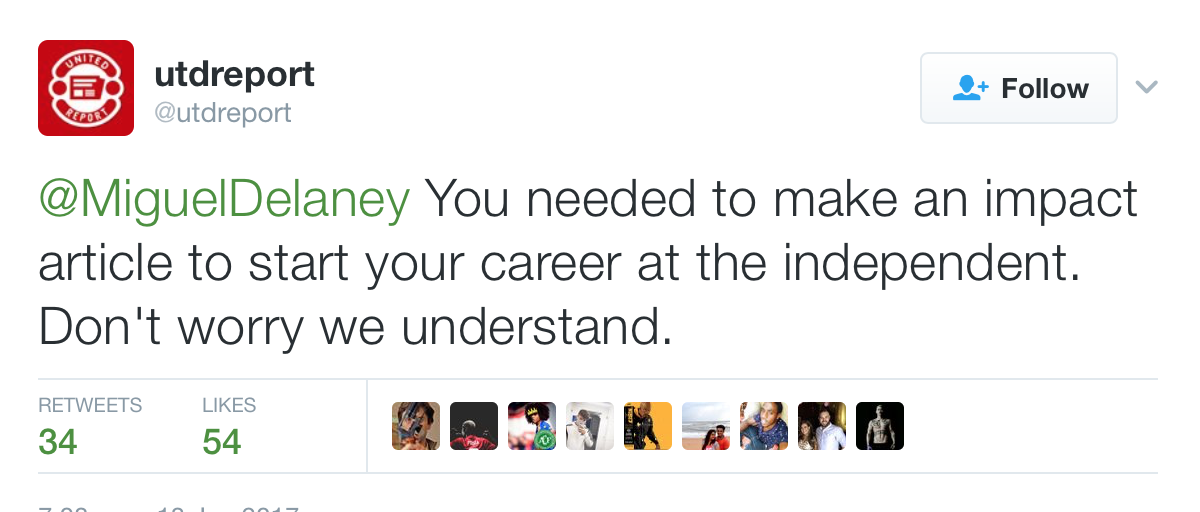 However, my point is the "fabrication" accusation was just moronic. Conflicting information — when delivered with vented interest — does not make the other side fabricated.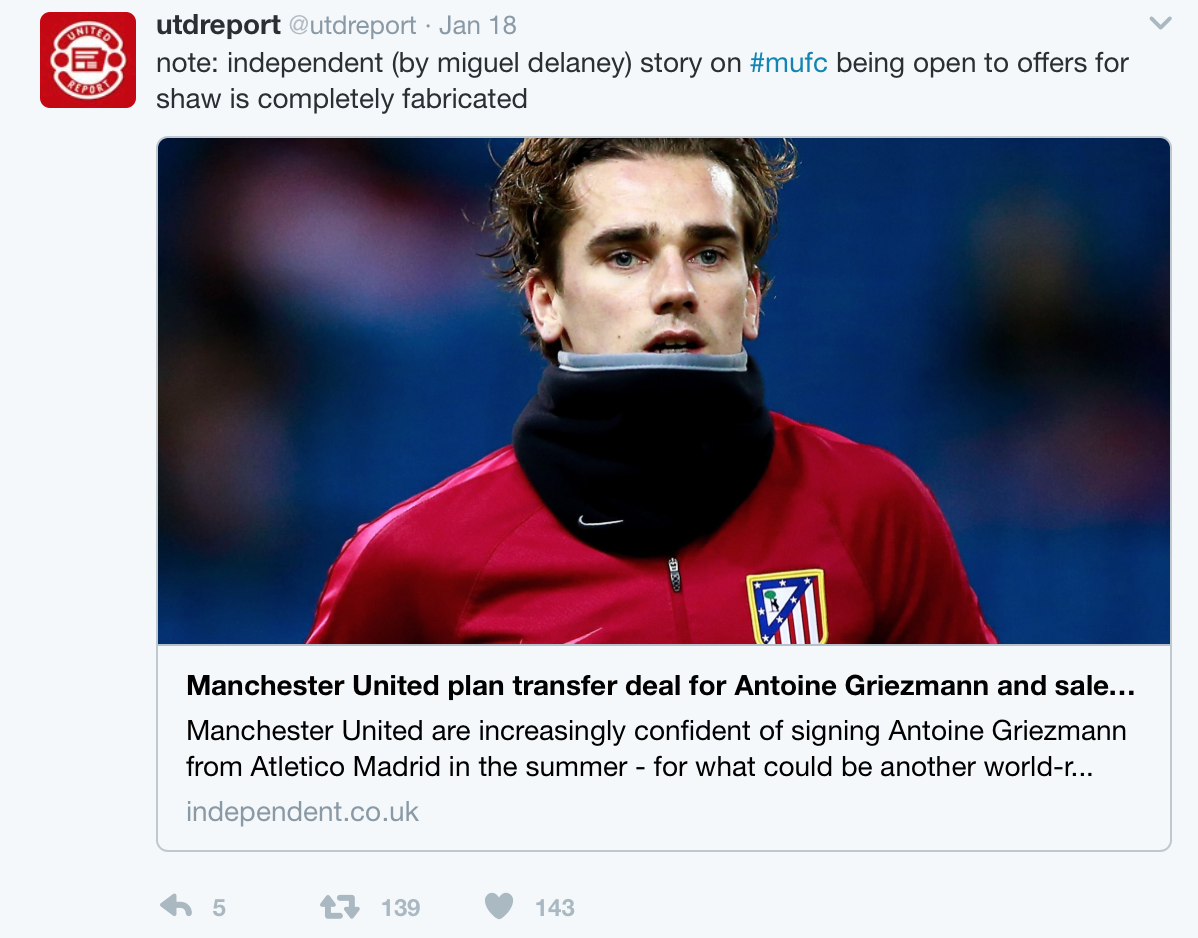 Utd Report then pursued a cock-measuring contest by revealing Shaw follows their Twitter account. An effort made to suggest he had been speaking to a bunch of anonymous teenagers about his future at the club. If true, Utd Report failed immediately by revealing their source (no-one credible within the media does that) and not providing a single quote from the player.  Post-truth at its starkest.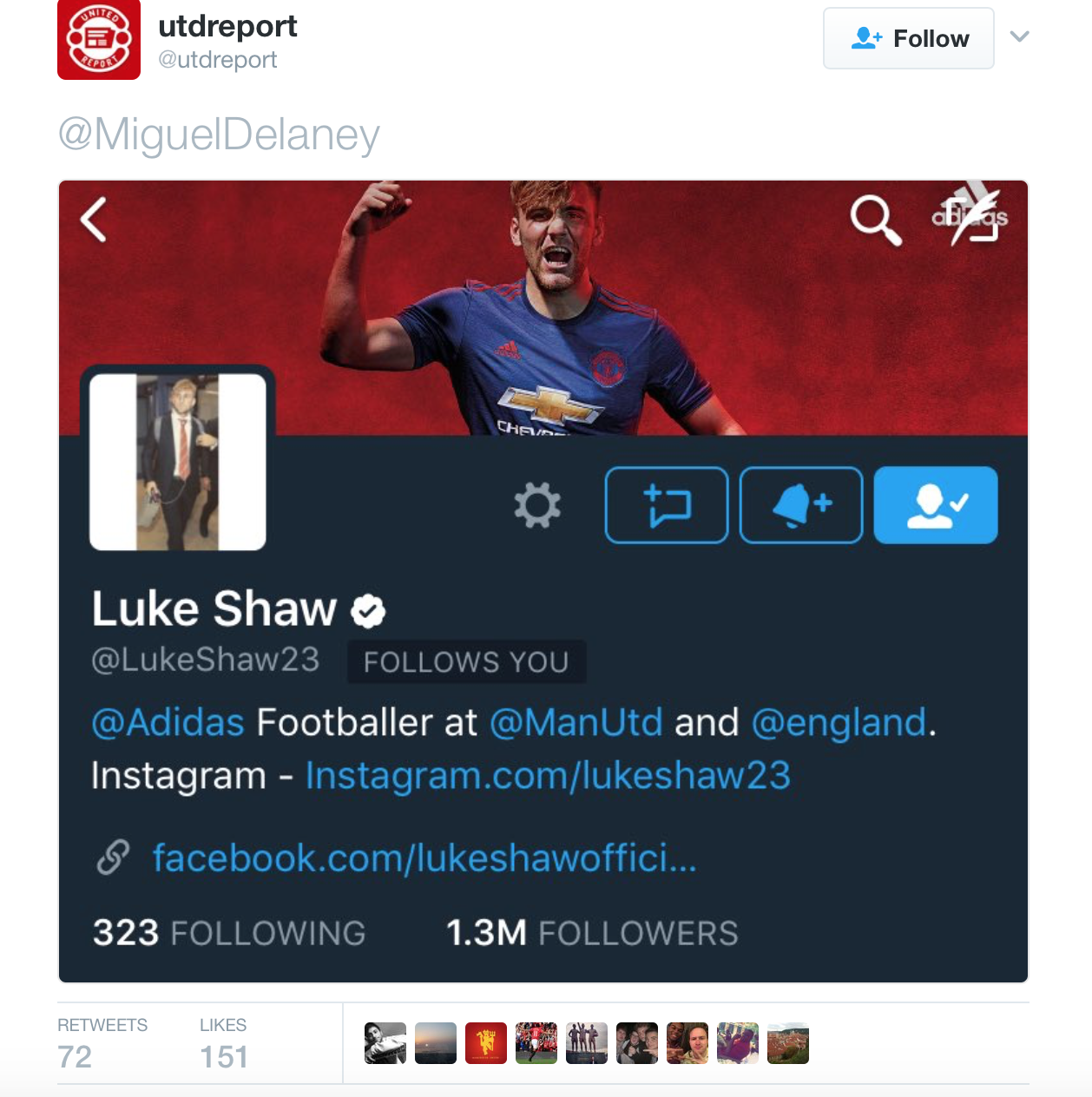 So, as far as we're concerned, Shaw has spoken to no-one about his future.
Are Shaw's days numbered?
It appears that way, yes. Shaw could go on to take his limited opportunities that will come in the first team but there is an attitude that needs improving, too, and Mourinho's decision may already be made.
But the boss has already changed his mind on a player since becoming United manager. Marcos Rojo looked destined to be sold in the January transfer market but a run of brilliant performances alongside Phil Jones in the heart of defence made the Portuguese think twice before pushing the red button.  Even Bastian Schweinsteiger has been allowed back into the squad again.  Let us not forget that Shaw begun the season at left-back before the supposed knock that is keeping him out at the moment.  Being side-lined for nine months due to a horrific injury will set any player back in terms of peak form.
This story is worth keeping an eye out for between now and the end of the season. Shaw won't receive a shortage of interest from clubs up and down the Premier League, or maybe even throughout Europe (and China), but one can hope he gets back on track and is willing to fight for a place at United.
But I won't be holding my breath.