Though they are countrymen, Mark Hughes is not Tony Pulis. Nor does Bet365 Stadium roll off the tongue as ominously as the Britannia. Regardless, Stoke City remain among the least accommodating Premier League hosts. Their early high press against a Man United side unbeaten in sixteen paid off with an own goal, gifting them the lead despite their first shot on target coming sixty-five minutes in from Xherdan Shaqiri.
From there, the Potters defended yeomanly, said press draining vital energy from Man United's attackers, whose first half chances looked far more likely than those in the second even though they controlled the ball for much longer stretches. When fourth official Graham Scott held up his placard on ninety minutes, announcing five more added, Stoke still held their advantage and United's legs were so leaden it appeared they might not make it to the final whistle, let alone rescue a draw.
Jesse Lingard, Marcus Rashford, and Wayne Rooney's legs were fresh, however. On eighty-seven minutes, Lingard had made a wonderful turn just outside the eighteen-yard box, then cannoned a shot past deputizing Stoke goalkeeper Lee Grant, but off the crossbar. Rashford continually tested the right side of Stoke's defense until, three-and-a-half minutes into stoppage time, he split two defenders on the flank, forcing Joe Allen into a professional foul and Clattenburg to issue a rare caution for such a physical match. As every player in an away blue strip crowded into the box, desperately hoping to make good on one final opportunity, Rooney stood over the ball.
When Clattenburg's whistle sounded, Wazza lashed a curling drive over them all, as well as a diving Grant, but not the crossbar which had denied Lingard. Instead, the ball caromed down into the side netting. United's long unbeaten streak lived on. Sir Bobby Charlton's all-time scoring mark did not.
Wayne Rooney breaks the Manchester United goal scoring record. #250. pic.twitter.com/xSqJWtv5vn

— Adam Joseph (@AdamJosephSport) January 21, 2017
After so many matches in which a non-Castilian José Mourinho side played consistently attractive, positive football, this was an ugly match. Mark Hughes and Stoke bore greater responsibility for that but, at least in naming his starting XI, the Portuguese bought into the host's negativity.
For the first time in 2017, Marouane Fellaini started a match in Michael Carrick's place. Peter 'I, Robot' Crouch was leading the Potters' line. Chris Smalling and Phil Jones were there to deal with the former England international's height in the box, but the Belgian Chia Pet was charged with contesting long balls launched forward by Stoke defenders.
Needs must, I suppose, although one would think a more talented side should be imposing its will on a weaker opponent rather than adjusting to their tactics. Fellaini was effective until substituted ten minutes into the second stanza. When Rashford entered for him, United were relieved to be alive to second balls in lieu of contesting aerial battles and, as mentioned earlier, were better able to set the tempo.
Could they not have done likewise in the first half with Carrick partnering Herrera? On the day, the Basque played his most anonymous ninety minutes in some time. Stoke's first-half press targeted him especially. Having a partner with whom to work short passing combinations to alleviate Stoke's insistent pressure may have allowed "United's new warrior-king" 
to continue rattling his spear.
Mourinho may have been of two minds on the matter himself, having thrown diminutive Juan Mata into this land of giants from the outset. It was Mata who momentarily lost Erik Pieters, then recovered only to redirect a square ball David de Gea was kneeling to collect so it instead deflected into goal off the 'keeper's trailing leg.
At the other end, Zlatan Ibrahimović, in free to Lee Grant's right, slotted a ball across the goalmouth for Mata to redeem himself. Only, the overly adrenalized Spaniard skied over from less than six yards. Sympathy isn't an emotion you associate with the big Swede but Ibra passed up an open shot moments later for a second attempt at the same pass, this time broken up by a Potters defender.
Mourinho is usually as ruthless as Zlatan himself, yet used his first substitution to remove Fellaini, not Mata, for Rashford. The affable Spaniard took the opportunity to have another go at redemption, driving hard towards goal to complete an intended one-two. Ryan Shawcross' two-handed shove sent him tumbling. Clattenburg, hands behind his back ten yards behind the pair, enjoying a clear view, declined to blow his whistle. Shortly thereafter, Rooney entered the fray with Mata exiting.
Johnny Kills is among my favorite players 
and he's been too absent since Mkhitaryan's ascendence. Still, this was like sending the class nerd out to recess with a 'Kick me!' sign taped to his back. If it wasn't Shawcross knocking him down, it was an especially surly Charlie Adam, a Glen Whelan, or Pieters. It's a good thing Premier League clubs provide a buffet in the clubhouse because when Mata came off the pitch he no longer had his lunch money.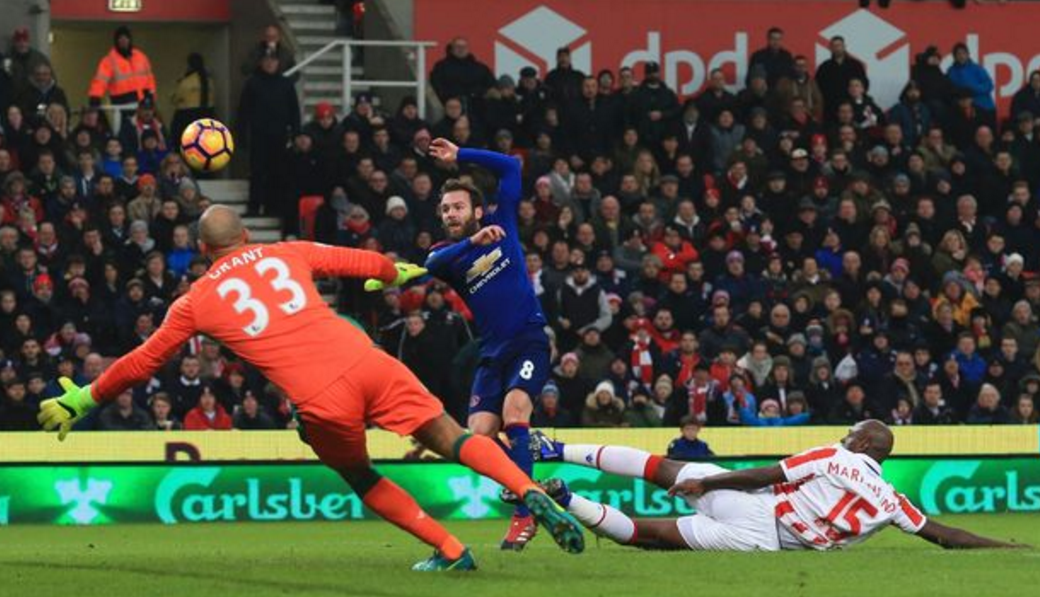 As United continued to boss the second half, ex-Black-and-Liverpool midfielder Charlie Adam became increasingly frustrated. An early second-half tussle with Fellaini ended amicably enough but, later, a passing shoulder from Marcus Rashford and a tangle with Ibra, which led to Adam running the Swede down like a lion would a wildebeest, had him fuming. If looks could kill, I wouldn't be writing this, even from four thousand miles away. From much nearer, Mark Hughes could feel the heat emanating from his player. Sparky earned his own shoulder barge when he quickly removed the ticking time bomb before an imminent explosion put the home side a man down.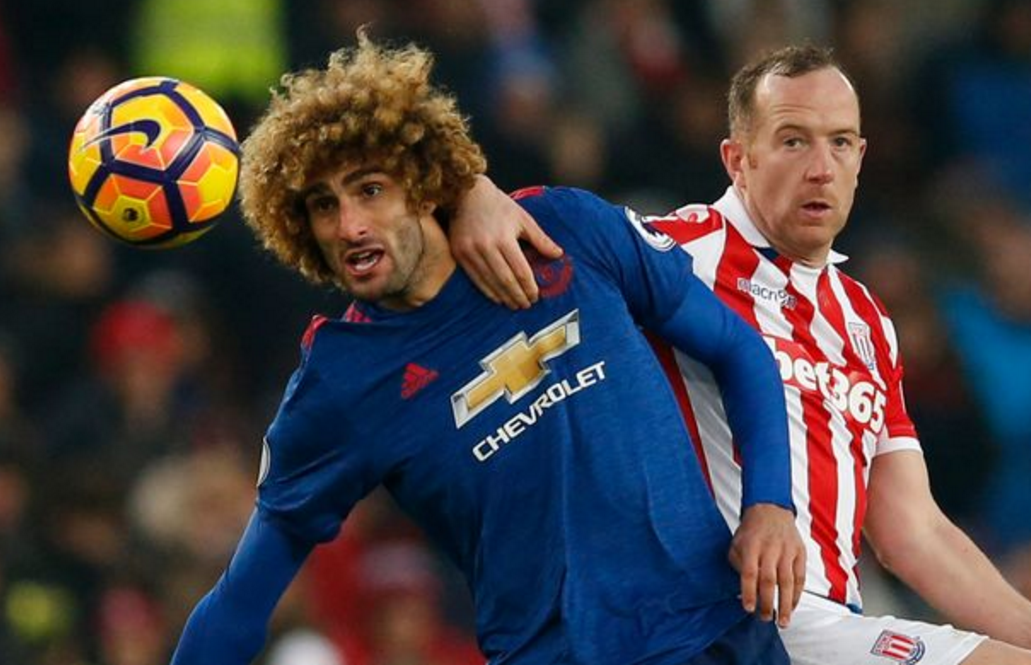 If Mourinho had thought it a bright idea to start Mata, it's probably best he was saved by recent events from the temptation to throw on Memphis Depay 
, again in the name of redemption. Hughes, however, did bring on his own forgotten Dutch star, Ibrahim Affelay. Out eight months with a knee injury, the baby-faced thirty-year-old quickly made an impact. Showing his younger self's energy and enthusiasm, which once upon a time had AC Milan's Adriano Galliani reaching for his wallet, he won a midfield ball, then orchestrated Stoke's first concerted attack since their 20th minute goal. It took United a good five minutes to adjust to the abrupt change from thuggery to skill which marked the substitution, but Smalling and Jones were able to intercept Afellay's most dangerous passes. United wrestled back control, brought on Lingard and Rooney, but still couldn't muster a goal before stoppage time.
Rooney's free kick from out on the left with four of five added minutes gone finally rescued United. It's taken ages for the captain to match and surpass Sir Bobby Charlton. As his side's frustration grew, the camera panned to a view of the legend sitting in the crowd.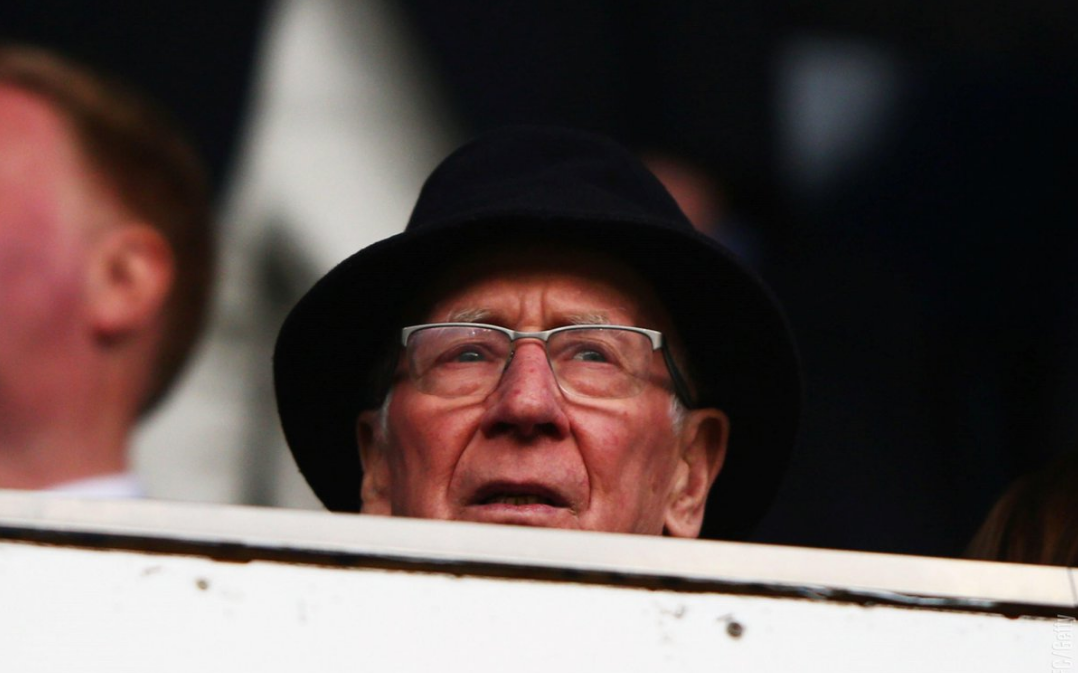 One commentator wondered whether Wazza would step to the spot should United claim a penalty. He wasn't far off with his prescience, a foul leading to the goal and Rooney's kick taken from little more than twenty yards to the spot's left. It was only the Premier League's fourteenth free kick goal in twenty-two rounds to date, United's first. As a direct shot on goal from a dead ball situation, it was also mercifully exempt from any offside challenges, which have already too often been used to diminish the club's impressive run. To have another taint such an historic strike would have been tragic.
While a penalty would have been a cheap way to claim the club record, a shot at the death from an acute angle with the contest and a sixteen-match unbeaten streak on the line was anything but. Rooney's audacity to go for goal, to do it himself, with nine teammates in the box ready and waiting to help, is the stuff of legend even when the player hasn't scored a league goal since the campaign's opening match. With his undroppable status a distant memory but social media vitriol towards his continued presence in the squad as fresh as ever, the goal was monumental. In fact, one studio analyst noted those nearest Rooney on the list all have statues. Of course, that isn't quite accurate. Charlton, Denis Law, and George Best are remembered together in the United Trinity standing outside Old Trafford, However, Dennis Viollet and Jack Rowley have matched or bettered Best but have yet to be immortalized in granite. Nonetheless, the remark perfectly measures the goal's magnitude. Moreover, if Rooney being so commemorated requires Viollet and Rowley being acknowledged first, I'm sure the club can unearth three talented sculptors with time on their hands.
Post-match, Rooney humbly played down the goal's significance, wishing it had given the club three points rather than merely saving one. He did admit he had enjoyed many wonderful United moments, then inserted a subtle dig at his detractors, saying there would be plenty more. One can only hope.
.@SirBobby was one of the first to congratulate the man who claimed his #MUFC goalscoring record. Class. #ROONEY250 pic.twitter.com/iNv1LXVYY9

— Manchester United (@ManUtd) January 21, 2017