On some days it seems as though the world is conspiring against you. On this New Year's Eve day for Man United, the world consisted of Aitor Karanka's Boro, a former United goalkeeper intent on gaining revenge against Louis van Gaal's ghost, the woodwork fronting the East Stand (ironically once known as the Scoreboard End), and a slightly pudgy bald man clad in florescent green, called many names on the day by United supporters and, through clenched teeth, their manager, but more widely known as Lee Mason.
In terms of shots attempted by United, this was the Burnley match revisited. The final numbers say the home side possessed the ball twice as much as the visitors, put as many shots then a third again on target as their opponents attempted, and were fouled nearly twice as often as they committed offenses. It certainly seemed as though United held the ball for longer than they were credited. Yet, even if that figure is correct, thanks to the pudgy bald fella with the whistle, the rest are wrong.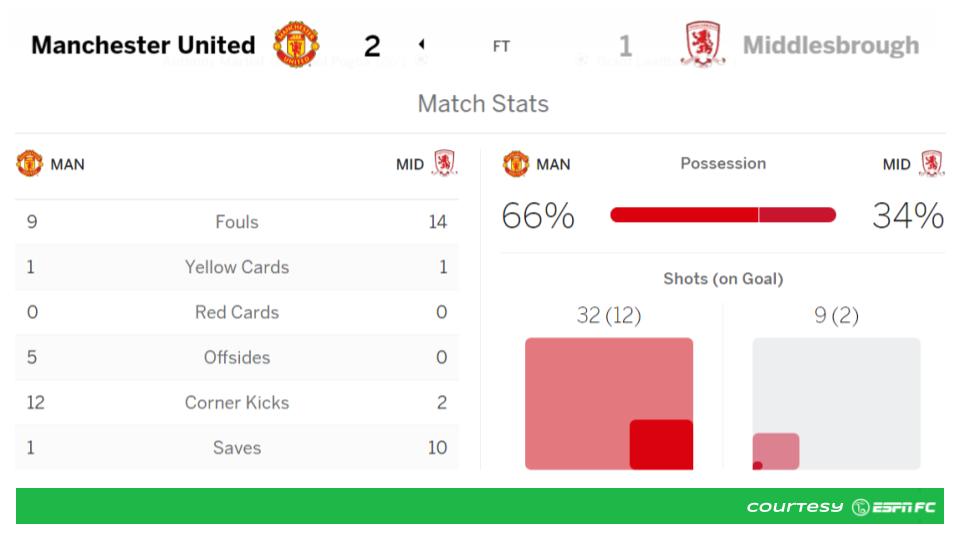 To begin, one United shot on goal was unfairly stricken from the record. On thirty-eight minutes, Zlatan Ibrahimović ran into the box, leaped to meet an Anthony Martial cross, and, leading with his boot, struck the ball home. Upon striking the ball, Ibra immediately lowered his foot. The onrushing Victor Valdes, too late to punch the ball away, crashed into the Swede's thigh. Unfortunately, Lee Mason decided this amounted to dangerous play, despite the aggrieved party (to his mind) being the one arriving after the fact, well after the 'dangerous' boot had been lowered. United should have been up one-nil going into the break.
Zlatan Ibrahimovic's disallowed goal. #mufc pic.twitter.com/hDr8PQc2ga

— UtdHQ (@UtdHQ) December 31, 2016
More, actually. The disallowed goal came seconds after Martial had struck the post with a smashing volley. Paul Pogba had done the same earlier from an overhead kick. Thus, United were just a few inches and a free coupon for Lasik surgery away from a three-goal advantage before heading into the dressing room. The only positive to be taken from the opening forty-five minutes was José Mourinho had found the restraint required not to be sent to the stands.
Judging from Mason's further errors in the second half, the referee's dressing room is not stocked with carrots or Visine. First, though, it would be United supporters refusing to believe their eyes. After several more chances went begging for the home side, Boro found their moment, working the ball into the box for Grant Leadbitter from a cross headed into his path nicely by Alvaro Negredo. The midfielder, seldom used this season by his new manager, aka Mourinho's Real Madrid number two, ran onto the ball then clinically slotted it past David de Gea. United fans, having heard this tune too many times in the past three-and-a-half years, could be forgiven for believing the jig was up.
For all the luck and officiating seemingly aligned against them, however, there was one bit of Old Trafford magic in their corner. In the Director's box sat Sir Alex Ferguson, expecting to celebrate his seventy-fifth birthday with a fifth consecutive Reds victory. While it has gone missing since his retirement, every United supporter (and Bayern's, too) remember Fergie's habit for winning matches at the death against all odds.
So, when Leadbitter struck on sixty-eight minutes, Mourinho immediately summoned Marcus Rashford. The youngster's own magic had faded of late, but, perhaps feeding off the old Scot's sorcery, he sparked it again, running repeatedly at Boro fullback Callum Chambers, who'd already been softened up by a rampant Martial. One attack brought Rashford to the end line, where he squared a ball that somehow made its way through a knot of attackers and defenders in the six-yard box, trickling harmlessly towards the far side. Then, he found a better line towards goal, only for Espinoza Bernardo to force him to ground, one hand riding Rashford's shoulder, the other in the small of his back. It wasn't quite the eightieth minute yet. Fergie time had yet to begin. So, Mason waved off the clear penalty.
The eightieth minute became the eighty-fifth without United finding a way past Valdes. Martial and Pogba, having apparently Netflix binged on Gene Hackman and Roy Scheider over the holidays, were ganging up on their former teammate, doing their best to make him wish he was still sitting in the stands in plainclothes rather than picking his feet between the Boro sticks. While their passing and service had been dynamic throughout, each forced another save from the Spaniard during this five minute span. Juan Mata, on for Marouane Fellaini rather than vice versa in the second half's first bit of irony, had a shot blocked.
At the other end, irony raised its devious head again. Boro found themselves calling for a penalty. Replays showed Eric Bailly had met Negredo's left flank run in the box, shoulder to shoulder, which, last I checked, was still legal contact in the Premier League rulebook. Amazingly for the day, Mason got it right in waving play on. De Gea quickly fed Pogba, who launched his seventh or eighth pinpoint long ball in the match (as you read this, Fellaini may still be receiving treatment for the thunderous one he chested in the first half). The ball found Ibra's forehead, from whence it was calmly nodded on for Martial. The Frenchman split two defenders then drove it inside the post, leaving Valdes no time to do anything but slump his shoulders.
Goal Martial pic.twitter.com/IBGJ44pb9U

— United Digest (@UTDdigest) December 31, 2016
In the Director's box, Fergie probably said, "That's how you do it. Now put another one in."
Juan Mata dutifully answered, "Yeah, alright," took a blocked pass in the mush, ruled out about a possible film career, ran toward the end line, had a peek, added, "Is that you, Paul?" and delivered a perfect cross for the unmarked Pogba to head inside the near post. Eighty-five minutes of stress and angst transformed to joy in roughly sixty seconds. Vintage Fergie, even if vicariously.
YES! Pogba with the header to get United what they deserve! pic.twitter.com/LE1NqDxue8

— Man Utd Videos (@ManUtdVid) December 31, 2016
If I could take anything from this match other than hoping that, rather than just a flashback to bygone days, we've just witnessed a full-on United revival, the team having finally found belief in themselves, it would be seeing Mourinho, despite rumors to the contrary, still believes in Chris Smalling and Juan Mata. If there is a negative to be derived, other than the years taken from my life in sweating out the result, it would be that Santa forgot to put a pair of Usain Bolt signature boots in Daley Blind's Christmas stocking. I love the Dutchman, but he and Boro's Callum Chambers will certainly be found attending the same support group after the match. Namely, Slow MFs Anonymous. I'll let you figure it out, but if you need a hint, MF doesn't stand for midfielder.
Enjoy your New Year. Headache powder is on the second shelf in the medicine cabinet.