In the run-up to the National Hockey League's 24-26 December three-day break for Christmas and, this year at least, beginning of Hanukkah, Florida Panthers 6′ 2″ 225 lb forward Jaromir Jagr assisted on two goals in one game to tie for second on the NHL's all-time scoring list, with 1,887 goals and assists combined. He then took sole possession of the spot with another in the next. Afterwards, the Czech expressed his disappointment the milestone was reached in a Panthers' loss, but, when asked about the 968 points still needed to catch the career leader, Wayne Gretzky, Jagr jokingly did the math in his head, announced he would be well into his sixties when he caught the Great One, and therefore would allow him to keep the record. On his possible retirement, the 44-year-old is leaving the door open, having more than once stated his desire to play until he is fifty, whether it is in the NHL or elsewhere.
When you consider his age, size, powerful playing style, and scoring ability, as well as the arrogant label attached to him until late in his career, at which time he began allowing people to see his humorous side, it's easy to make comparisons between Jagr and Zlatan Ibrahimović. Oh, did I mention their trademark hairstyles?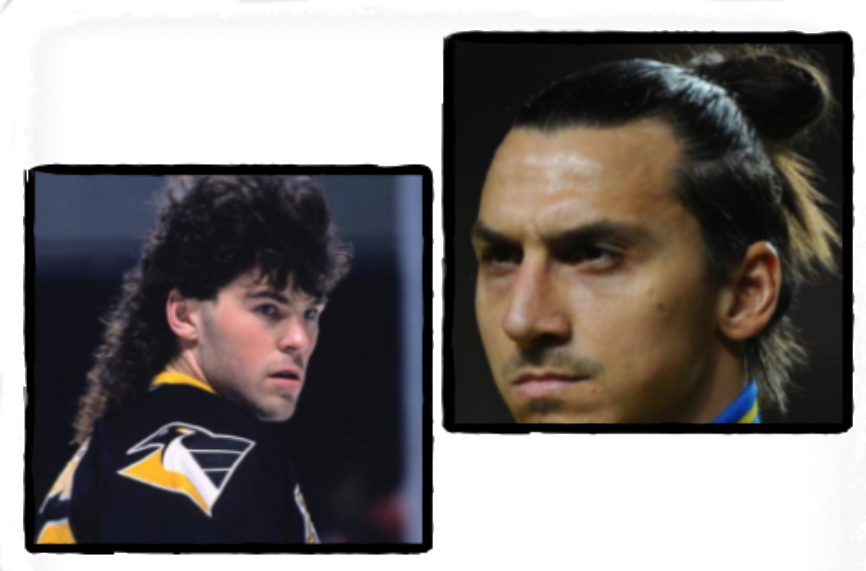 While both are technically gifted beyond belief and enjoy throwing their weight around, there are some differences. Although the NHL affords its players far more latitude to express their displeasure with opponents, Jagr has never been one to drop the gloves. After all, a Donnybrook might have mussed The Mullet. Ibra's most underrated skill, meanwhile, is more in line with the talents of the hockey player Jagr has admitted he will never catch.
When anyone mentions Ibra, goals such as the bicycle kick from 40 yards against Joe Hart's England come to mind. That, and the swagger. His ability to set up goals for others is too often overlooked. Like Wayne Gretzky, Ibra has the knack for drawing opponents to him, creating openings for his mates. Minus the swagger, Gretzky was known for doing this from his "office" behind the goal. Of course, the official will blow the play dead if you try that in football. Rather, Zlatan opens his stalls to either side of the eighteen-yard box, what hockey players might call the half-boards. When he ventures out to claim balls in those areas, Ibra does something I grew up watching hockey's number 99 do, which is almost nothing at all.
By that I mean Ibra doesn't really move. He will just stand still as stone or maybe shift from side to side like a bewildered penguin. The defenders coming out to close him down amazingly do the same. They know the bewildered penguin can transform into a rapacious eagle if they take that last step to try to win the ball. Having no desire to look the fool before tens of thousands of supporters, not to mention the millions viewing on television, they wait. And Ibra waits. Either the opponent finally bites the bullet, moving in only for the big Swede to spread his wings and fly past them, or a teammate makes a run. When Zlatan sees that run, he delivers the ball.
Gretzky was a master at this. A former teammate, Luc Robitaille remembers signalling Gretzky to wait for him to circle out of the attacking zone then return during a sudden death overtime game in the Stanley Cup playoffs. Gretzky did. And the defenders did. When Robitaille came driving back towards the net, the greatest player hockey has ever seen fed him a perfect pass for the golden goal to end the game.
In the Boxing Day tilt at Old Trafford, Ibra did much the same twice against David Moyes' Sunderland. In the first half, he runs out to the left side of the box to retrieve a Marcos Rojo pass. The Argentine tries to make himself a target but is marked by two Black Cats. After a moment, he darts inside with his markers in tow. His movement takes perhaps two or three seconds, which is not even the blink of an eye in the grander scheme of things but an eternity for one player to maintain possession in the Premier League. Eternity is no problem for Ibra, however. He simply performs a jig, mesmerizing Lamine Koné. Daley Blind, meanwhile, is some forty yards from goal near the touch-line. Seeing the play develop, he makes a mad run himself. Arriving at the top of the eighteen just as Rojo has departed, he accepts Ibra's squared ball, takes a touch to get it onto his left foot, then coolly drives it past a helpless Jordan Pickford.
Daley Blind slots the ball home to put United ahead! ⚽? #MUFC pic.twitter.com/uufbl23hWO

— Manchester United (@ManUtds_News) December 26, 2016
Late in the match, Ibra found himself running out to a wayward ball to the right of the box. This time, he knew Wahbi Khazri was desperately running over to close him down. There was no time for a jig. Still, he used what time he did have to look, saw Henrikh Mkhitaryan's run, then delivered the ball. Before we completely deify Ibra, it needs to be said the cross was behind the Armenian, who had to summon his own otherworldly skills to scorpion kick the ball past a gobsmacked Pickford. Then again, Mkhi was offside. If he had been a step behind, in a legal position, the service would have been perfect. So, maybe we shouldn't be looking a gift horse in the mouth.
Words can't even describe how good Mkhitaryan's goal was. So just watch it. #MUFC #PLonNBC pic.twitter.com/KRDem9r8ev

— NBC Sports Soccer (@NBCSportsSoccer) December 26, 2016
What is even more difficult to believe than that ball finding twine is these were Ibra's first two Premier League assists. His movement and passing have been sublime since he arrived, even though he went through a dry spell for a while in the scoring department. It has taken roughly half a season for Zlatan to acclimatize himself to his teammates, and vice versa. Where the club would be in the table had the process taken hold much sooner is a painful question. Where the club may go from here, though, is a most hopeful one.
Happy Christmas, Hanukkah, or whatever, to you all.