For two hours on a brisk Saturday evening at The Hawthorns, Man United supporters couldn't be faulted for imagining they'd gone back in time. Although United's tactics were not vintage Sir Alex Ferguson, their near total control during the match felt like the side was partying in 1998-99. Of course, the feeling was just in the moment. The Red Devils are hardly in position to run away with the league. What they have done, at least for twenty-four hours, is pull level with Spurs, within three points of City, four behind Liverpool and Arsenal. Given all those clubs have yet to play this weekend, it's highly unlikely United will be quite as close to the Champions League places come Tuesday. United will be much closer than they were only a fortnight past, however.
Spurs host Burnley at White Hart Lane today while Arsenal and City square off at the Etihad. The Merseyside Derby is tomorrow at Goodison Park. There are twenty-seven potential combinations of results for those fixtures. I don't have nearly enough headache medicine to work out and discuss each and every one's implications but the best case scenario is Liverpool, City, and Spurs all lose.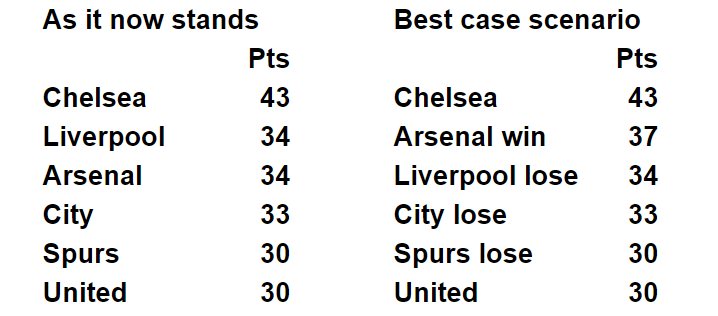 Of the three matches, it seems least likely Spurs will drop points. While Burnley play lights out at Turf Moor, Sean Dyche's lads are more woeful on the road than Cormac McCarthy's. Conversely, Everton are at home with the talent and manager to match a Jürgen Klopp side missing Philippe Coutinho. Perhaps making any deal for Memphis Depay or Morgan Schneiderlin contingent upon a result will provide an added motivation for the Toffees. In the third match, City and Arsenal are perfectly balanced. Still, should the Gunners prevail United would be within a result of a Champions League place.
However you choose to read the side's tea leaves, three league wins in a week have forced United back into the top group after they had alarmingly fallen into mid-table mediocrity. True, it's annoying to see Chelsea looking down on the others from such a height, at least things are looking up for United.
While we await the fallout, here are three thoughts to consider from the win over the Baggies as United head into the holidays.
United continue to walk a fine line.
Earlier in the season, it was Ander Herrera leaping into rash challenges then arguing with officials. More recently, it's been Marcos Rojo's two-footed challenges flirting dangerously with the referee's patience. If you know Zlatan Ibrahimović's history, it was inevitable his turn would come. A mid-air collision with Craig Dawson, for which the term 'arriving late' was gross understatement, had United fans gripping their armrests in trepidation over which card Anthony Taylor would hold aloft. There was a collective exhale when it was revealed to be yellow.
Zlatan's hit shaded toward the reckless side but was in no way malicious. Ibra, his eyes on the ball until the last instant, simply put his forearm into Dawson's shoulder to avoid a clash of heads. It was dangerous because the Rochdale lad is twenty-five pounds lighter and could have landed much more awkwardly than he did. It was not cowardice, as the Star Sports announcer (not John Dyke, the other one) suggested. A cowardly hit is one delivered with devious intent, not the sort where you also put yourself at risk.
That said, Ibra, unlike Rojo and Herrera, should know better than to go too far. The Swede was quick to apologize before helping Dawson to his feet. Unfortunately, he later gave compatriot Jonas Olsson a hard shove when the defender beat him to a second consecutive ball. As both are 6′ 5″ and had their feet on the ground, it was less a mismatch than Zlatan's prior offense. That may have given Taylor pause when considering whether to reach into his pocket again or simply have a word. Happily for United, he chose the latter.
On the one hand, United have always been at their best when they play with an edge. Bryan Robson, Eric Cantona, Roy Keane, David Beckham, and a young Wayne Rooney all possessed hair-trigger tempers. Their competitive fire intimidated opponents. On the other hand, they were extremely combustible, costing United dearly at times. So, while it's encouraging to see the Reds flexing their muscle again, there is always the worry someone will foolishly cross the fine line between intensity and recklessness.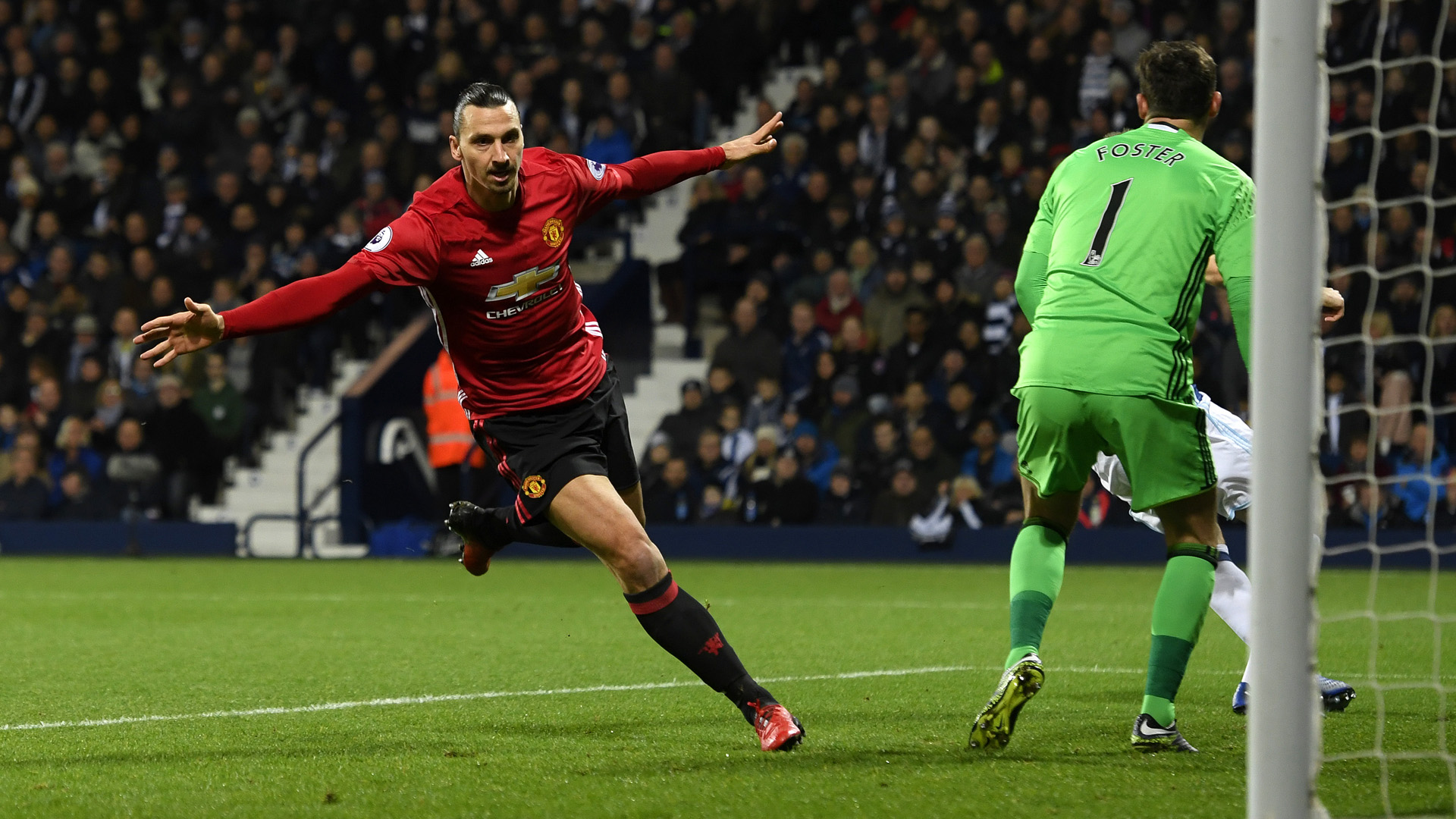 Stuck on 248
After Wednesday night's win at Selhurst Park, I suggested Sir Bobby Charlton may be getting a tad impatient with Wayne Rooney. The captain has not scored in his last five matches across all competitions, nor in his last thirteen in the Prem. Yet it hasn't been for lack of trying. Recently, he's proved critics wrong who have claimed he can no longer keep up. Witness his support for Matteo Darmian on the left flank at The Hawthorns. If the Italian's man shook him off, Rooney was there to keep him away from the box on almost every occasion. Rooney's work was especially impressive in the final ten minutes when it almost appeared he, rather than Darmian, had been penciled in at fullback.
Unfortunately, Sir Bobby again had to miss Strictly Come Dancing for naught. Wazza was denied an early Christmas present by former teammate Ben Foster. The Baggies keeper stretched full length to palm away a fizzing volley fired by the United number ten from the top of the box on twenty-three minutes. Two-forty-nine and fifty are coming, though. You can just feel it.
The Anti-Christmas
If your family celebrated Christmas, you remember the suspense and anticipation becoming increasingly unbearable as Christmas morning approached. You may have even planned covert missions to infiltrate the attic or your parents' closet, your objective to discover what they had gotten you for Christmas. Both the winter and summer transfer windows are meant to inspire the same feeling in football fans.
Unfortunately for me, along with some other United supporters, the coming transfer window is invoking an uneasy dread. Rather than excitement over possible new arrivals, I feel nervous over Morgan Schneiderlin's seemingly inevitable departure. As nervous as the black dude who knows what a trope is.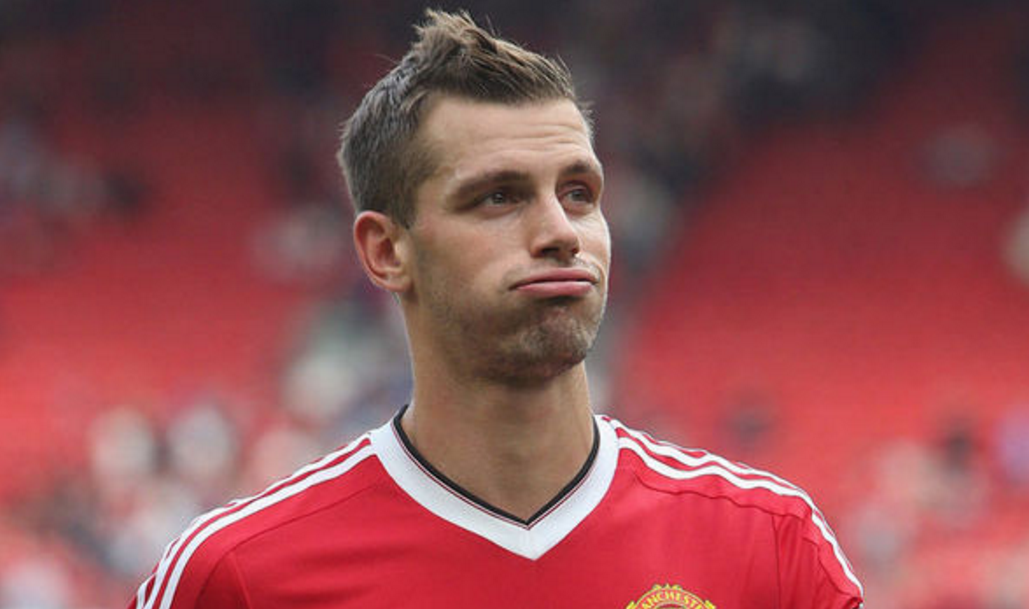 Maybe this is a by-product of my distrust for José Mourinho. Or Marouane Fellaini. Maybe it's just down to not knowing all there is to know. What I do know is when you google "Schneiderlin error costs United" you won't find anything of the sort. Rather you'll find the opposite. In contrast, we all know what will happen if we do the same search swapping out Schneiderlin for Fellaini.
I have my suspicions as to why Mourinho has no use for Schneiderlin. Once upon a time, Louis van Gaal surprised the Old Trafford press corps by dropping the former Saint for a match against West Ham, opting to go with the Belgian Chia Pet instead. LvG's decision paid off with a pair of goals. Fellaini hasn't exactly set the world on fire since, however. Van Gaal said post-match he wanted to counter the Hammers' physicality. Mourinho values physical play as much as his former mentor. He also emphasizes Fellaini's aerial prowess, both qualities Schneiderlin lacks.
The Frenchman isn't one to barge into foes. Rather he sails quietly around the pitch, intercepting passes, forcing opponents to the outside, nicking the ball from their feet like a gentleman bandit. He's also like a referee. When he's on his game, you don't ever notice him. While his method is effective, it lacks the intimidation factor players who Mou trusts possess. Nor does cool, calm, collectivity fire up one's teammates the way a flying tackle or two will. Schneiderlin's genteel technique better suits a Pep Guardiola, Arsene Wenger, or Jürgen Klopp coached side.
For that reason, it's probably best for him to move to pastures new. I just can't rid myself of the feeling it's not best for United. Regardless, time will tell. In the interim, have a joyful holiday.