1. Really, Howard, a toe?
To honor Sir Alex Ferguson's favorite referee, I'm starting this "Three Thoughts" edition without an introduction, the closest a writer can come to being offside. Any football fan who watched Wednesday night's Premier League match from Selhurst Park will know why. Whether they support Manchester United, Crystal Palace, or Chainat Hornbill, they all saw match official Craig Pawson endure more than just a bad day at the office. He was wrong on so many calls, it's difficult to know where to begin. His performance was so bad his Wiki page has already been "edited" to reflect it. Nor should his wife be surprised to find Easter Eggs hidden under the tree for the kids on Christmas morning.
For starters, there was Marcus Rojo's second two-footed leap into a challenge in less than a fortnight. Again, incredibly, the Argentine escaped without being sent off. Attempted murder is not to yellow cards what murder is to red. Wilfried Zaha's ability to leap over Rojo's audacious challenge in no way mitigated its severity. Every footballer's health and safety, in England, not just the Premier League, warranted the player's dismissal.
In his post match interview with BT Sport, José Mourinho refused to criticize Rojo, calling him a "clean, hard working player in his best form of the season." He said it with a straight face, as well. While his words are a good sign the Portuguese has finally learned not to throw his own players under the bus–and don't you roll your eyes at me, Eden Hazard–if someone does not take the defender aside to have a serious word, United will soon find themselves playing out the better part of a match shorthanded. If Pawson wasn't briefed to keep an eye out for Rojo, you can bet dollars to doughnuts the next few officials assigned United matches will be.
As we all know, the official's poor decision making did not end there. Like US Vice President-elect Mike Pence trying to avoid another embarrassing lecture at a Broadway play, Pawson missed the first half's last act, in which Zlatan Ibrahimović biceped the ball into Paul Pogba's path for the Frenchman to give United the lead. There were also shouts Pogba was offside, which, in all fairness, was down to the linesman rather than the match official. Still, replays seemed to show the ball pinballing from Ibra's arm to Joel Ward's shin before Pogba ran onto it as it rolled toward goal. It's possible, therefore, had Ibra not been guilty of a hand ball, the goal would have been legal with the world's most expensive player having been played onside.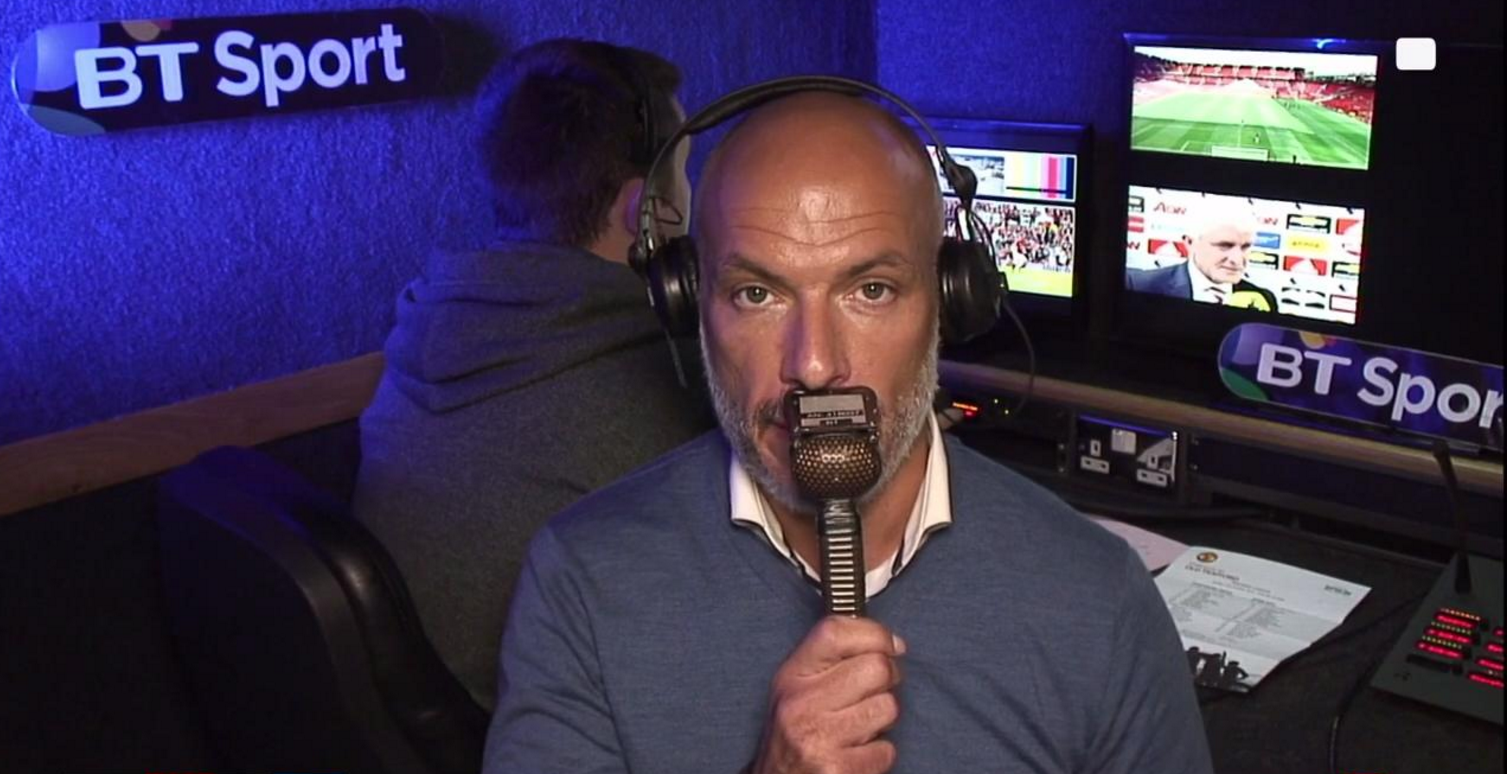 During the halftime show, Howard Webb, apparently concealing a cold sore with his microphone, explained to BT Sport viewers that, while Palace officials would surely be in Pawson's ear, he would have no access to any video feed to review his calls during the intermission. He might have benefited from one if he had.
The one-man horror show featured a plot twist when our man's second half errors affected visiting United rather than the home Eagles. In a two minute passage, Pawson and his crew doubled down. He missed a handball in the box from Joe Ledley, whose crooked right arm shielded the ball from a Marcos Rojo header (oh, the irony). Then the linesman joined in, calling Juan Mata offside for what should have been United's second goal.
After the match, desperately searching for a lifeline for Pawson, Webb provided a computerized graphic shading the onside boundary. According to it, Mata's toe was indeed offside. His toe. Howrd then concluded, "So, to be fair, we have to say he got that one right." BT Sport host Jake Humphrey promptly confirmed it as "an excellent call." I'm not sure how having your toe behind a defender is a clear advantage over it being level with his butt cheek, or how the linesman, huffing down the line some thirty yards distant, could accurately gauge such a minor incursion without digital aids, but I admit Palace deserved to have a couple calls go their way.
Regardless, it all came good in the end.
2. Sir Bobby must be getting impatient.
In 1980s America, there was a situation comedy called Night Court. Comedian/magician Harry Anderson played a New York City judge who presided over the municipal court's evening shift. In one episode, he has the opportunity to set a record for most cases adjudicated if he can just get through the entire docket. On the verge of tying the record, he must hear the plea of a postman who has committed a negligible misdemeanor. On… ly… the… let.. ter… car… ri… er… speaks… un… be… lieve… a… bly…
slow.
I imagine Sir Bobby Charlton is as frustrated as Anderson's character was, given the time it is taking for Wayne Rooney to match and eclipse his club scoring record. Rooney was twice thwarted by Wayne Hennessy on the evening, the Welshman palming away a curling volley destined for the upper ninety, then fending off a close-in redirect threatening to slide between the keeper and his near post. Shortly into each match Rooney starts, as well as every time the Scouser misses another opportunity, television cameras inevitably turn to a stone-faced Sir Bobby seated in the stands next to his wife. You know what he's thinking…
It could be worse, I suppose. Opposition defenders could shout "Rooney!" in the captain's ear every time he goes to shoot.
3. Leave it to Zlatan.
Michael Owen recently took some stick from José Mourinho and United fans for suggesting Ibra's limited shelf life was a problem for the club. The truth is, Owen is right for the wrong reason. The big Swede isn't a millstone on youth development, hindering United's young star's potential by keeping them out of the lineup. To remain stuck in the eighties, he is their Mr Miyagi. Wax on, Rashford-san. Wax off, Martial-san.
Perhaps the most critical lesson to their development Ibra can teach is that, despite the pressures they have seen eat away at Wayne Rooney, it's possible to have fun and enjoy yourself twenty years into your career. Michael Owen doesn't seem to understand Zlatan's only being here for two years or so is disappointing because he's so much fun to have around.
On the pitch, he's a joy to watch. Calling each and every part of his game sublime, positioning, movement, timing, and vision, is understatement. Many of his little flick-on passes to overlapping players don't come off. More often than not, however, as a defender runs into open space to collect the ball, Ibra's glare lets his target know that is where he should have gone. And he's not wrong. The big man reads the game like few other players. Although he doesn't have the wheels to track back, his instincts frequently compensate. Last night, he rescued a lost opportunity when, realizing Scott Dann would beat him to a cross, Ibra simply checked his run. The Palace defender's clearing header, intended to go over the onrushing striker, instead came right to his feet. Rather than getting caught on the counter, United kept possession in Palace's final third. When the ball is on the other foot, Zlatan certainly knows where to go, as well. Evidence the winning goal when he ran onto Pogba's through ball, then found the tight angle to arc it over Wayne Hennessy into the far-side netting.
Yet, his intensity on the pitch is contrasted by his relaxed attitude away from it. While still in his recent slump, he smiled good-naturedly when his "shine" quote was thrown back in his face by reporters. After the win last night, as they were both being interviewed, he readily admitted the carom to Pogba for United's first goal went off his arm. When next asked to do the honors by presenting the Man of the Match bubbly to the young Frenchman, he playfully pretended to "keep it for myself." Pogba, who had been trying to be the professional mature beyond his age could not help breaking down in laughter.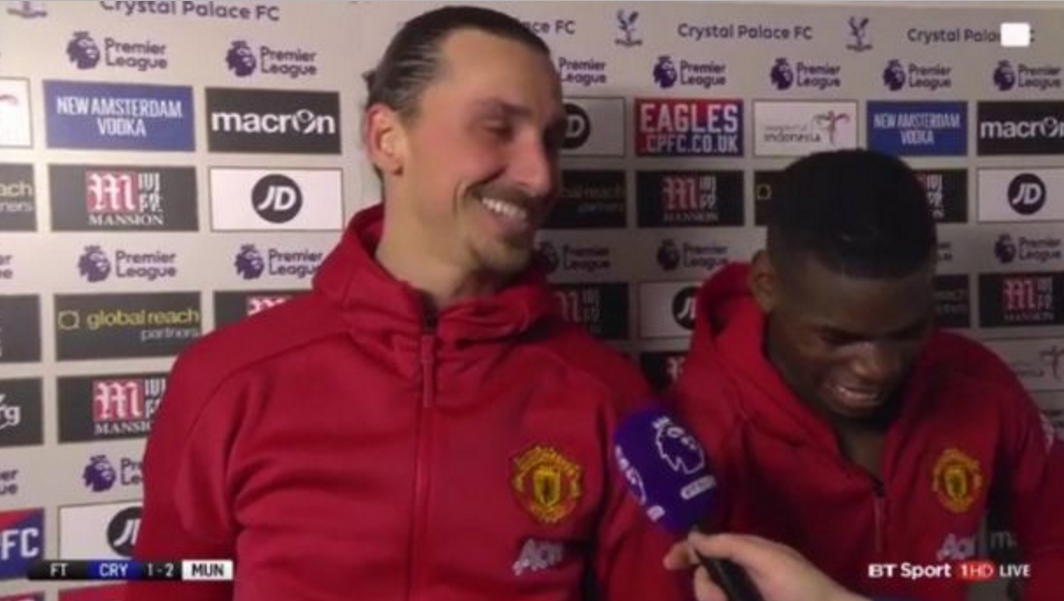 Owen and other pundits may see the topknotted striker as a stop gap to lead the line. In reality, he's the leader with the strong, commanding presence on the pitch and in the clubhouse Wayne Rooney has not been allowed to be. Whether or not Ibra wears the armband, and he should, he is desperately needed until a young gun, most likely Pogba should he come to learn the honor is worth more than a run in Real Madrid's side, is ready to take on the responsibility.
When Ibra leaves, he'll be missed more than some legends who were here much longer. And no, that wasn't meant as another shot across Wazza's bow.