Before the North Londoners' visit, all the pre-match discussion concerned the widening gap between the home team and fourth place and whether Champions League qualification was already a distant ambition.  A Tottenham victory would have seen Spurs, the only club impeding Manchester United's view of the top four shop window, triple their three-point lead over us in the bargain.  A run of successive draws had pushed the Reds that far back in the race.  Mourinho expressed his satisfaction with the performances, if not the results, in that run. Yet, many commentators spoke of the disquiet and frustration brought on by the dropped points.  A win was therefore critical to move back up the line.
Happy to say, job done. Here are my main talking points in the match's wake:
Second choices holding firm
A winger playing at right-back, a right-back playing on the left, and a pair of accidents waiting to happen in the middle. Phil Jones and Marcos Rojo as your starting center half combination appear designed to induce dread in match-going fans.  Still, during the absence of more recognised defenders, they, along with Matteo Darmian, have generally held firm.  Eric Bailly has only recently returned to the match-day squad. Chris Smalling is still affected by his foot complaint. Luke Shaw continues to be absent, whether due to injury or manager's choice remains to be seen.
A fine effort from Son Heung-min and a miscued header from Victor Wanyama apart, Spurs created very little.  Harry Kane had come into the game recovered from his own bout with injury and finding form in recent weeks but was shackled impressively.  His supporting trio of Dele Alli, Son and Christian Eriksen were not given space to cause problems. Mauricio Pochettino was sufficiently frustrated to haul off two of the trio before the hour mark.  Tottenham's main wide threats, Broadway Danny Rose and Kyle "Are you Sarah Connor?" Walker, found themselves pushed back and double-teamed by United's full-backs and midfielders, limiting quality crosses and through balls to Kane.
Phil Jones drew particular praise from the manager for his attitude.  A player who many, myself included, would have expected to have been given his marching orders in the transfer window has instead come back into the team to play ever since given the opportunity in the Swansea match.  His commitment and passion for the shirt cannot be faulted.  A period where he (and those around him) can achieve a level of injury-free consistency is the next step forward.
Pobga shines again
Whisper it quietly but this lad from France is beginning to look alright.  Allowed to play in his correct position, fans have seen him exert greater influence in the past couple weeks.  Being assigned responsibility for the main defensive work in a deep-lying position does not work.  It failed to succeed for France in the Euro finals, nor did it come off when he debuted there in the opening weeks.
Not to say the boy cannot tackle or work hard.  Anyone with his build and physique should be able go where he pleases.  It's just where he pleases is further up the field.
PS. The duo of Michael Carrick and Ander Herrera once again shone in deep lying roles.
Who will replace Mikhitaryan?
Joni Mitchell sang "Don't it always seem to go that you don't know what you've got 'til it's gone." Seeing a big orange stretcher taking Henrikh Mkhitaryan away dampened the joy in an otherwise important victory for United fans. Thankfully, United does not employ American paramedics.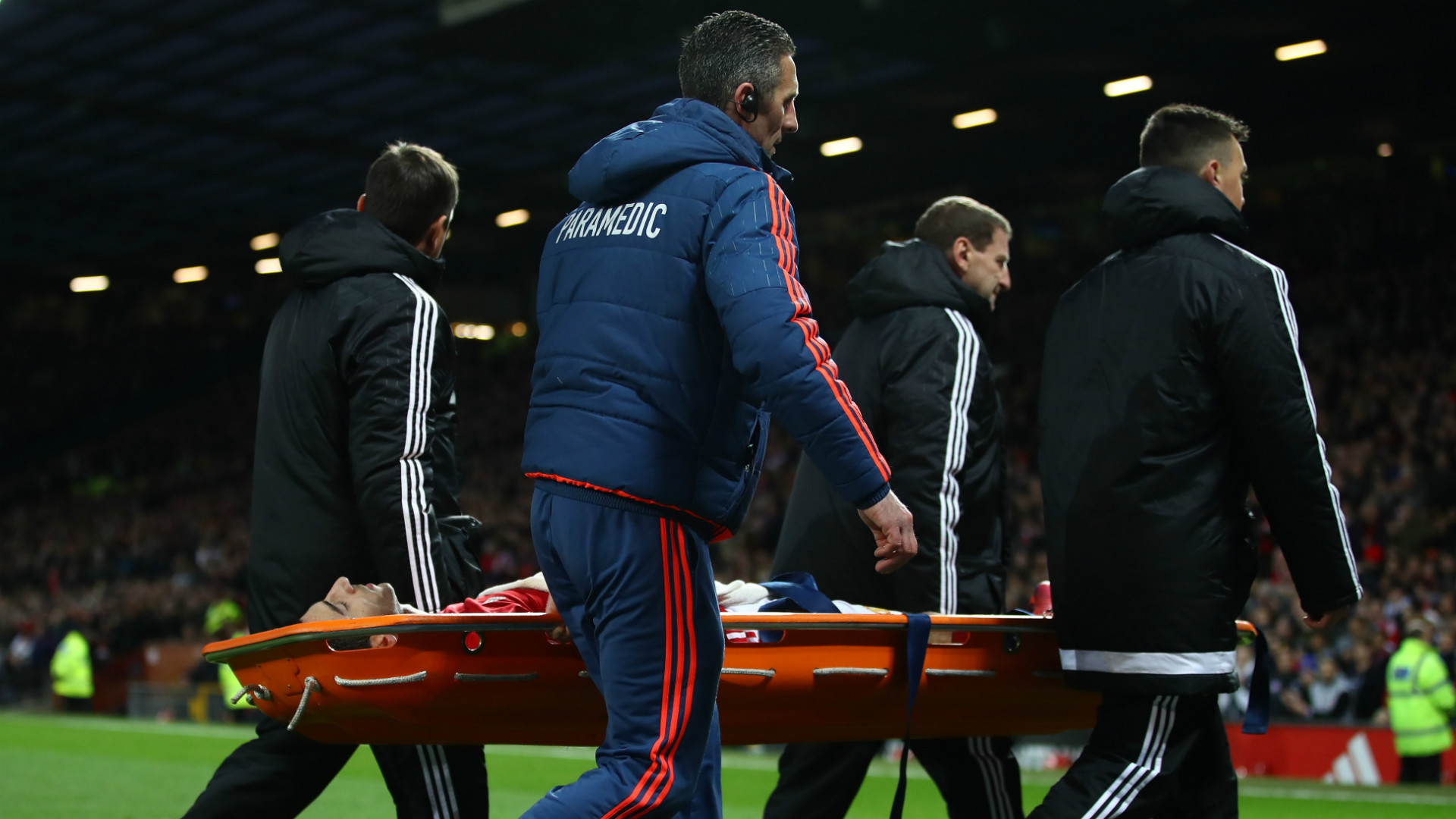 It has taken some time for the summer signing to make an impact on the first-team. Sporadic appearances from the bench resulted in his first start in the derby but a disjointed forty-five minutes saw him banished at half-time. Two months later, many were fearing he would never be allowed to prove himself again. Mouriniho's past record when dealing with flair players was trawled up again.  The Armenian's apparent lack of fitness and seemingly sensitive disposition were disparaged.  Reds fans were fearing Mkhitaryan would follow another dynamic talent, Angel di Maria, through Old Trafford's revolving clubhouse door.
Then, in mid-November, the Armenian began to make the bench again and appearing in the cup competitions.  A stunning individual effort in the Ukraine, midweek in Europe, secured progression in Europe but also revealed his natural ability.  By giving him the opportunity to build up to the speed of the Premier League game through other competitions, José has played it well.  Mkhitaryan reminded why he was voted Bundesliga Player of the Year the past two seasons. He ran off his opponent to collect Herrera's pass and finish with aplomb. The need for midfielders to chip in with more goals, taking some weight off Zlatan Ibrahimović was satisfied perfectly. Fans, having taken to him, will surely be reviving the chant they serenaded him with in August.
Unfortunately, the late injury sustained under a Danny Rose tackle means he will be missing for at least the next couple games.  This leaves the door open for a number of players.  Anthony Martial, also trying to rediscover his form, tracked back well on the left flank but faded in the second half on the weekend.  Marcus Rashford was brought on to stretch the Londoners at the back but didn't really have much of an impact.  West Brom and Palace are likely to be quite physical encounters, so Mourinho must also weigh Juan Mata's creativity and Wayne Rooney's strength.  Hopefully, Hank's will not be a sustained absence. We were just getting on a first-name basis.