United's top four chance has gone.
Jose Mourinho may well want to start taking the Europa League much more seriously now as it will be United's only chance at Champions League qualification. Another two dropped points at Goodison Park sees United nine points off the top four and six points behind fifth placed Spurs. A breakaway pack has now formed at the top of the league and United are not in it. They're merely slugging it out in the middle pack while watching the leaders speed off ahead of them. Even in December, that will be a difficult gap to overhaul, especially considering United show precious few signs of reversing a wretched run of results that has yielded just one win in the last eight league games. Bar an extraordinary run of form, which looks unlikely considering the manager's own inconsistent decision making, United will finish outside the top four for the third time in the last four seasons. For such an expensively assembled squad and a manager of Mourinho's ability, it is simply not good enough.
Fellaini does his manager a personal favour
Marouane Fellaini being a complete dimwit may have cost his team points but he did Mourinho a rather large favour in the public relations stakes. The Belgian's high farce distracts from his manager's failings. Despite what José's defenders claim, it is not short-sighted or treasonous to say that Mourinho is underachieving when underachieving is exactly what Mourinho is doing. United's squad is far from perfect. It is also much better than the manager makes out. Despite a suspect defence, United have more than enough firepower to at least be flat track bullies against smaller teams. Somehow, Mourinho cannot even manage that. Waging psychological warfare on his own players, making bizarre, inconsistent team selections, and walking around with the air of a man who has been told he will have spend the rest of his life in Widnes, football's iconoclast is six months into the job, apparently without a plan for his team beyond spending massive amounts of money. Some United fans claim Mourinho needs time, ignoring that Antonio Conte is delivering results in far more testing circumstances (feel free to read that as Mou's previous blast zone) with a squad no better than United's. As things stand, Mourinho looks like he is doing nothing more than delivering the most expensive mid-table team in history.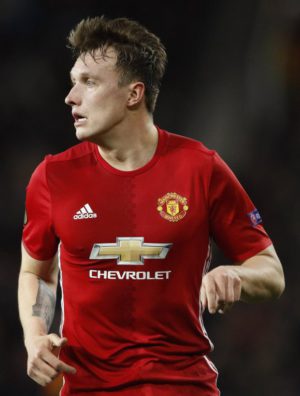 Phil Jones provides some festive cheer
Amidst the winter gloom, Phil Jones at least is giving United fans something to smile about and, for once, not as comic relief. The weekend marked the first time since May, 2014 Jones played six games in a row. What's more, he has been very good indeed. He may never be the player we all hoped he would be during those halcyon days as a 19-year-old charging out from the back, moving the ball like a cross between Franz Beckenbauer and a rabid mule. What he can be though, is a very good defender. Against Everton, he was exactly that. With a higher pass completion rate than his teammates, rarely ceding possession, and making countless clearances, tackles, and interceptions, Phil Jones was United's star man on Merseyside. Even more startling than the relative ease with which he has found form after an extended injury layoff was that he managed to be this good playing next to Marcos Rojo. To achieve that level while playing next to a man even worse at football than Michael Oliver is at officiating is staggering. Once Eric Bailly returns, providing Jones can stay fit, United will at last have a strong defensive foundation for the future. In glum time, Phillip Anthony Jones is a shining beacon of hope. Never thought I'd write that. Nonetheless, cherish him.