United is a good name for a club. After all, a divided squad is never going to achieve its goals. That's the primary reason I've had reservations regarding José Mourinho becoming Manchester United manager since the notion first became a mooted possibility. Whenever he has cultivated an 'us against the world' mentality in his squad, it has borne fruit. Too often of late, however, the culture in his dressing rooms has been 'me against you', causing his projects to wither on the vine.
When faced with failure in his last two stops, the Portuguese has been too willing to pin the blame on key players. Since taking charge at United, Mourinho has attempted to keep the lid on dirty laundry. Cryptic remarks after poor performances by Chris Smalling and Luke Shaw, followed by the pair's prolonged absence due to convenient, unspecified injuries, have led to speculation the manager has now brought contention to the Old Trafford clubhouse. Bastian Schweinsteiger was banned from training with the first team for months, and Henrikh Mkhitaryan has been unable to get a game. Yet none of the four have exhibited any animosity towards the manager who has marginalized them, even when others have spoken on their behalf. Absent hard proof, then, it bears remembering speculation is not fact.
If you want to know whether a manager has lost the dressing room, the player's performance on the pitch is often a good indicator. The USA's woeful international week, losing at home to Mexico at the death, then lacking any positive response in a 4-0 defeat away to Costa Rica, has produced an American media consensus that Jürgen Klinsmann no longer has his player's respect. In contrast, José Mourinho's side, while wildly inconsistent this season, even abject at times, has always responded to adversity.
In fact, the draw with Arsenal, despite dropping a much-needed two points to a late goal, is exactly the performance you hope to see from a rebuilding squad. The first twenty minutes could have gone either way, with Arsenal looking dangerous at times. Then United grew into the match. They began to set the tempo and boss possession. The finishing wasn't there, with most of their shots failing to test Peter Cech. It could have been Burnley all over again, with a much greater possibility for disaster. Still, United kept looking for an opening while keeping Arsenal's dangerous attack on the perimeter. When Pogba kept the ball on the right side, then slipped in Ander Herrera, they had it. The Basque angled a pass back to the top of the box for Juan Mata to volley past Petr Cech. It was a deserved lead.
You can question whether Chris Smalling was healthy, and if so, why a clearly not match-fit Phil Jones was allowed to go the full ninety minutes against a title-contending opponent. As Olivier Giroud went up to head in the equalizer from Alex Oxlade-Chamberlain's far-post cross, it was Beeker who stumbled to the ground at his feet. Yet, without Smalling to call upon, there is no other defender in the United squad who is a physical match for the Frenchman.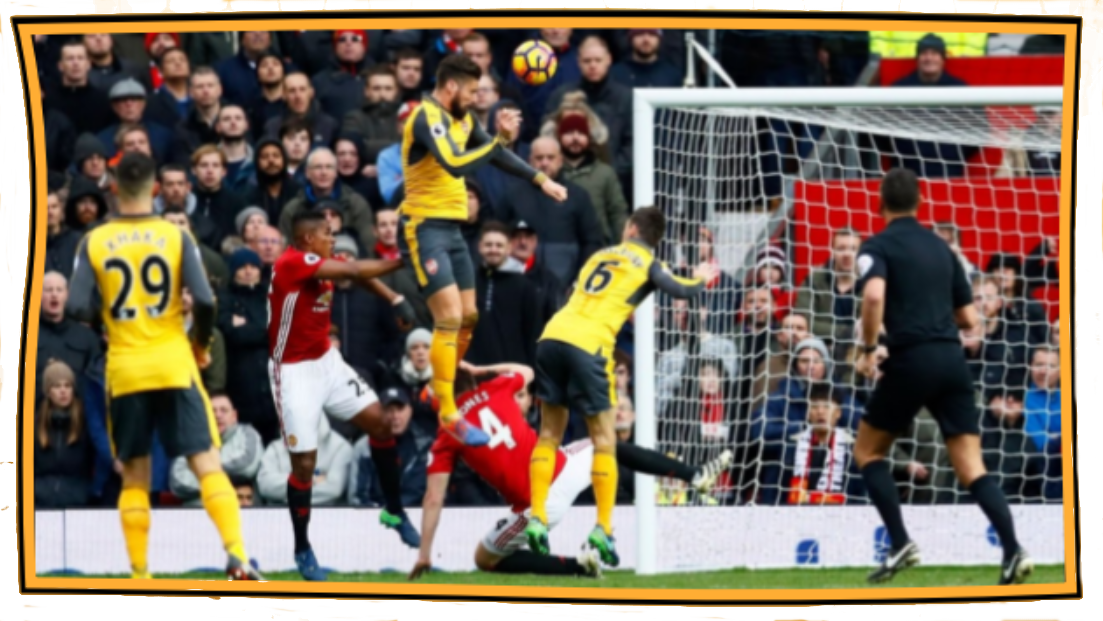 You can also find fault with Marcus Rashford's defending on the play. When an attacking wing is within eighteen yards of the end line, you want to keep him to the outside, force him lower, then use the lines to limit his space. When he is twenty-five to thirty yards up the pitch, however, you herd him to the inside so your teammates can close him down. Under ninetieth minute pressure, and no doubt fatigued, young Rashford got it backwards. Biting on a feint to the middle, he allowed Oxlade-Chamberlain to run unmarked down the flank, then deliver a perfect cross to Giroud. Inexperience and mental errors are the butcher's bill for developing young players.
United has always been happy to pay that price, though. The club's philosophy gave birth to legends such as Ryan Giggs, Paul Scholes, Gary Neville, David Beckham, Cristiano Ronaldo, even Wayne Rooney. Every one made grievous mistakes, but Sir Alex Ferguson trusted them to learn. He was never afraid to trot "the lad" back on the pitch against the next opponent. No one is advocating for Mourinho to revert to his reputed preference for veteran players. Surprisingly, not even the man himself. Every United fan is clamoring for more Rashford, not to mention Jesse Lingard and Ander Herrera. To date, José has been happy to accommodate. Therefore, no one can blame the coach for leaving their prodigy in the match.
Instead, they should be hoping such a critical gaffe doesn't see the youngster banished in the manner of Smalling, Shaw, et al. Herrera's presence, after a foolish sending-off before the international break, partially alleviates the concern. One would expect Rashford's name to be written into the lineup for Thursday's match against Feyenoord. Nor would I balk should Mou pencil in Jones, too. You can never realize your potential on the bench. While only his face appears made from rubber, rather than his entire body, leaving him with more games missed than played for the past few seasons, a healthy Phil Jones is a Beeker half full, rather than empty.
One match doesn't convince me Mourinho is no longer the vindictive narcissist, suddenly remembers the concept of a cohesive clubhouse, and therefore has had an epiphany regarding the Manchester United ethos, but I'll grudgingly concede he appears to be learning. Others are preoccupied with the club's dwindling chances to earn Champions League qualification. Supporters out of pride, the board for the £30 million a second year outside Europe's top club competition will cost them in sponsorship revenue. Still, results aren't the entire story. The effort put forth against the Gunners, despite an unhappy ending, indicates Mourinho still has the dressing room. With an admittedly wary eye, not to mention the promise I'll be on him like Donald Trump on a beauty pageant contestant should he revert to form, I'm content to see him continue as long as his squad shows the qualities they did in this match, and he continues to show greater faith in them.