Coming off an international week, Manchester United will have to hit the ground running for their first match back against Arsenal. The one saving grace for José Mourinho may be the game will take place at Old Trafford. Here are three points of interest to consider going into the contest.
1. The scheduling gods have not liked United in the early doors.
Manchester City was waiting for United when they returned from the season's first international break. Then it was Liverpool after the second. Now, it's Arsenal. All differences I have with the current manager aside, it would be nice for him to be afforded the time to prepare his full squad to face one of their top rivals, rather than sitting around for a fortnight, fingers crossed, hoping none of his players suffer any serious injuries. Just the one time doesn't seem too much to ask, does it?
2. Has anyone seen a tall, topknotted Swede with a bristly temperament?
Even if Mourinho had a week to drill his side before facing Arsene Wenger's Gunners, and although it looks like everyone will be coming back from international duty in one piece, the Portuguese will still be missing the most important cog in his attack. Zlatan Ibrahimović will not be available due to an accumulation of yellow cards.
Of course, if you're Gary Neville, this doesn't matter because, a) you're on a self-imposed five-year hiatus from football management after your first go at it, with Valencia, went tits up, and b) if you were United boss, as you recently told some university students, you wouldn't pick the man who has eight goals in fourteen appearances with the club, including the Community Shield. The Red Dog doesn't rate Wayne Rooney or Juan Mata, either, supplanting the three veterans in his United XI with Anthony Martial, Marcus Rashford and Henrikh Mkhitaryan.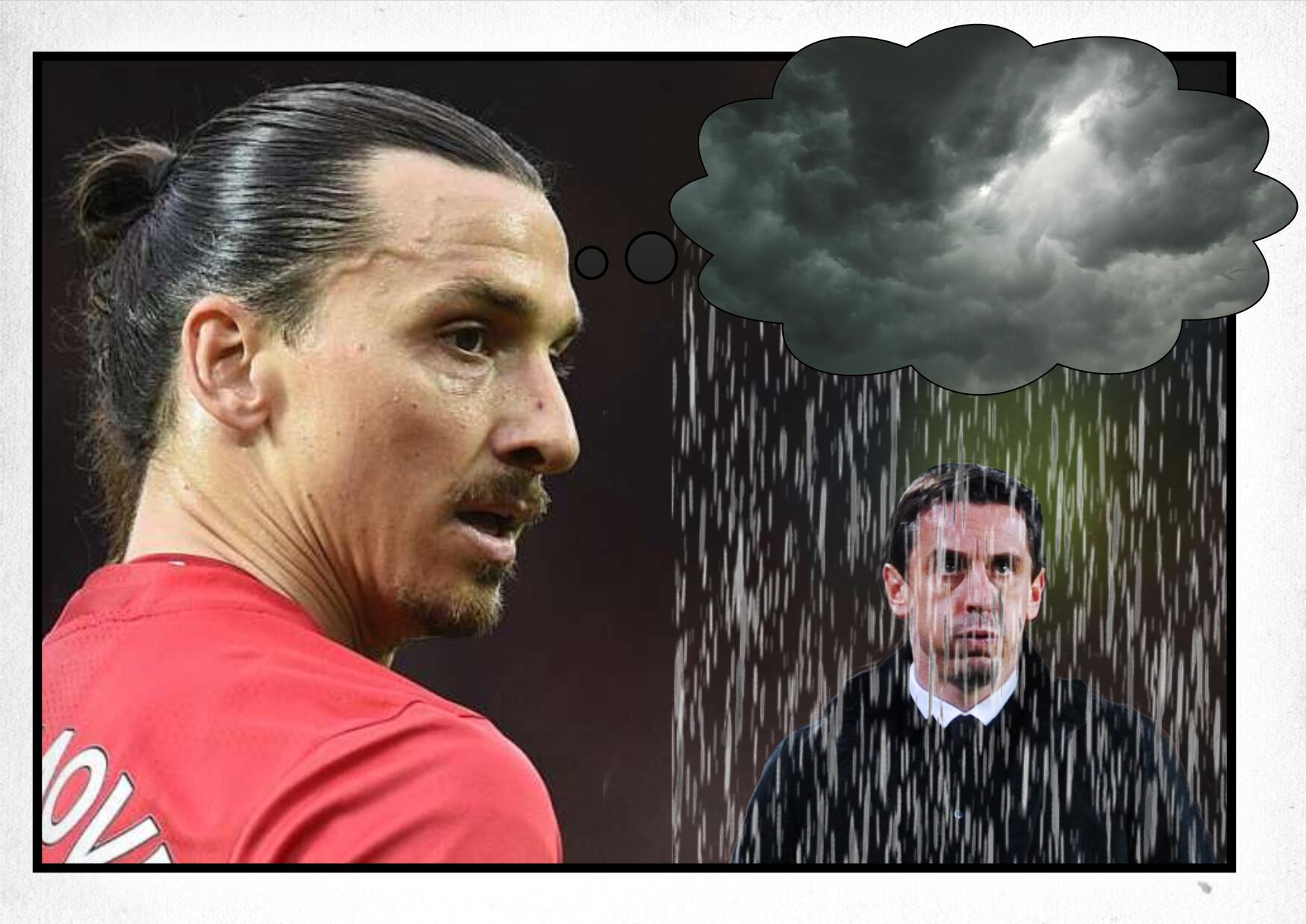 On the one hand, I see the former United captain's reasoning. Assuming the Armenian gets his act together, committing to play both sides of the ball, his greater physical presence will allow him to depose the gifted, but diminutive Mata. Moreover, if the former Borussia Dortmund playmaker can rediscover his BvB form, the speed and youthful exuberance in the other two from GNev's trio will benefit from Mkhitaryan's passing and vision.
On the other hand, while everyone remembers him for goals such as the Wembley long-distance bicycle kick, Ibra's sublime distributive abilities are the greater contributor to his thirteen league titles in fifteen seasons across four competitions. Whether it is simply a question of needing time to acclimate to the Swede's unique, unpredictable style, or that Mourinho's set-up is too narrow, Rashford, Martial, Rooney, and Luke Shaw have not consistently overlapped his hold-up play to fill the open space he leaves for them. Mata has been the lone United player who seems to have developed an understanding regarding where he should be to benefit from Zlatan's service. In that context, the big man's absence won't be as crucial as it should be.
On the third hand, and don't we all wish we had one, no one else in the squad has proven capable as an attacking midfield puppetmaster.
Paul Pogba is said to favor the role, but he has yet to favor United with a performance in an advanced position suggesting he can do the job. His best work has occurred from a deeper position, where he has recently started to overlap Ibrahimović when the striker comes back for the ball. When he is forward, his thoughts, in order of importance, are a) shoot,  b) dribble through several defenders, c) find an open teammate. If he could permanently turn those thoughts on their head, maybe we could talk.
Rooney, when in the number nine role, likes to come back himself, but has had less success than Ibra in linking to teammates making runs. If Mourinho would play him as a ten, it would be no different. Part of the Scouser's issue is Ibra is a sedentary presence when he comes back, neither moving nor allowing defenders to move him. He may take one touch, or none, to bring the ball under control, then it is quickly angled off for a teammate to collect. Rooney needs a moment to get the ball under control, then will usually make a lateral run from his typical starting point on the left, allowing defenders to get back before he can switch the ball over to Antonio Valencia or Matteo Darmian, on the right flank, with one of his patented diagonal passes.
Mata has the vision and touch to make the short passes Rooney doesn't, but his play is halfway between Xavi Hernandez and Lionel Messi, making him less the metronome, but also less the dangerous scoring threat. He hasn't quite developed the knack for knowing exactly when to channel either side of his game.
Michael Carrick does have the presence and skill set to anchor the United attack. His passing is more accurate than Ibra's, too, likely because he is facing the opposition's goal with a better view of both teammates and defenders. Unfortunately, cursed with the top speed of a John Deere lawn tractor, he is obligated to play a deeper role so as not to get caught out on the counterattack.
For a different reason, the deeper midfield has also become Ander Herrera's home. If his countryman's playing personality is split between Xavi and Messi, Herrera's is a Jekyll-and-Hyde blend of Andrés Iniesta and Sergio Busquets. The passing and timely goals are welcome. The rash tackles, simulation, and constant whinging to officials are not.
No, with Zlatan on forced gardening duty, and faced with an Arsenal attack in full bloom, it's likely Mourinho will again summon forth his inner Reg Varney to obstruct the Gunners path to United's goal with a large, multi-passenger vehicle, rather than setting loose his own attack dogs to put the visitors more on their heels. Accordingly, expect to see Ashley Young and Marouane Fellaini in the line-up on Saturday.
3. Just say no.
There is one further selection headache José will have to address before the Arsenal clash. On Friday, Danny Blind sent Memphis Depay in for the second half in the Netherlands match at the Stade Josy Barthel, for the injured Arjen Robben. The underperforming United starlet promptly put the game to bed, scoring two goals after the home side had inexplicably offered the Dutch a match with a leveler from the spot just before half-time.
The younger Blind also had a memorable match. Daley was sending sumptuous crosses into the Luxembourg box with regularity. With the Dutchman on United's left flank, and Antonio Valencia soon to return to the right, one has to wonder why heading the ball is not first on the list of tools to be added to the sufficiently tall Marcus Rashford's box.
Depay's first strike was a powerful header from a Blind cross from the touchline. Again, José, think wide thoughts. Memphis' second came from a set-piece, curling a ball over the wall and inside the near post to keep l'Oranje in the World Cup picture. His confidence restored, it's almost a certainty he will be lobbying his club coach for some playing time on Saturday. How will it turn out, I wonder?