Swansea have played three matches under new manager Bob Bradley. The results have been a mixed bag. Most recently, Stoke hung a 3-1 pasting on them at the Britannia, a notoriously difficult fortress to assail. Prior to that, the Swans battled to a goalless draw against Watford in Bradley's first match at, for an American, the ironically named Liberty Stadium. Yet, being at least half-American myself (I was born in NY, raised in Canada, and now live in Florida), and having followed his exploits when in charge of the United States Men's National Team, the match which most epitomized a Bob Bradley side for me was the 3-2 loss to Arsenal.
The Gunners leaped out to a two-goal lead through a Theo Walcott brace on either side of the half-hour, but Swansea got one back courtesy Gylfi Sigurdsson before the intermission. When Mesut Özil restored the two-goal cushion just before the hour, Borja rejected his name by pegging Arsenal back again nine minutes later. Then Granit Xhaka, whom I always think I should remember from a Flintstones episode, was sent off with twenty minutes remaining. Yet, try as they might, the Swans just couldn't equalize.
It was Bradley's first game in charge with the Welsh outfit, but it seemed to me he'd already infected them with his relentless determination to compete. Such a description makes him sound like the Yank version of Big Sam Allardyce, which would actually be NFL Bills' coach, Rex Ryan. Bradley isn't a rah-rah guy, nor a loudmouthed blowhard who finds new and interesting ways to cock things up. Rather, he's the type who practices what Teddy Roosevelt used to preach. He speaks softly but carries a big stick.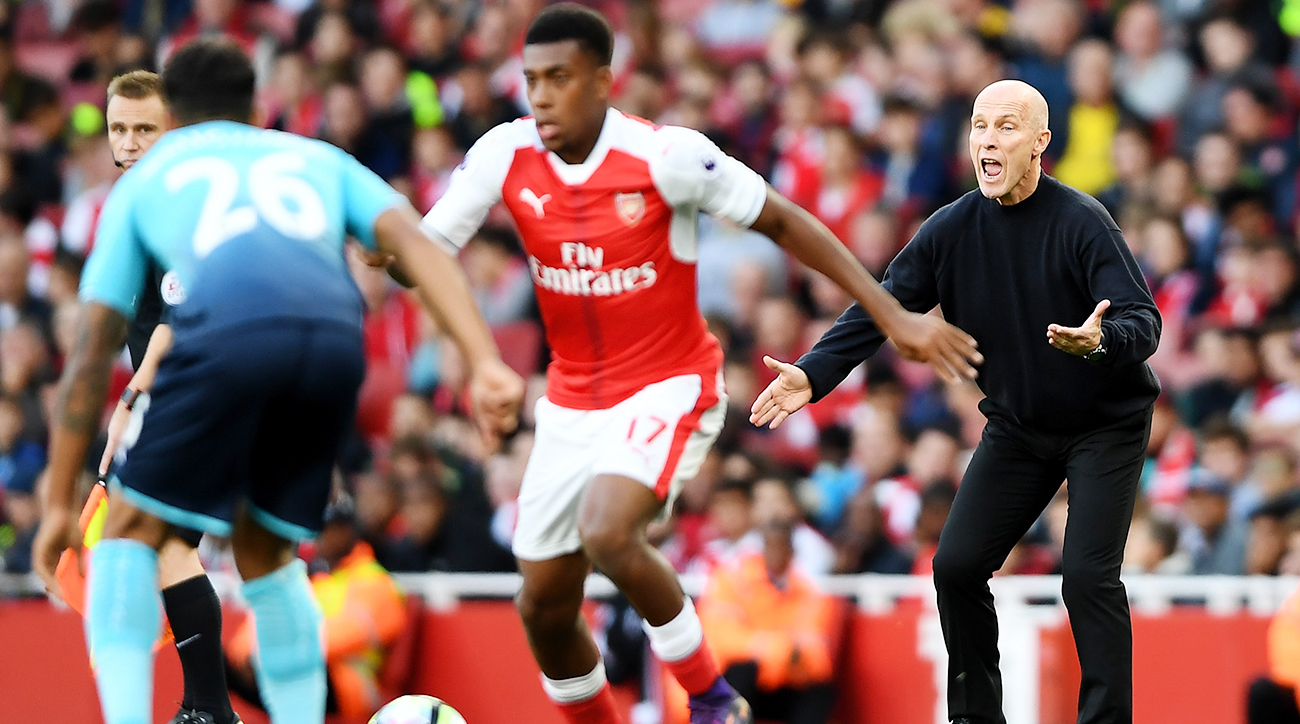 That stick is crafted from an infectious self-belief fortified by the tactical wherewithal to adjust when an opponent gains the upper hand. Rather than America's Big Sam, he's a footballing version of Muhammad Ali, minus the braggadocio and the world titles. Admittedly, Bradley made his reputation at the 2009 Confederations Cup when his unassuming US team blanked Egypt, a side he would later coach, 3-0, extended their clean sheet to a second match with a 2-0 victory over 2008 Euro winner and soon-to-be World Cup Champion Spain, then jumped out to a 2-0 first half lead in the final against Brazil before capitulating 2-3. Yet that get-out-of-the-blocks-quick run was, in fact, his side coming off the ropes after being embarrassed 1-3 and 0-3 by Italy and Brazil, respectively, in their two opening group matches.
It usually doesn't take Bradley 180 minutes to resolve a problem. Throughout their World Cup qualifying for South Africa, and the tournament itself, the USMNT typically started out slow, with the boss consistently making substitutions at the intermission, or earlier, that would set his group back on track to rescuing a result.
There is no arguing it's frustrating to watch your lads continually get off on the wrong foot, and, at the moment, United fans know what I mean. Perpetually sluggish starts had Sam's Army calling for Bradley's head, and for Jürgen Klinsmann to be brought in. When the squad failed to recover after falling behind in one or two critical matches, the critics saw their wish granted. Still, it was uplifting to have a manager who had more than just a hammer in his tool kit, if you get my drift, José.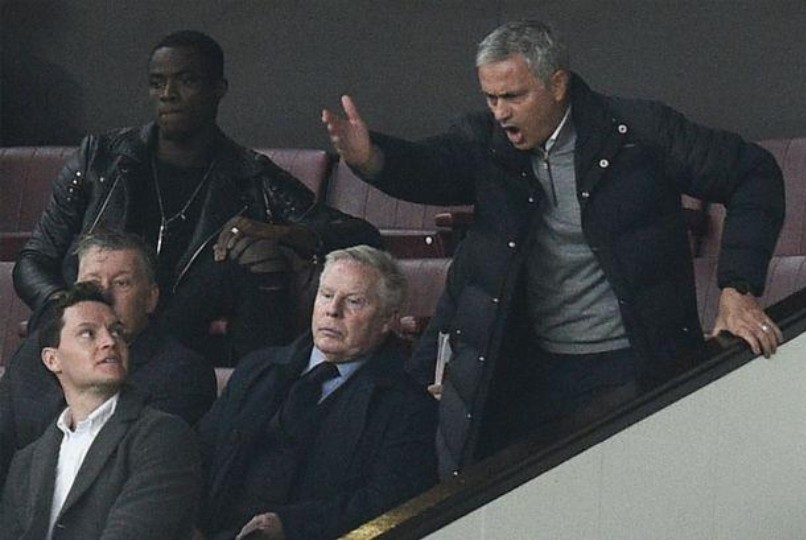 As well as having a head on his shoulders, Bradley is also fearless. There are those who argue he is the best American football manager ever, although Bruce Arena had better results with the national team and in MLS. Bradley succeeded Arena as USMNT boss, took on a more rigorous schedule, yet still managed to win 54% of his 80 matches in charge, compared to Arena's 58% in 130. Arena's trophy case is much fuller, having won five MLS Cups, three Supporters Shields for best regular season record, one US Open Cup and two Gold Cups, the last two being equivalents to the FA Cup and Euros respectively. In contrast, Bradley claimed one MLS Cup, Two US Open Cups, a Gold Cup, to go with his runner-up finish in the Confederations Cup.
Their chosen club career paths have much to do with the comparative silverware hauls, however. Arena managed two MLS powerhouses, the league's first dynastic side, DC United, and now its flagship club, La Galaxy. Bradley deposed Arena's United dynasty with his Chicago Fire champions, but was unable to work the same magic with the NY/NJ Metrostars, a club, in its later incarnation as NY Red Bull, that also proved unresponsive to Arena's sorcery. The common failure only goes to prove the importance of strong ownership and executive at a club no matter the manager's ability. After unpleasant stays in the Big Apple, both managers moved west. Bradley tried to rescue Chivas USA while Arena rebuilt the USMNT at its Colorado headquarters. Again, dismal ownership led to failure for Bradley, who succeeded Arena with the national team, while his predecessor took up residence in the same stadium Bradley had just departed, only with Chivas' much better organized co-tenant, the Galaxy.
When his tour of duty with the national side ended, Bradley eschewed a return to MLS. Instead, he decided to blaze a global trail for American coaches. He guided Egypt's Pharoahs through the Arab Spring, coached Norwegian side Stabæk under the Northern Lights, and only failed to secure promotion for Ligue 2 side le Havre on goal differential. His CV reads like a Robert Frost poem: a road less traveled, if at all. And now that series of daring choices has brought him to Swansea City.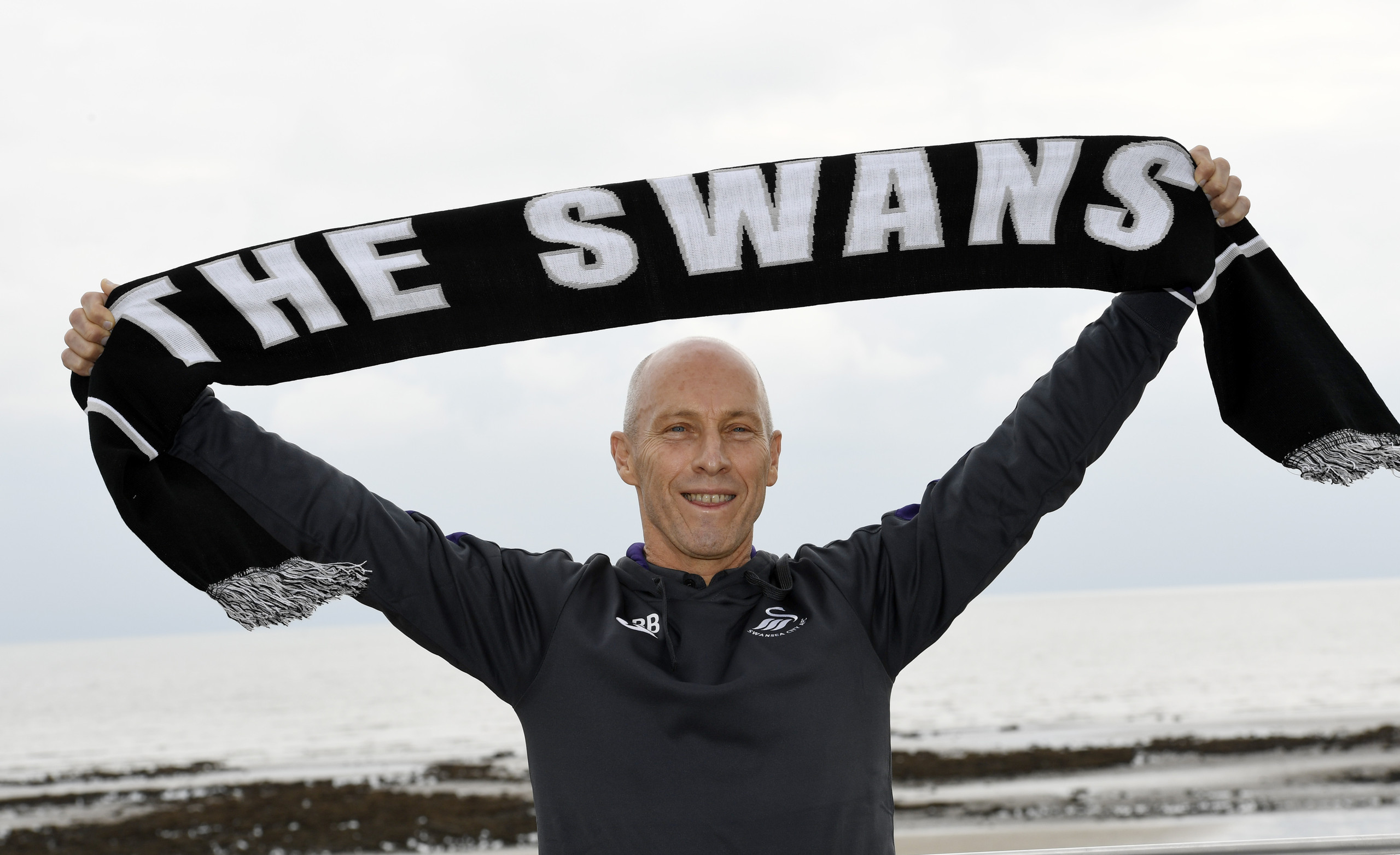 While Arena has been content to remain a big fish in a small pond, Bradley had the courage to jump in the ocean, to challenge ridiculous preconceptions regarding an American's ability to coach in Europe, to challenge himself. He's forged an identity as one of those coaches who can turn a club around.
Arena, while not sticking his neck out, has, over the years, shown the ability to manage a varying array of temperamental stars. He drew out the best in the reluctant, introverted Landon Donovan, captured the attention and commitment of a distracted David Beckham, (mostly) harnessed the maniacal Nigel de Jong's rage, showed faith in the precocious Mexican Giovani dos Santos, and placated the cantankerous Robbie Keane.
I would ask what the problem is with members of that particular Irish clan, only it turns out Robbie is more closely related to the singer Morrissey than Man United's Keane-o. Which, I suppose, earns him a pass.
Arena also coaxed the openly homosexual Robbie Rogers out of retirement to become an important cog in the Galaxy side, then had the strength to bench Steven Gerrard and Keane when it was apparent they were no longer his best options.
Had the sixty-five-year-old been willing to push the envelope in a manner similar to Bradley earlier in his career, those cross-cultural man management skills, his tactical nous, and his relaxed ease with the press might have brought him to an elite European club. It's fun to imagine what he could have done with this United roster that includes diverse challenges such as Wayne Rooney, Zlatan Ibrahimović, Michael Carrick, Henrikh Mkhitaryan, Anthony Martial, Marcus Rashford, and Jesse Lingard. Having seen him turn over the Galaxy roster a handful of times, while always remaining a contender, I think he could have made it work.
Instead, English football will have to settle for the less polished grafter in the pair. And make no mistake, Bradley will speak softly, but if Mourinho's United go into the Liberty Stadium unprepared, they will be shocked to discover their opponent can wield a surprisingly sizable stick.