Let's get the bullshit excuses out of the way first.
Mark Clattenburg did not keep Burnley in this match, nor did he deny Manchester United three points. Other referees may have given a penalty when Matteo Darmian went down at the edge of the box under Jon Flanagan's forceful tackle, or maybe not. Flanagan did touch the ball, and, if contact with the player occurred first, it was negligible, with the contact afterwards sending the Italian tumbling. Over the course of the match, fifty-fifty tackles like it occurred several times, if not in the penalty area. Clattenburg called them consistently. If the defender touched the ball, play on. If not, free kick. If we're being honest, consistency is all you can ask from a referee. United received it in this match.
Nor did Michael Keane handle the ball in the box on either of the two occasions United players screamed for a call. Both times, the ball was hit directly at him, with his side turned to the player. On the second, his arm was down at his side. On the first, his elbow came up, but it was instinctively to protect his face, not to disrupt a pass or shot. The ex-United youth player is not Freddie Ljungberg, but you can forgive him if he spared a thought for his mum after all the times she's called him a handsome lad.
Blaming Clattenburg for the dropped points in this match is as realistic as claiming it is Sir Alex Ferguson and Davide Gill's fault. Had they not chosen to spend a British record fee £17.8 million on David de Gea to replace the retiring Edwin van der Sar for the 2011 season, then released a young, then injury-prone keeper named Tom Heaton, the home side might have won this match handily.
Unlike the Leicester City match, when they were up 4-0 at the half, nothing, rather than everything, was going in. Heaton was the primary reason Burnley was able to keep a clean sheet at Old Trafford for the first time since 1921. He stopped every shot on target, was helped out by his left post on another, a turn-and-volley from Juan Mata, and then the crossbar on yet another, a deflected header from Zlatan Ibrahimović. He also denied Ibra early and often, to the point the frustrated Swede skied what should have been an easy sided-footed tap in late on. When a patented Paul Pogba long-range missile found the target, Heaton was on hand to parry that over the bar, as well. Meanwhile, de Gea could have spent the match on the phone to his mum in Madrid, asking why she didn't call him a handsome lad when he was a youngster.
But no, neither abysmal officiating nor short-sighted transfer policies were to blame for United's inability to put Burnley down in this match. It wasn't even poor play. The stat sheet makes that self-evident.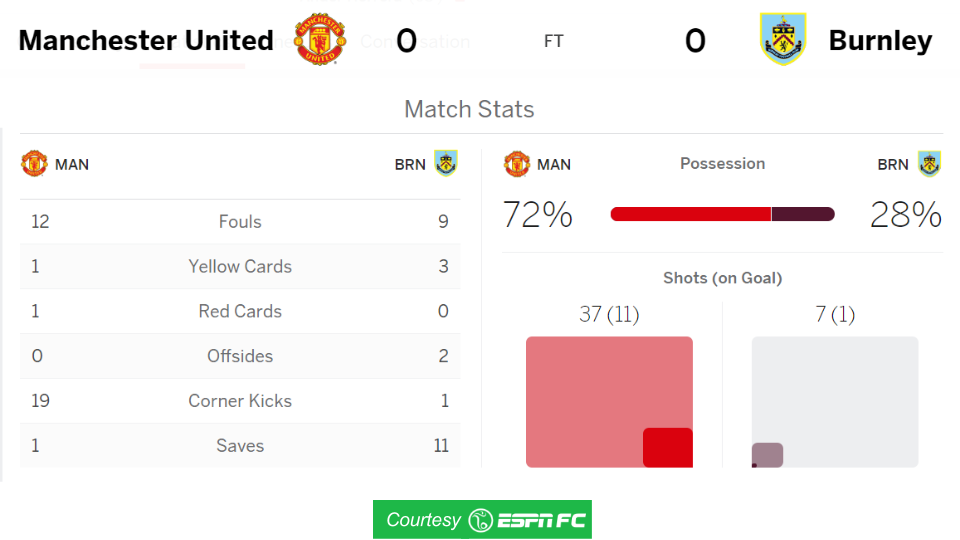 If you dominate possession by an almost three-to-one ratio, take thirty-seven shots, put eleven on target, and win nineteen corners, you're not playing badly. Nor should you need the benefit of a referee's doubt. You should be burying the ball in the back of the net. Of course, when your manager is famous for his negative tactics and surly personality, your players may be a tad uncertain what to do with such abundant opportunities on the ball. That, as much as anything, left United (literally) cursing the bad luck foisted on them rather than making their own.
When José Mourinho was hired, his advocates claimed he would instill his winning mentality upon the squad. Instead, it seems to be his boorish manner that has been contagious within the team. Already facing disciplinary action for expressing doubts over Anthony Taylor's integrity ahead of the Liverpool match, Mourinho became involved in a spat with opposing manager Sean Dyche in this affair's opening minutes. Then he was banished to the stands for the second half after apparently hounding Clattenburg in the tunnel at the intermission over his refusal to give United a penalty.
Meanwhile, on the pitch, Ibra emulated his gaffer's petulance. A handful of needless fouls in the opening twenty minutes ultimately drew a final warning from the official. Rather than lament the man in black's reluctance to point to the spot after Darmian went to the turf, Mou should have spent the walk through the tunnel complimenting Clattenburg's restraint. A booking would have seen Zlatan suspended for next week's match against Swansea for cumulative yellow cards.
Marouane Fellaini, who was a second-half substitute, also entered the match under the same threat, already having gone in the book four times on the young season. Paul Pogba, unhappy to not be leading his new old club in any statistical category, more than once threw a minor hissy fit when a call was not forthcoming. The only United person who seems to understand how to hold this temper is assistant manager Rui Faria, who, in his post-match presser, exhibited non-indictable restraint while dripping sarcasm all over his opinion of Mark Clattenburg.
Fantastic work by the referee. I will not say more than this.
That, folks, is how you do it. You don't act like an ass, or allow your players license to do likewise. You make no excuses and move on with your life.
The player most affected by the Mourinho virus on the day was, and for too long has been, Ander Herrera. The young Basque saw his playing time limited by Louis van Gaal due to a propensity for ill-timed tackles and arguments with officials. He has performed well since being taken off the leash by the new boss, but the sending off for two yellows was bound to occur at some point in the season.
Replays showed he slipped while trying to pull out of the collision that put United down to ten men. In that light, his booking is harsh, but it's the player's responsibility, not the referee's, to avoid such encounters. Moreover, Clattenburg had already let him off with just a word after two or three dangerous plays while he was on a single yellow. At some point, even if it's the wrong one, the official must act if the player is unwilling to listen.
One would hope Herrera will learn from his dismissal to heed match officials, as Ibrahimović did, in order to remain a positive factor in matches. In temperamental terms, the ex Athletic Bilbao man is very similar to a young Wayne Rooney, who was heavily criticized for negating his team's chances with rash tackles, over the top dissent, and excessive bookings. Eventually, Rooney calmed down, but there are some who believe his bite was his edge, and, in losing it, his play suffered. Whether Herrera can strike the correct balance between passion and discipline while remaining an effective player remains to be seen. His failure to leave the pitch after being shown red, then getting in Clattenburg's face to argue the matter, is the type of behavior that could see him suspended for more than one match. Which is far more unacceptable than being sent off for the one foul you didn't mean to commit.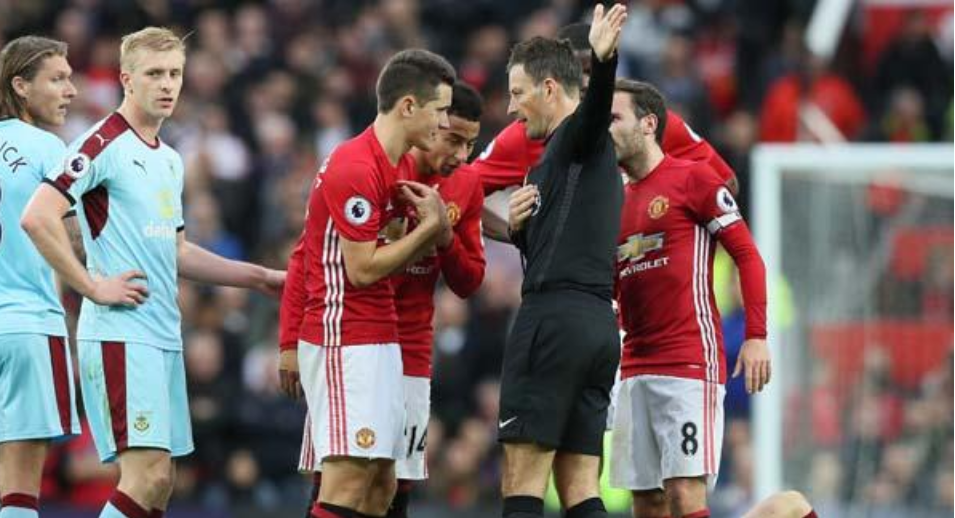 It's also the type of behavior a manager should be correcting in a young player, rather than encouraging through example. Yet, despite being down to ten men, United remained in control of the match. There was the briefest storm to weather, when Burnley sensed the opportunity to turn the tables on their undermanned hosts, but United were back in control before Mou's notes could be relayed from the twentieth row to his assistants pitch side. Unfortunately, arrive they did, and his instructions further hindered the home sides chances to rescue a victory.
Were the Red Devils facing a side of some attacking consequence, not necessarily an Arsenal or City, but a mid-table club with some dangerous players, say a Stoke or Crystal Palace, it would make sense to bring in Marouane Fellaini to compensate for the disadvantage, and protect a draw. Burnley has no Bojans, no Xherdan Shaqiris, no Christian Bentekes, however. They don't even have a Peter Crouch. Even ten v eleven, the Clarets were there for the taking.
Seeing Mr Jiffy Pop enter the match at Juan Mata's expense demonstrated Mourinho wasn't willing to take a calculated risk in continuing to test Tom Heaton's mojo. The one positive this match confirmed about his roster was Ibra and Mata have an exceptionally strong chemistry. The diminutive Spaniard can be relied on more than any other United player to make runs into the vacant space when the tall Swede drops back to pick up the ball or goes wide to draw defenders away from goal. The latter resulted in the only goal against City in the League Cup victory, midweek. For seventy-three minutes against Burnley the duo played off each other like Hugh Laurie and Stephen Fry. Only, Burnley's Heaton saw the punchline coming every time. Given the remaining quarter-hour, plus stoppage time, the pair might have finally slipped one past him, and had the last laugh.
Instead, Rooney came in with Fellaini (for Jesse Lingard, whose powerful header was another goal denied by Heaton) and the magic was gone. Rooney did nothing horrible, mind. In fact, he switched the ball more directly than had been attempted before his appearance. The tiki-taka-esque approach employed earlier had created some chances when Lingard ventured inside from the right. Yet, the narrow attack allowed Burnley's back four to play more compact, disrupting those efforts. Meanwhile, Marcus Rashford showed the discipline to stay wide on the left, but the three or four passes to relay the ball to him gave the Clarets time to double team the youngster, whereas a single, long diagonal pass would have found him isolated on a lone defender. Still, Rooney hasn't the same understanding with Zlatan that Mata has. His presence, along with Fellaini, offered an exhausted Burnley corps some respite. Given United's dominance, their diminished numbers notwithstanding, a more effective swap would have been Morgan Schneiderlin's more fluid holding midfield play for Lingard, while leaving Mata in the game, and both Mr Jiffy Pop and Rooney on the bench.
Football, like politics or just about everything else in life, is cyclical. For a time, staunch defending was key to winning trophies. Now, it isn't enough. You have to stick your neck out, take some risks, attack, and actually put the ball in the goal from the run of play rather than just from set pieces or the penalty spot. Coaches must adjust with the times. Sadly, our Mou is trapped in the past. In this match, United were tremendously unlucky not to win, but a manager less preoccupied with the official, thus enjoying a closer view than the twentieth row in the stands provides, might have seen his side didn't need to crawl into a defensive shell against an impotent Burnley attack. One with a positive outlook might have been on the touch-line, applauding every effort, smiling, cajoling, and ceaselessly urging them to go for it. That manager, though, is not José Mourinho, and Manchester United are two points the poorer for it.