In the immortal words of Chris Farley, as Tommy Boy Callahan, "That's gonna leave a mark!"
In case you somehow missed it, Manchester United conceded in the first thirty seconds at Stamford Bridge, then went on to lose 4-0 to Antonio Conte's Chelsea. David de Gea foolishly called Chris Smalling off a ball the defender could have handled, but the keeper then failed to reach, gifting Pedro that first goal, causing confusion at the back for the rest of the match, and leading to fingers being pointed at the entire defensive unit. United had their chances, but every time they seemed on the verge of getting back in the match, they made another foolish error. It didn't matter whether Marouane Fellaini and Daley Blind's lack of pace was exploited, or that Juan Mata and Marcos Rojo, when they were finally introduced, not only kept up, but made Thibaut Courtois earn his pay cheque. Chelsea kept capitalizing. Everything went their way. Even David Luiz receiving just a yellow card for what should have been a straight red after driving his studs into Fellaini's shin. The Undercover Belgian stayed in the match, although Eric Bailly limped off with a knee injury subsequent reports say will keep him on the shelf for an extended period. Perhaps the only consolation for José Mourinho is his predecessor, Louis van Gaal, once capitulated to the much less talented League One outfit, MK Dons, by the same score, albeit with a much more youthful, raw squad.
On the one hand, as a Man United supporter, the result is completely unacceptable. It's difficult not to agree with Ryan Gigg's outrage at the camaraderie several players exhibited towards Blues players who had just taken them out behind the woodshed. Zlatan Ibrahimović and Juan Mata smiling. Anthony Martial embracing Les Bleus teammate N'Golo Kante. Some have labeled their behavior as sportsmanship. It's fine to show respect and hand out compliments after a hard-fought, closely contested affair. When your ass has been handed to you, however, you shake hands quickly, with grim expressions, then duck into the clubhouse without any further delay. That is, if you have any professional pride or sense of responsibility to the shirt you shouldn't have just exchanged. There is nothing disrespectful in it. In fact, it's far more respectful to your supporters. You know, that section of the paying public who expect more commitment from you.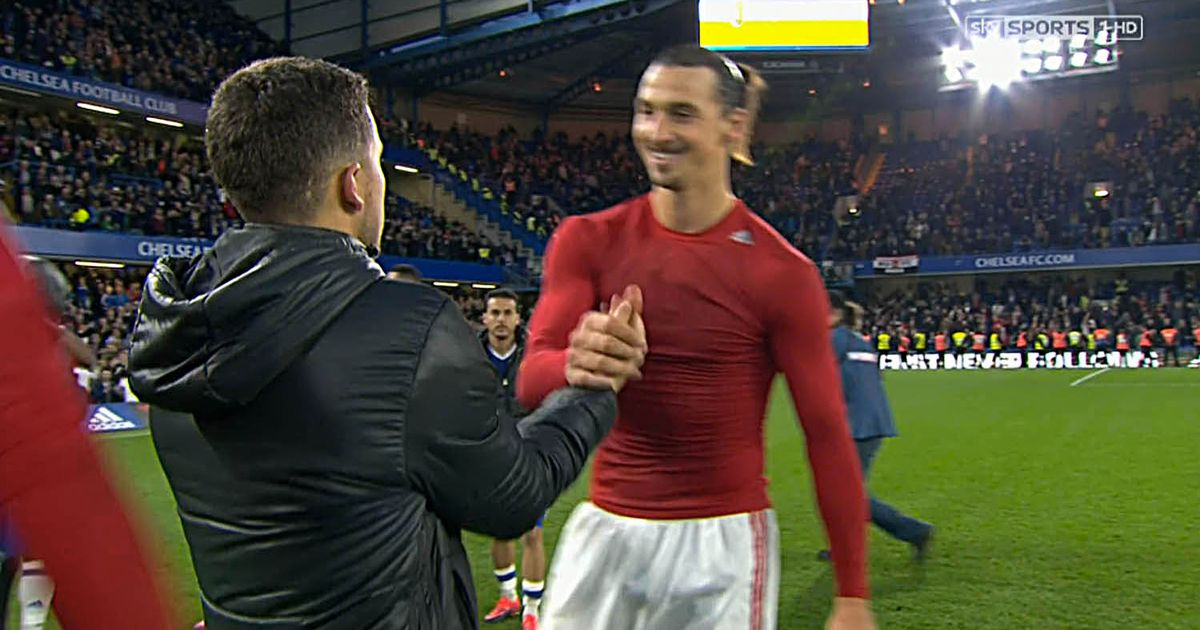 On the other hand, maybe the players have the right idea. Put the loss out of your mind immediately after the final whistle. When you get back to Carrington, review the film, note your errors, then work to correct them. Right?
No, I'm not buying it, either. I've competed all my life. Not as a professional athlete, but as a person who always wants to improve, be it in my career, my writing, in goal for my beer-league hockey team, at the snooker table, a game of scrabble, whatever. I hate to lose. Losing angers me. I can't laugh it off. Ask all the broken goalie sticks in my past, or the ex-girlfriends who told me it was just a game. Losing doesn't make me feel warm and fuzzy towards the person who just cleaned my clock. It drives me to be better.
One of the reasons I adopted Manchester United as my club was Sir Alex Ferguson's relentless pursuit of excellence. It wasn't a bandwagon thing, not merely that United were winners. I could have chosen Real Madrid if that were the case. Or Bayern. Or Juventus. Or AC Milan. All are steeped in winning tradition, but every single one accomplished their legacy by recruiting the best established players and coaches available. United didn't. Oh, they shopped around for a player here and there, but more typically developed their own, or identified youngsters at other clubs who had potential, but were far from the finished product. What was that Portuguese kid's name, again? The one who likes to prance around in his underwear like Tom Cruise in Risky Business? Barcelona built from within, too, but they were more arrogant, more condescending, with all that crap about "more than a club." They weren't honest with themselves or their fans. We've seen it's all about the money with them, too, after the kit sponsorship three-sixty, the under-the-table shenanigans in signing Neymar, their ease in looking the other way with regard to Luis Suarez' character issues, and kissing Lionel Messi's ass when he complained they weren't there for him when the Spanish court convicted him of tax evasion. Under Fergie, United didn't pretend. His motto was "No one is bigger than the club." Ask David Beckham what putting yourself before the club would get you from the Scot. It's a shame the old bastard is gone from the clubhouse, and his ethos with him.
The question now is whether it can be brought back?
If you've read my work at Stretty News, you know I was against Mourinho's hiring. I still am, although I'm willing to give any choice the club makes sufficient time to get United back on course. Is two-and-a-half months sufficient? Probably not, but then I will never believe Mourinho puts the club above himself. If he did, I don't think you would have seen United players milling about the Stamford Bridge pitch after the match as though they were attending a family reunion. Rather, there would have been sour faces, a closed door meeting in which several hairdryers may have given their lives for the cause while the press waited on interviews from the chastened group who finally emerged to give them.
No, United is now just another big club, spending and following the money. Its players see no shame in losing 4-0, so long as they collect the weekly wage packet that would support you or me for two or three years. If they have no shame, how can they have any pride?
In January, I wrote similar sentiments about the need for a boss who can revive United's sense of self. In that piece, I believed Giggsy had forgotten what it meant to be United. He had toed the new company line rather than speaking out. Now, with a few months freedom, he has apparently remembered. He's angry for the right reasons. Maybe more than tactics or experience, that's what you want from a manager.
Some people are questioning whether Mourinho's tactics are outdated, whether he's run out of ideas. That isn't where he's lost touch. It's in committing to something beyond himself. As they've consistently been of late, his post-match interviews detail how players let him down. There appears to be no awareness he's let them down in any manner. That he's let the supporters down. He lacks the humility to see beyond a defeat's effect on him.
Sacking Mourinho before the holidays for the second year running would be cruel. It would also be just. The cautious United board would probably be reluctant even if the disappointments continue to mount. Yet, Man City and Thursday are just around the corner. I would love for the Portuguese to prove me wrong by sending out an angry eleven to dismantle City and show the Chelsea match was an anomaly. Please. Make me look like a fool. Instead, with November still on the horizon, I suspect supporters may be looking at the Europa League as the only hope for a trophy or a Champions League place next season. At this point, I'd rather be jerking my knee than something a little further north. Perhaps it's time to stop looking for a proven manager who can reshape United, and give an opportunity to a young inexperienced one whose strongest asset is that the club shaped him.