I am unhappy. Confused even. For the moment, it's Michael Owen's fault, and I will get to that. First, however, I must admit my displeasure is manifested in an inability to properly enjoy any success Manchester United may have this season or the next under José Mourinho. This is because I do not trust the Portuguese. Not all of them. Just Mourinho. I did say I was confused.
On the one hand, I can't deny he's a good manager. In the past, I've even enjoyed his negative tactics, although that was more about Barcelona being a bit too holier-than-thou with their "more than a club" bullshit. Yes, the Catalans used to eschew adverts on their kit in a moral stand against commercialism. Then they improved on that, endorsing UNICEF out of the goodness of their hearts. It was all about the kids, wasn't it? Except when it became a bit too inconvenient because they needed to raise a few million euros to stay a step ahead of Real Madrid by purchasing Neymar Jr and Uruguay's answer to McGruff the Crime Dog, Luis Suarez. Then it was all about the Benjamins, or whatever passes for them in Brussels. Let's not forget they tried to put one over on el hombre de los impuestos along the way. Donald Trump would say that makes them smart. I think it makes them hypocrites. Plus, I don't like diving, unless it's the Greg Louganis/Jason Statham kind. So, being the cynic I am, and suspecting Barça were about to 'reluctantly' fall on their capitalist swords, I was quite happy when Sergio Busquets took a moment away from pretending he had been struck down by Thanos, Darkseid, or whoever, peeked out from behind his hands, and discovered Mou's Inter had knocked the Blaugrana out of the Champions League. Good fun, that, seeing the out-righteous get their comeuppance.
But then, José had to go ruin things. He proved he was all about the man in the mirror when he didn't even allow the San Siro janitor to buff out the smudges from the entire squad kissing the Champions League trophy before accepting the job at Real Madrid. Then he poked Tito Vilanova in the eye, which didn't give the late manager cancer, but was classless nonetheless. At the Bernabeu, he feuded with Iker Casillas and Sergio Ramos until he was given the boot. Then he returned to Stamford Bridge, where he fought with everyone in the Chelsea squad, and the support staff, except for John Terry. We all know where that led.
Now, it's United's turn to get two good years from the Special One before it all goes south, as it has everywhere else he's been. Being the cynic I am, not to mention repetitive, I find it difficult to enjoy the honeymoon when I already know an ugly divorce is in the future. Of course, that's just another difference between me and Donald Trump. The point being, however, it would be nice to at least enjoy a Man United romp while it's taking place, even if it's on a Thursday night against a club like Fenerbahçe, which is more like tuning in to see Ali fight Jimmy Robinson than Joe Frazier. Which brings us to Michael Owen.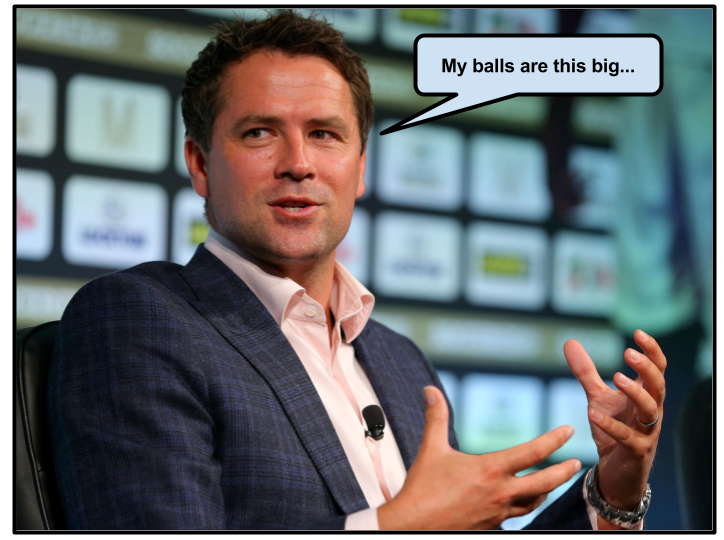 Awhile back I wrote about Paul Scholes' inane criticism of Juan Mata, the closest player to him in skill and style in the current United side. Around the same time, my colleague, the Northern Loudmouth, waxed eloquently on BT Sports' Proper Football Men. The Ginger Prince is a card-carrying member of the club, as is Owen.
In his piece, the Loudmouth mentioned what ponces the PFMs are. My word, not his, and I'm using the original meanings, both English and French, not in the way WH Auden twisted it. These guys are living off their former glory, pimping themselves off the success or failure of players still in the game. Worse, too many of them have no respect.
For myself, I really can't think of a name at the moment for these guys that isn't sexually degrading to either women or LGBTs, so I'll just say I'm thinking of a four-letter word that begins and ends with t and sounds like a baby crying in the middle, then I'll say that in my piece I noted the inherent peril in listening to what these t__ts say, because, for all their experience, they frequently seem to have less of a clue than Alicia Silverstone.
With regards to this match, I have to excuse Owen Hargreaves from that generalization. He actually made some sense.
On the other hand, the guy who never played the game, aka the moderator, brought up the purposeful manner in which Wayne Rooney walked up to the spot, displaying every intent to take the first penalty, but instead presented the ball to Pogba, then more like Captain America than United, seemed to say something along the lines of:
Pogba, of course, complied, smashing the ball into the twine in a very hulk-like manner. Then, someone else not named Wayne Rooney took the second penalty, further contributing to a United half-time advantage as wonderfully unexpected as Heidi Klum following you on Twitter, while simultaneously leaving Owen and the guy who never played the game rather nonplussed. For his part, Owen couldn't comprehend how a goal scorer under as much criticism as Rooney, yet just two or three goals shy of Sir Bobby Charlton's all-time club scoring record, would not be eager to take the easy way out.
Hargreaves did his best to remind Owen it was a captain's duty to place his teammates first, and Pogba was taking quite the load of stick himself for not scoring a goal every shot, then setting up a teammate to slot in another with each pass. Owen wasn't having it, though. The notion the game isn't all about the goalscorer escaped him.
There is, as well, a second factor Hargreaves didn't mention. Had Rooney taken the penalties, making both as any rational person should expect, he would almost certainly be pilloried by his unrelenting detractors for having to rely on spot kicks to overtake the great Sir Bobby. Rooney apparently has the respect, pride, and self-worth to earn the record by scoring from the run of play.
Whether he manages the feat, or not, is yet to be seen. While his flick-on to set up Jesse Lingard's goal was brilliant, and his movement and passing throughout the match were vintage, it was evident he isn't fooling too many defenders in one-on-one encounters. That he insists on conducting his business in the right way, despite the ridiculous catch-22, damned if he does/damned if he doesn't media spotlight under which he finds himself trapped, is to his credit. Meanwhile, it would be to Michael Owen's credit if he actually thinks before opening his mouth.