A few years ago, football writer and novelist John Nicholson and Telegraph columnist Alan Tyers forged the "Proper Football Man" (PFM), to mock omnipresent, nonsensical British pundits who said lots without actually saying anything at all.
The gist of any PFM's roundabout, cliché-ridden ramblings was that English lads got a raw deal, and were actually better than those weak willed foreigners. Jamie Redknapp farcically pushing his "bezzie" mate and fellow PFM Tim Sherwood for the Spurs job back in 2013 was Nicholson and Tyers' direct inspiration. If anyone could better the job Jamie's old man did, it should be 'tactics Tim'.
Sherwood, of course, has been considerably outdone by the handsome, debonair, and decidedly cleverer foreigner Mauricio Pochettino.
I recount this bit of satire because it applies to the Wayne Rooney debate. Well respected sports journalists have been decrying Rooney's decline for years. Offers from Europe's other big clubs have dwindled. They all look as interested in signing the United captain as I am about spending a caravan holiday in Carlisle. They've all seen the alarming decline over the last four years, as did Alex Ferguson in his final season. Fergie essentially threw Rooney under the bus, public relations wise, benching him in the end without a care in the world.
Since probably 2012, Rooney has contributed less in terms of goals and assists.  This period has been marred by erratic form and behaviour. However, it seems the plethora of homegrown retired pros and rent-a-gobs, act like everyone else is the problem and not our Wayne. Paul Scholes, a man who threatens to tarnish his own legacy by being a lazy, (un)professional gobshite has become a prime example of this. In the post-Ferguson era, the onetime "Ginger Prince" has seen fit to lay into anyone at United who isn't Ireland's last diplomatic gift to England. The manager, Rooney's teammates, Fred the Red, Ed Woodward, Ed Woodward's personal shoe buffer.  All of whom have been to blame seemingly.  Scholes was sufficiently diplomatic to keep quiet when camera's were around during his career, but now seems only capable of mouthing off.
Phil Neville would be another example of the old boys, class of '92 network sticking their oar in without having apparently studied the game he played for eighteen years. He extolled the virtues of United finding a place for our Wayne wherever they can, overlooking the fact United have done exactly that for the last three seasons, and he's been bobbins everywhere. Then again Neville the younger – eerily reminiscent of the Dave Dodds character from Mike Bassett: England Manager – did go on to wax lyrical about Michael Rashford. Criminally overlooking the recent achievements of his more talented and famous twin brother, Marcus.
It is part of the pervasive mindset that has the likes of "Merse," "Sav," and even the apparently more erudite Gary Neville decrying that people who plainly don't deserve opportunities, do not get them. The same way of thinking rates every English player who has a decent 25 minutes as being worth as much as any foreigner, who are usually weaker of character, less reliable and dive loads anyway. That bemoans British managers not being given more chances, as Neville the Elder has done frequently, rather than acknowledging they simply are not good enough.
This weekend saw Juan Mata–supported by the adorable Ander Herrera–being absolutely magical because he simply is. Yes, Juan Mata doesn't play for Spain regularly, but that's only because Spain are stacked to the brim with amazingly talented players. The diminutive Spaniard is still vastly superior to any English attacking midfielder. Fleet of thought with tremendous technical ability, Mata is also humble and keen to keep learning.
Yet he is regularly spoken of in the same manner of a clever but lazy student. "Yea but he isn't consistent." "He can't run." "He's too small." "He doesn't get stuck in." "He knows too many words." The list of ham-fisted clichés from a bunch of moronic talking-heads stealing a living goes on. The PFMs have spoken, Juan Mata should be sold and be replaced with Ross Barkley or Mark Noble to form a dynamic midfield partnership with Wayne Rooney. Preferably in the classic PFM formation of "four-four-fucking-two."
Not all of Rooney's barely coherent defenders are PFMs of course. There are exceptions to every rule. Our own Martin Palazzotto has staunchly defended Rooney and he is clearly no PFM. He's intelligent, not British, and no Proper Football Man would ever advocate a team should play 3-5-2. "A back three is the sort of foreign nonsense that doesn't give our boys a chance!"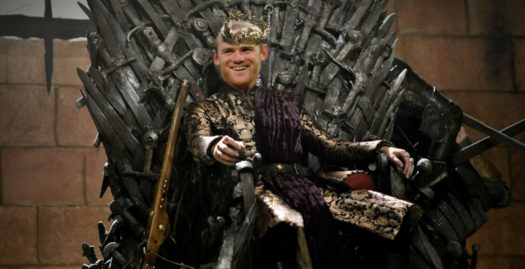 Maybe the secret to the PFM's blind obligation to defend Wayne Rooney is that is he a nostalgic throwback to the time when you could go for a pint and pie after the game and smoke during training, where a man with the talent could play wherever he wanted, then head off the pitch to scandalise and s**t in teammates' kitbags. A game full of proper football men.  Paul Gascoigne is still revered as one of England's greatest ever players despite wasting his talent.  The League of their Own types revel in how much of a lad he was, whilst ignoring his domestic abuse and racism.
Acknowledging Wayne Rooney is a spent force is acknowledging that England no longer have a great footballer to compete at the highest level. That the PFM way of thinking is outdated and maybe, just maybe, nobody wants to hear them inanely flap their gums anymore.