Leicester City are letting their old man down. I mean, you really have to feel for Claudio Ranieri. He's a class act who approaches every match with optimism, and conducts every presser with good humor and honesty. He should remind everyone of their kind, doting old granddad. That is, as long as you didn't have a scowling old granddad like Arsene Wenger, who preferred to put his nose into the morning paper than take you out for a walk. My old granddad, who looked a bit like Ranieri, albeit with less hair and a better tan, would take me into the city on the bus when I was a tyke, then treat me to a donut and a glass of milk.
So, I have a soft spot for Claudio Ranieri, who I wouldn't blame for taking another swig from a half-emptied bottle of Old Granddad on the trip back to Leicester. Defeat at Old Trafford represented the third time this month his side have conceded four goals. In fact, it's the third time in five games, with the previous two defensive letdowns, the 4-1 drubbing at Anfield and the added-extra-time cup collapse at the King Power Stadium v Chelsea, at least sandwiching a pair of three goal, clean sheet victories over Club Brugge and Burnley.
This time, however, it was four goals conceded in twenty minutes of a woeful first-half performance. Whatever tender feelings Jamie Vardy, Ryad Mahrez, and the rest of the Leicester City squad may have for the manager who guided them to an improbable Premier League title, there's no arguing they've gone soft on the white-haired Italian. Removing the two stars who flirted with a transfer to Arsenal over the summer, but eventually stayed, sent a double message to Ranieri's underperforming charges at the half. To Vardy and Mahrez, it said you should have moved on if you thought you had it good enough here to take things easy. To the rest, it said start showing the relentless concentration you had for thirty-eight matches last season.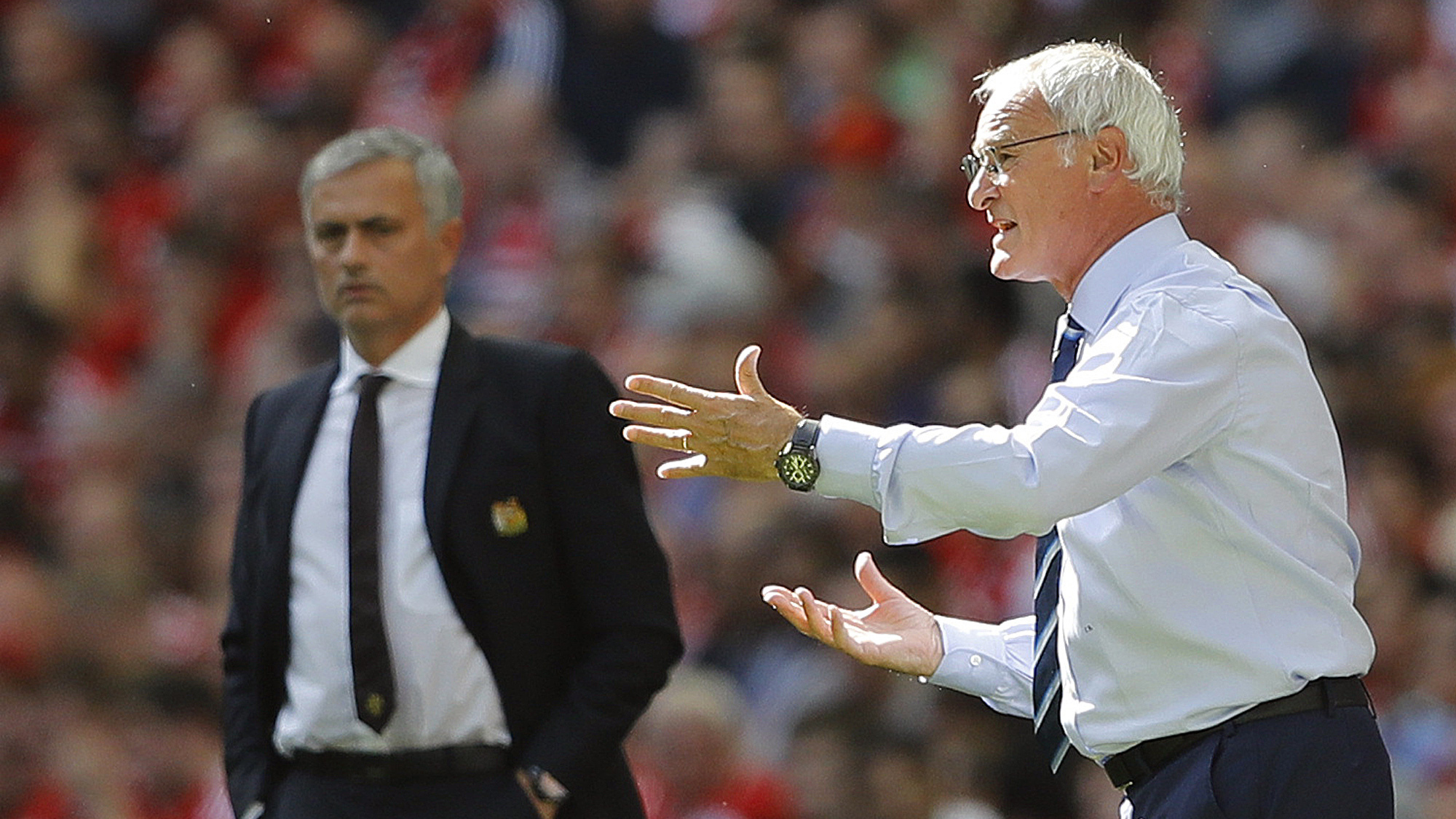 A hopeful Leicester supporter might think they did, scoring the only second half goal while keeping Manchester United from inflicting further damage. The reality is a) United was far less interested in attacking with a four-goal lead coming out of the intermission, rather focusing their efforts on possession to run out the clock, and b) the only player who seemed to get the message was Demarai Gray, who, in relieving Mahrez, uncorked a sensational long-range volley from the left side that beat David de Gea cleanly. The strike was pure quality, the type which, on a day when Claudio Ranieri's defenders had played up to their capabilities and kept United off the board from the start, may have been a difference maker. A dismissive United supporter might put Gray's effort down to luck, except that he uncorked another, a short while later, this time slightly more into the middle of goal rather than the upper ninety, that De Gea managed to get a hand to.
As gleeful as United fans will be with the result, a ruthless performance Gary Neville, commenting for Sky Sport during the break, said he hadn't seen in what seemed ages, as much as so many will put it down to Wayne Rooney's exclusion at the start freeing up players like Pogba to do what they do best, and as desperately needed a dominant performance was to demonstrate the club remains in the title mix, the plain, hard truth is this match, exactly like the EFL Cup match in Northampton which preceded it, was a gift handed to them by their opponent rather than a result taken by sheer force of will.
With a back line manned by the likes of Wes Morgan and Robert Huth, who would have expected United to score three times from corner kicks? Who would have expected, on Chris Smalling's opener, that Huth's vertical leap in front of him would have been six inches at the most? Who would have expected two near-post defenders to fall asleep, allowing Juan Mata an open run to the end line to redirect Daley Blind's short corner for Marcus Rashford to tap in? Who would have expected Blind to claim a pair of assists from corners, as well as having the vision to recognize Mata's intent on a third? Sky Sports awarded Man of the Match honors to Pogba, who headed home the third of those corner kicks, and one-touched a lob from a Mata pass for Jesse Lingard to flick into the Spaniard's path, resulting in the only goal from open play. The prodigal son made several other enticing passes, including one that nearly had Zlatan Ibrahimović contributing a fifth to the Red Devils' cause. Mata himself was also very influential. Still, the most impactful player on the pitch was Blind.
I know there are some who believe Blind's mastery may have been revealed sooner had Rooney not been taking corners, but, pesky things that facts are, Blind has been taking them from the left side whenever he features, with the captain only ever bearing responsibility for those from the right. United were fortunate all their first-half corners came from the left at a time when Blind was in a personal moment of Zen. Mata's one or two second half efforts from the right were handled far better by Leicester defenders, as were Blind's follow-ups from the other side. One has to wonder, though, whether the risk of Blind momentarily being out of position would be one worth taking to allow him to handle corner duties from both sides.
Ander Herrera was a surprise inclusion in José Mourinho's starting XI. I had expected either Morgan Schneiderlin or Marouane Fellaini to shield the center backs, helping to keep an eye on Jamie Vardy, and counter Leicester's power up the middle. Instead, the Portuguese chose to counter their speed, and it paid handsome dividends. Herrera's passing was accurate, and apparently inspired Pogba, who has lately been preoccupied with his dribbling, to let the ball do the heavy lifting.
Mourinho's sides are always best on the counter, and this match was no different. Leicester enjoyed the meat of possession in the first half, especially in the early going before United's players settled into their roles. In the second half, the time of possession reversed. United played a possession game against the clock more so than their opponents, and Claudio Ranieri's side came back into the match, although four goals was too big a hole from which to climb.
Wayne Rooney also came back into the match very late on, affording Marcus Rashford a deserved breather. Any who have bought into the constant Rooney bashing over the past few seasons, aka just about everyone, might have thought his presence would allow the Foxes to score three goals, or possibly more, in the final seven minutes plus stoppage time to rescue a most unlikely result. Instead, the captain actually put a shot on target seconds after entering, then did nothing catastrophic for the remainder. Whether he sees action on Thursday v Zorya Luhansk in the Europa League is difficult to foresee. United need a result after capitulating to Feyenoord in their opening group match, and the manager will probably want to prolong the feelgood factor from the Leicester victory by starting a similar squad. He may also view the Europa League as an opportunity to work Luke Shaw and Henrikh Mkhitaryan back into the squad, if they are fit.
With Zorya, then Stoke, visiting Old Trafford in the coming week, the run-up to the next international break is a stretch in which the club can restore its out-of-the-starting-gate momentum. Of course, Liverpool loom on the other side of the break, as City did after the last. That match, against a genuine contender, which Claudio Ranieri must sadly concede his champions at the moment are not, is when José Mourinho's Manchester United will have their next opportunity to prove they are for real.