From the off, let me stress this is just a mental exercise. I'm not advocating a style change which brings about a permanent Man United, José Mourinho 3-5-2. I bang my head against the wall enough listening to people criticize Wayne Rooney. Manchester United is a conservative institution. The Board does not make radical choices. They take their time, then choose the safest option. That's why David Moyes succeeded Sir Alex Ferguson, why Louis Van Gaal replaced him, and why we're now stuck with José Mourinho. Staying the course is more important to them than being in football's vanguard.
If Ed Woodward had wanted to be on the cutting edge, the decision to sack LvG would have been announced when the January window opened last season, and the club would have been more aggressive in chasing either Pep Guardiola or Antonio Conte, rather than later settling for a manager with a then thirty percent win rate in head-to-head encounters with the new City boss. For that matter, Sir Alex wouldn't have lasted a quarter-century. No, the United Board's conservative nature means it is more comfortable with a singleminded manager than an experimental one. It will abide an extended struggle by Mourinho to imprint his identity on the squad in the wake of the Manchester Derby defeat, not acting until said struggle begins to resemble last year's Chelsea implosion.
But should Mourinho be so singleminded? Or should he be willing to try new ideas in a Premier League experiencing a cash driven evolutionary leap? With Guardiola, Conte, Mauricio Pochettino, Ronald Koeman, Walter Mazzarri, and Jürgen Klopp all having arrived, perhaps the vanguard is the place to be.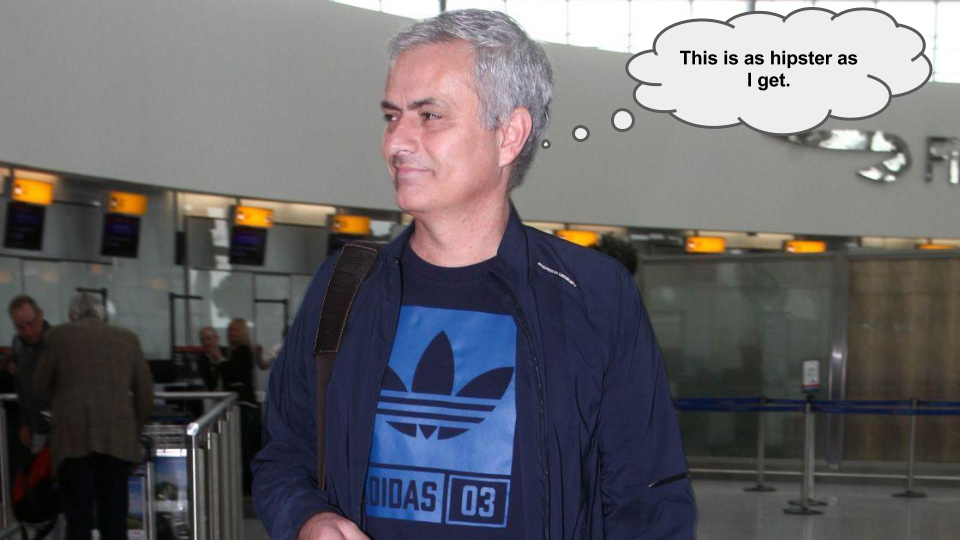 Sir Alex certainly wasn't reluctant to tinker with his line-up when circumstances warranted. For two or three seasons near his reign's end, Fergie went into the holiday fixtures woefully light on defenders. He wasn't afraid to deputize Michael Carrick and Ryan Giggs to compensate. But his imagination was most evident when the opposite occurred in 2011.
Arsenal were visiting Old Trafford in the FA Cup, and the only midfielder available to Fergie was Darren Gibson. No attacking options whatsoever. Not a Giggsy, a Scholesy, or a Carrick. Not a Fletcher, a Nani, or a Park Ji-sung. Not even an Anderson. So, the cagey old Scot fielded seven defenders: Patrice Evra, Nemanja Vidić, Chris Smalling, and Wes Brown across the back, John O'Shea alongside Gibson in central midfield, and the Da Silva twins on the wings. The only truly attacking players were Chicharito and Wayne Rooney up front. Surely Arsene Wenger, despite Cesc Fàbregas' absence, was licking his chops in anticipation his nemesis would be forced into parking the bus. Only, Fergie sent his defenders out with instructions to put the counterattack into overdrive. The aggressive approach worked perfectly. United came away with a brilliant 2-0 victory, while Wenger yet again went away red-faced and muttering under his breath.
As Zonal Marking's Michael Cox wrote at the time, Fergie had innovated in order to do what his United always did against Arsenal's technical superiority. You could call it progressive conservatism, I suppose, but the point is it was a creative solution to a very difficult problem.
Cox also noted Wayne Rooney frequently dropped back into midfield to help out with Cesc's deputy on the day, Denílson. Not that I expect proof Rooney's propensity for a deep-lying role originated with a desire to help the team would fall on anything but deaf ears. Who wants facts messing up their carefully constructed belief system?
The questions here are could Mourinho devise a United 3-5-2? Should he? For what purpose? And does he have the personnel for it to be effective?
Whether or not José could install a 3-5-2 is really a psychological question. He has the authority to manage as he sees fit. Therefore, he can do whatever he likes. Is he sufficiently open-minded, though, to try a new idea which may improve that woeful win percentage versus the most imposing obstacle between him and another Premier League title? The evidence is the United boss has not heard insanity's definition is applying the same method repeatedly but expecting a different result. As of a fortnight ago, Mourinho's three victories against Guardiola were offset by eight defeats. A new approach is advisable to improve his success rate, but good luck telling him that.
In the past, Guardiola's possession-oriented, short-pass-and-move methods have struggled against the 3-5-2. Antonio Conte's Juventus pipped him to a Champions League Final by employing it against Bayern. The Italian also used it to great effect against Vicente del Bosque's adaption of tiki-taka in the recently completed Euros. Diego Simeone also effectively shifted into the formation in Champions League matches versus Pep's Bayern.
Not that Mourinho is a person known to consult others, but if he did in this case, it's not as though anyone would derisively offer the time-honored mother's wisdom: "If all the coaches decided to jump off a bridge, would you?" Because beating Pep Guardiola by employing the 3-5-2 is not jumping off a bridge; it's finally making it across.
So, we've established Mourinho could adapt a United 3-5-2 if he wished, and maybe he should, at least for the purpose of getting the better of Guardiola and City. All that remains is to determine if he has the players to do it?
The 3-5-2's most frightening aspect is the elimination of one defender. You can probably double the fear factor for a defensive-minded coach like Mou. Still, he has a center back trio who, with the proper instruction, have the tools to thrive in a three-man line.
Daley Blind is mobile, can pick out a pass to transition into attack, as well as possessing incredible timing and positional sense which make up for his less than imposing physique. He would do well on the left side. Eric Bailly is young and impetuous, but his power and speed allow him to recover and make up for mistakes. He's also not shy about carrying the ball forward when space is available, and space is often available with a three-man rearguard. His development into a disciplined defensive beast would progress nicely on the right. Chris Smalling is as imposing as the Ivorian, but older, wiser, and more selective in venturing forward. He began to show confidence with the ball at his feet last season under Louis van Gaal, too. He's the ideal choice to play the middle position. Behind them, David de Gea has played in the Spain national set-up, and, unlike one former rival, can dribble the ball like a fourth defender when needed, to alleviate pressure.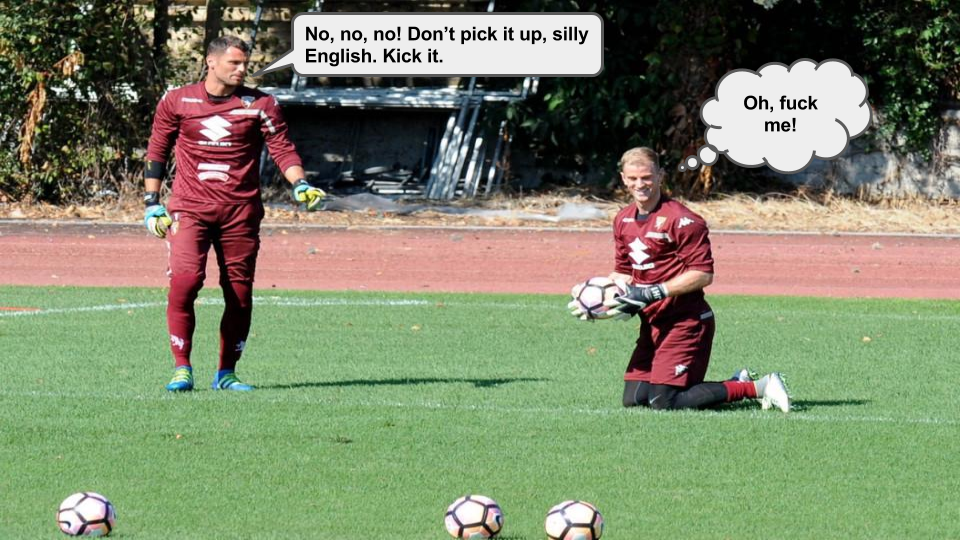 Given there are only three defenders in a 3-5-2, much responsibility is placed on the wing backs. The pace to not only attack down the flanks, but to track back the length of the pitch is highly coveted. Despite his momentary lapse of tactical awareness at Vicarage Road last Sunday, Luke Shaw was born to be a wing back. On the left side, Marcos Rojo is a defensive risk, but his tendency to trip over Anthony Martial or Marcus Rashford in attack would at least be eliminated by their absence.
On the right, the immediate objection to installing a Mourinho 3-5-2 will be that Antonio Valencia, at thirty-one, lacks the pace to fit into the formation. Yet, the same could be said for the slightly older Giorgio Chiellini on the left with Juve and the Azzurri. Neither has Shaw's explosive speed, but both are sneaky quick, and experienced. Valencia, especially, has played both as a fullback and midfield winger. Matteo Darmian, although not the offensive threat the Ecuadorian is, has played the right wing back role for his country, under Conte. He knows it well. What's more, if he can be coaxed into accepting defensive responsibilities, wing back could be a beneficial role for Henrikh Mkhitaryan. The Armenian's best performances with BvB came on the right side.
In the center of the pitch, one of the three remaining midfielders would be tasked with protecting the back three. At the moment, Mourinho prefers Marouane Fellaini to Morgan Schneiderlin as a defensive mid. The Belgian is more adventurous, and useful in both boxes for getting his head to inbound crosses and corner kicks. Yet, whereas fluidity is helpful in many positions in a 3-5-2 formation, the destroyer is perhaps the most static role. Schneiderlin's more reserved approach may be desirable.
Unlike the dearth of midfielders which plagued Fergie's final years, there now exist a plethora of options to fill the two attacking midfield positions. Paul Pogba will obviously claim one of them, but the manager would have a wealth of choices in selecting his partner. Juan Mata's abilities and work rate should make him the first choice, but, for some reason, Mourinho does not rate him. Ander Herrera is another choice, as is Mkhitaryan. Memphis, a de-concussed Anthony Martial, and even Marcus Rashford could serve in a pinch, but, and here we go again, it's an ideal role for Wayne Rooney. The 3-5-2's inherent fluidity would allow the captain to fill space as needed. Players wouldn't be shoehorned into the line-up to accommodate him, as some allege, because they would all have the freedom to move into different areas, thereby creating uncertainty for opposing defenders.
Rooney could also partner with Zlatan Ibrahimović, who, like Pogba in the midfield, would automatically be inked into one of the forward slots. Or Rashford could feature regularly, with Martial and Memphis in reserve.
United definitely have the personnel to play a Mourinho 3-5-2, and then some. It's a question of how attached José is to his preference for specialism over versatility. Because the 3-5-2 demands versatility, along with creativity, imagination, and intuition. Is the gaffer capable of viewing his players as true professionals, masters of their craft, able to analyze the opposition, then make adjustments autonomously, or merely as skilled laborers trained to repeat the same task over and over again with unfortunately predictable precision? I can't answer that question. Only the Portuguese himself can.