Getting drunk can be fun. Making decisions when you are can later turn out to be not so much. Think waking up the next morning to find you're married to Joan Plowright when you remember spending the night with Gemma Arterton. What happens in Vegas doesn't always stay there. Coming off their EFL Cup win, Manchester United's supporters, and, more importantly, José Mourinho should not get too drunk with enthusiasm over the performance of some of the irregulars who featured. What happened in Northampton Town should stay in Northampton Town.
Most notably, there are some who will be clamoring for Michael Carrick to start on Sunday against Leicester City. The Sky Sports team covering the Northampton match were gushing over his play, going so far as to dismiss past criticisms over his lack of pace, then award him Man of the Match honors. From a United perspective, the champagne magnum should instead be handed to Adam Smith.
Even in doing so, United would still be one present shy of a fair exchange, as the Cobblers keeper gifted them two goals: first Carrick's admittedly well-struck volley from a deflected Wayne Rooney free kick after Smith absent-mindedly picked up a teammate's back pass, and second, the onrushing Marcus Rashford's easy tap-in after the Northampton Town number one declined to venture outside the eighteen to play Ander Herrera's floating, off-balance lob from the center line. Without those two costly errors, what should have been a routine win against a newly promoted League One side would have been headed to added extra time with the score square at a goal apiece.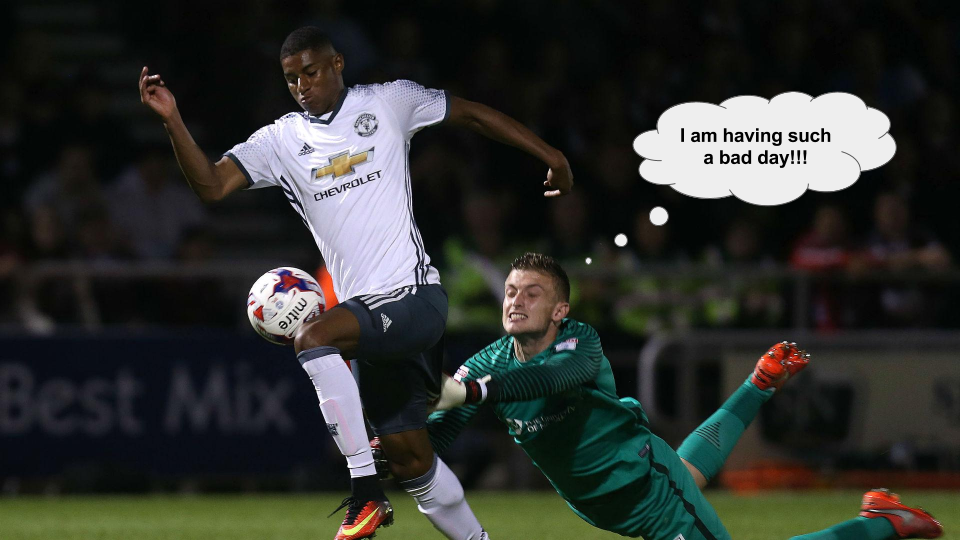 Don't misunderstand. Carrick did play very well, controlling United's tempo and direction admirably. But does anyone out there really expect Claudio Ranieri's Foxes to dismiss the thirty-five-year-old's inability to shift out of second gear? Do you think the defending Premier League Champions, who won their title with both graft and quickness, will afford him the time and space to work, or take their collective foot off the pedal when in possession so he can stay with his man? Pfft. Hardly. Especially given their own early struggles have them further behind the eight-ball in the chase for this season's crown than United. Carrick's Premier League place is on the substitute's bench, barring a rash of injuries to Mourinho's midfield, only coming off to rotate in for cup ties so his betters can be rested.
Herrera also put in a yeoman effort on the evening, his improbable assist on Rashford's goal merely icing on the cake. He moved the ball well throughout the match, but when his mates proved unable to finish, he decided to give it a go. His first attempt ricocheted off the far post, but his second beat Smith to the near side, providing the match's only legitimate goal.
Penalties don't count in my book, even when deserved, as Northampton's clearly was. Daley Blind's foul on Sam Hoskins in the box probably rules him out of Mourinho's plans for Leicester, even though he was placed in a hellacious spot by Marcos Rojo's abysmal clearance. Any headed balls in your own box should not stay in the box, my Argentine friend.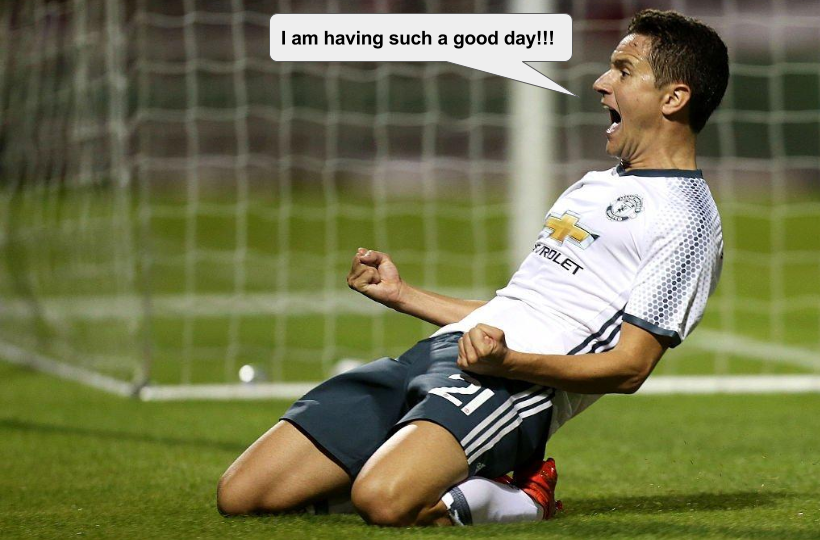 Herrera will rightly be in the manager's thoughts leading up to Saturday's match, but it's difficult to see whose spot he should take in the defensive midfield. You can't expect Mourinho to give up on his €100 million man, Paul Pogba, after only two or three bad matches. Marouane Fellaini has been playing reasonably well, but if the boss doesn't want to give the stilted broccoli stalk the opportunity to re-enact his Community Shield howler, then he has another option in Morgan Schneiderlin, who didn't have a bad match himself at the Sixfields. The Frenchman hasn't the Basque's invention, but he is agile, and his size might be better suited to combat that of Leicester's attackers.
The one player who may have played himself back into a regular place in José's XI is Chris Smalling. He took charge in the box against the Cobblers while also rediscovering his confidence with the ball at his feet. Again, Northampton Town are hardly Leicester City, but, when on form, Smalling is exactly the type of defender the Portuguese prizes.
So, breathe a sigh of relief. Hoist a pint or two for Carrick and Herrera's heroics, and don't forget one for Adam Smith. Maybe even dream of a bit of revenge against the noisy neighbors in the fourth round. Just don't expect to wake up on Saturday to see a bunch of strange faces penciled into the United line-up. What happened in Northampton Town should stay in Northampton Town.