The three loud thunks you just heard were me banging my head against the wall. I've been doing that more and more frequently over the last four years. That's how long I've been watching people hang every derogatory term one could imagine for a footballer on Wayne Rooney. Garbage. Past it. Over the hill. Slow. Fat. Lost the Plot. Waste of space. Holding back insert your favorite young player's name here. Couldn't pass a fart. Pampered. Privileged. Entitled. Useless. A weight around the manager's neck. Garbage.
Oh, wait. I'm back where I started.
But that's what it's been like. An endlessly abusive cycle. It disgusts me, and I'm not him. How Rooney feels about the anger directed his way I can't begin to imagine. Here's a man who's on the cusp of being the all-time scorer for the biggest club in the world, and for his country, who for the past four years has improved his club's odds of winning by more than ten percent simply by taking the pitch, raising their scoring rate by roughly the same margin in the bargain, but there are legions who just wish he'd go away. No gratitude, only cries of "What have you done for me lately?" that blithely ignore what he has.
How dare he let the club think he might sign for City or Chelsea? How dare he demand weekly wages many people will never realize in their lifetimes? How dare he do whatever the club asked when they acquiesced? What kind of gratitude is that?
Wait. Back up a minute. What do I mean he did whatever the club asked?
Well, do you honestly think he wakes up every morning with an itch to play a different position? Do you think he suggested Fergie sign Robin van Persie because he wanted to play a supporting role rather than leading the line? Do you think he made Sir Alex forego signing a midfielder or two when the fossils of Paul Scholes and Ryan Giggs were the best in-house options the club had simply because he fancied a deep-lying role? Do you think he told David Moyes it was alright to sign Marouane Fellaini, but as a forward? Or that Louis van Gaal should keep the experiment going even though the Belgian Chia Pet's signature move was kicking or heading the ball directly into a grateful keeper's waiting arms? Do you think he keeps dropping back against José Mourinho's wishes, and that the Portuguese loves him for it? José 'Throw the Female Doctor Under the Bus So No One Notices I've Lost the Plot' Mourinho? Give me a break.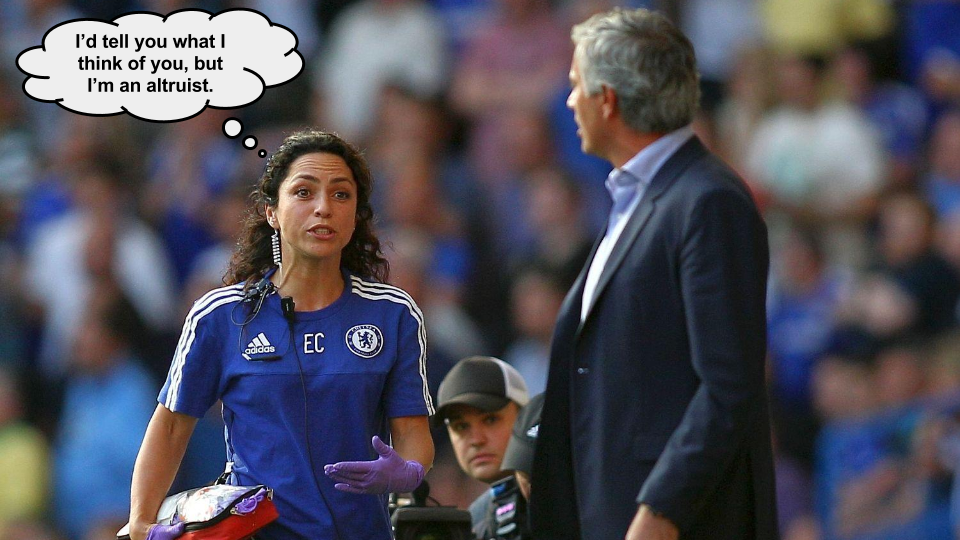 The reason you all hate Rooney isn't because he's a selfish prima donna. If that were the case you'd have stormed Old Trafford in droves, like it was the Bastille, and strung up the Man United Board for even contemplating the hiring of José Mourinho.
You'd be castigating Zlatan Ibrahimović for dropping back to pick up the ball, or casually strolling into an onside position while his mates fight to regain possession. You'd be tearing your hair out at the frequency with which his little flick-on, judo-kick passes find an opposing player rather than a red shirt. You certainly wouldn't be flowering him with praise for creating space and opportunity by attempting so many risky passes.
You'd be screaming at Paul Pogba, Anthony Martial, and, yes, even precocious young Marcus Rashford–isn't he so cute trying to play with the big lads?–to stop trying to dribble past a multitude of defenders every time they find the ball at their feet and instead find an open teammate waiting to accept a pass. You might even advise them to learn from their captain.
No, the reason you hate Rooney is because he's exactly the opposite. He's unselfish, and most people simply don't understand that approach from a goalscorer.
Altruism is the scientific term for it. It's a genetic trait, just like the more predatory instinct to which you're more accustomed, greed or selfishness. A brilliant scientist named George Price even developed a mathematical formula to define it. First, though he wrote the formula which explained survival of the fittest.
WΔZ=cov(Wi,Zi)
Z being a trait that increases W, which is fitness, will be passed on, and therefore occur more frequently in every successive generation. Traits that do not will be weeded out.
Think in terms of two people who go through life encountering other people drowning in lakes. The selfish person who ignores the cries for help has better odds of living a long life. The altruist who swims to the rescue repeatedly runs the risk of being dragged under by the panicked victim, and therefore is less likely to survive. Price himself was the embodiment of this. He not only studied altruism; he practiced it in the extreme. His life ended in suicide after he had given all his money and possessions to needy people.
If there are less altruists, then, and their philosophy seems counterproductive to survival, rendering their genes less prolific, why hasn't self-sacrifice and generosity been weeded out entirely? Why are there still people who give of their time and money? Why aren't we all greedy bastards like Donald Trump or self-centered narcissists like Mourinho? Why are there players like Wayne Rooney?
The answer is because predatory instincts are countered by the herd mentality. Football is a team sport. Thinking a player is no good unless he scores goals by the boatload forgets that he needs support. There must be people who protect the goal, who win the ball back, move it forward, create space, provide service. For every man who claims the glory, there are ten others who sacrificed themselves to give him the opportunity.
Manchester United isn't the biggest club in the world because of one goalscorer. It isn't down to Rooney, Ibra, or Sir Bobby Charlton alone. United has thrived because players like Peter Schmeichel, Edwin van der Sar, Nobby Stiles, Roy Keane, David Beckham, Paul Scholes, Rio Ferdinand, Jaap Stam and hundreds of others have always been there to lend a hand.
As noted earlier, but bears repeating, none of this ignores the fact Rooney is old, has slowed, makes errant passes, and still lets his temper get the better of him. It's just that Rooney haters can say the same about virtually every United player who took the pitch at Vicarage Road on Sunday, but they don't. Paul Pogba, for instance. He was unlucky to hit the bar with one long range effort, but then sent four more into the stands. Ibra was out of position numerous times. Luke Shaw had a brain fart that led to Watford's winning goal. Etc, etc.
If Rooney trusted you, he might sit down over a pint and admit he's lost a step to Father Time. But he'd also tell you he has the experience and intelligence to reinvent himself as Paul Scholes and Ryan Giggs did to extend their careers. His altruism isn't entirely selfless, although that doesn't diminish it. There is nothing wrong with selflessness being rooted in the desire to survive in the game he loves for as long as possible.
And as he finished explaining all that, you'd suddenly be smarting from the smack to the back of your skull courtesy Ibra, who has again wandered in a bit late, but nonetheless appreciates he wouldn't have four goals on the season if it wasn't for Wayne Rooney's vision and passing. Once they'd sent you on your way, the two of them would probably have a quiet drink to the memory of George Price.