For a while now, I've been trying to figure out what José Mourinho has against Johnny Kills, christened Juan Manuel Mata García, but widely known as Juan Mata. You all know the history:
Two-time running Chelsea Player of the Year reduced to bench player, then quickly sold to Manchester United in the January transfer window during Mourinho's first season back in charge at Stamford Bridge.
Club-leading assist-man in all competitions during Louis van Gaal's final United campaign.
Rumored to be sold again once the self-styled Special One took the reins at Old Trafford.
Notoriously subbed in, then out of the Community Shield against Leicester because he was, in his gaffer's words, "the smallest player on the pitch."
Displayed a spectacular work rate on and off the ball, forcing himself into the United line-up for the first three matches, keeping the more physically imposing but one-dimensional Mourinho purchase, Henrikh Mkhitaryan, on the bench until the Manchester Derby.
Left on the bench in favor of Ander Herrera when Mkhitaryan flopped.
Overlooked in the Europa League match v Feyenoord immediately afterwards.
Subbed on to temporarily right the drifting United ship against Watford.
The consensus among pundits when he mostly sat for the opening half of the 2013-14 Blues campaign, then was sold to David Moyes, was that he was a defensive liability. WhoScored.com continues to buy into that assessment. I don't.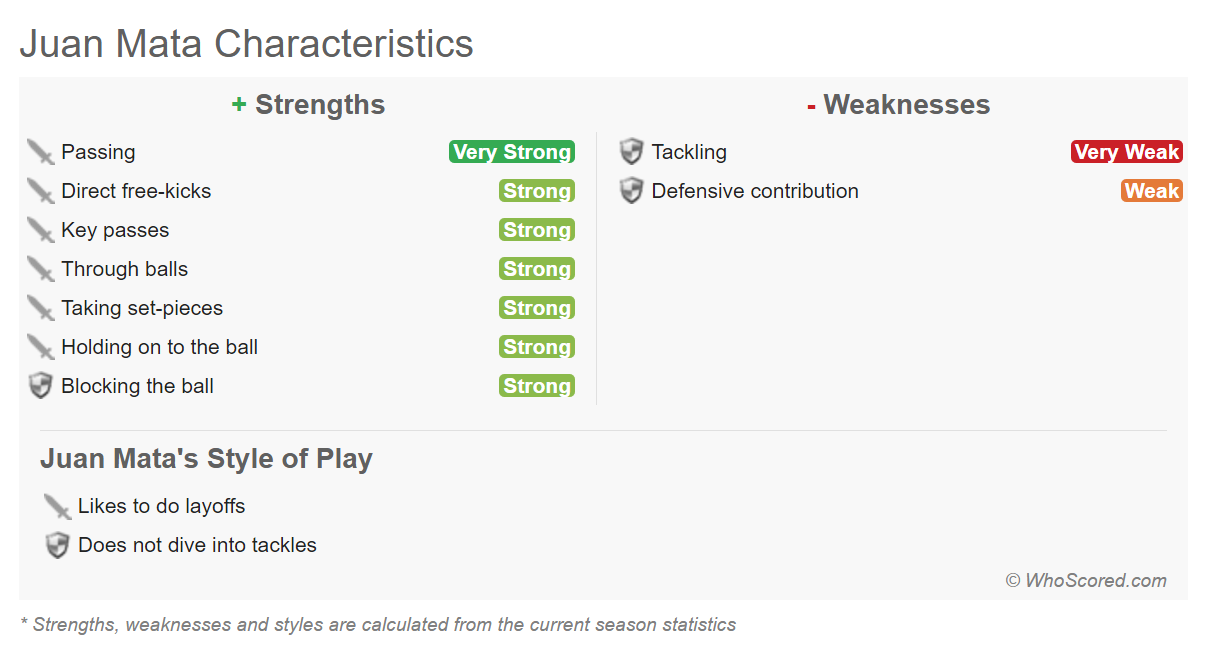 WhoScored labels his defensive contribution in the campaign to date as weak, and his tackling very weak. Their style notes say he "likes to lay the ball off" and "does not dive into tackles."
Xavi Hernandez, for whom Mata often acted as an understudy in the Spanish National Team set-up, made himself into a legend running all over the pitch, laying the ball off, getting it back, then sending the likes of Andrés Iniesta and David Villa in on goal. Oh, and in support of that Ballon d'Or winner at Barcelona, too. Whats his name? Mata hasn't worked with the same quality at Valencia, Chelsea, and United as Xavi did with La Roja and Barcelona, but he's done yeoman work with the material to hand.
Coming on against Watford, he linked the midfield to the attack by popping up all over the pitch, making quick passes, then moving on. He did not try to dribble through multiple defenders in the way Paul Pogba, Marcus Rashford, and Anthony Martial so often attempted to their and the club's detriment. Mata knows the ball moves faster than any player can, and frequently quicker than a defender can track.
Nobody talks about Xavi's defense, probably because Spain and Barça were rarely not in possession, and because he didn't play in England. Mata obviously does. If at one time he was lazy without the ball, however, he no longer lets up when United are looking to win it back. He may not dive into tackles, but is very often on hand to claim the ball when a teammate does. Such support is intrinsic to defensive play though it doesn't seem to be reflected as yet in the burgeoning legion of statistics invading the game.
Thus, the two 'weaknesses' unnecessarily mar a report card that rates Mata as strong in blocking the ball, taking set pieces and direct free kicks, accurately completing key passes and through balls, and maintaining possession, while considering him very strong in over-all passing.
Much of Mata's strength in possession, as already noted, comes down to not trying to take on defenders, rather moving the ball quickly. Xavi's father, in a 2012 interview with DerSpiegel, said the following:
"You can't take the ball off Xavi because he's already passed it again."
Mata is not Xavi–United fans can only wish–but his proximity permits the remark to apply to him, as well.
For all that, the diminutive Spaniard has yet to notch an assist this season. Nonetheless, he has provided cohesiveness on the pitch, bonding a collection of talented individuals into a unit more so than any other United player. Zlatan Ibrahimović's ability to create chances with one-touch passes has been vital to United's attack. Yet, the big Swede's limited mobility makes him a liability when he drops back to take possession in midfield or the defensive half. Mata is nimbler, and thus able to effectively link the midfield to both the defense and forwards. In other words, his name's English translation applies. Johnny Kills.
Which brings us back to the main question. Why doesn't his manager rate him?  For a time, I thought Mourinho might be channeling Randy Newman.
There is no denying Juan Mata is a short person. He stands a mere 170 cm. Yet, it's true Mourinho has utilized vertically challenged players at all his stops. Joe Cole measured 176cm, with Damien Duff and Ashley Cole just a centimeter more. They featured regularly for José during his first stretch at the Bridge. At Real Madrid, he brought in the 174 cm Luka Modrić from Tottenham.
Mourinho himself stands 174cm, however. So, all of those players were at least his height, if not taller. Is it possible the Portuguese harbors an insecurity regarding his physical stature? Does he therefore look down both figuratively and literally at any player shorter than himself? He has steadfastly refused to grant an interview to Stretty News founder/editor Dale O'Donnell. More significantly, he famously fell out with the 173 cm Eden Hazard last season. On the other hand, the most important player in his treble-winning Inter side was the Dutch midfield maestro Wesley Sneijder, who matches Mata centimeter for centimeter, but no more. The new United boss unquestionably has insecurities, but height is apparently not one of them. It must be something else, then.
There is a centuries-old rivalry between Iberian neighbors Spain and Portugal, beginning with the latter's independence and its commercial inroads into the Orient. In the end, of course, Spain would gain the upper hand, leaving Portuguese historians to alternately claim it was João Vaz Corte who really discovered America (Newfoundland) and that Christopher Columbus was not Genovese, rather a Jewish-Portuguese spy.
More recently, Cristiano Ronaldo has presided over the greater portion of Real Madrid's embarrassing secondary status to Barcelona, while Mourinho's most notable achievement in charge of Los Merengues was poking the tragically short-lived Tito Vilanova in the eye at the conclusion of a 2011 defeat in El Clásico.
In José's defense, Vilanova was much taller than him, but it does open the question of whether Mou has an antipathy for Spaniards. At the Bernabeu, he famously feuded with Iker Casillas and Sergio Ramos. He rarely plays Ander Herrera, although he favored bringing him on over Mata against City. That could be put down to Basque sympathies, I suppose. Still, he did purchase Pedro from Barcelona before being shown the door a second time at Chelsea. So, perhaps Mourinho is not the Portuguese Nigel Farage. Nationalism is out.
Maybe I was on the right track in probing the Special One's fragile psyche. For all he's done in football, José Mourinho doesn't come off as a happy person. His default facial expression is a frown. When he does smile or laugh it tends to come out in an exhaled breath, as if he is forcibly ejecting an undesired emotion.
His favorite players tend to fit into that mindset themselves. John Terry even went his former boss' petulance one better, topping the Vilanova eyepoke with a racial slur against Anton Ferdinand. Even the mercurial Ibra, who has been caught on camera playfully roughhousing with Paul Pogba, is known for his scowl. When he does offer a grin, it tends to be of the predatory nature.
Mata, on the other hand, shamelessly enjoys himself on the pitch. He doesn't just smile when United score. He does it when he makes a good pass, or a teammate makes one to him. He'll even have a laugh picking himself up after being bundled and awarded a free kick. When a call doesn't go his own way, his remonstrations aren't the angry gestures Mourinho employs, rather a rueful disbelief the referee didn't see things his way. You can still see the optimism in his eyes even though he knows no one ever wins an argument with an official. Johnny Kills has fun.
If that isn't sufficient to evoke an itch his dour manager can't scratch, Mata also has the temerity to openly value aspects of the game beyond his play and results. Aspects like the fans.
Mata is class. Sadly, as we've seen in his rivalry with Pep Guardiola, his action towards Tito Vilanova, and his treatment of Bastian Schweinsteiger, class is the gravest insult to Mourinho's person. That, and the Portuguese's unwavering allegiance to defending and direct play, means we are not likely to see much of a player who, given the opportunity, could have shaped himself into a United legend, one cast in the same mold as, and only overshadowed by, a player 2 centimeters shorter than himself: Paul Scholes. As with so many other Mourinho qualities, and despite any trophies he may bring the club, Manchester United's legacy will be the poorer for it.