In the run-up to Manchester United's 2016-17 opening match, José Mourinho acknowledged winning the Premier League title was unrealistic.
It would be easier to get 20 new players and start with them from zero than to get a squad that was previously with a top manager but with different ideas than mine. Sometimes, during my career, I created some unrealistic targets. By creating these, you push the team to unexpected levels. To win the Champions League with Porto or Inter is unexpected and a very risky objective. To win championships in the first season is a little bit of the same, but I like that.
Ultimately, the statement is subtle politicking. If the team struggles, the Portuguese can point to a squad inherited from his Dutch predecessor, with that man's philosophy imprinted on their play. If the squad meets his 'unrealistic' expectations, it only adds to the Special One's carefully crafted legend. A win-win for the manager regardless the results. Unfortunately, like most politicking, Mourinho's rhetoric is a bit light on truth.
To begin, his ideas are not all that different from Louis van Gaal's. José will admit he studied under LvG at Barcelona, but will then claim to have gone his own way. Two defeats in four days against lesser sides offer evidence to the contrary. Both matches were played in a reluctant, reactive fashion all too reminiscent of virtually every meaningful match during the Van Gaal era.
This is because, for all his achievements, Mourinho is a reactive manager, not an innovator. In his reign's opening matches, when he still didn't know his squad after a lost Chinese pre-season tour, Mou allowed players the freedom to influence the game. They reveled in it. Jesse Lingard dribbled through four or five defenders to score the opener in the Community Shield. Paul Pogba ran rampant in his debut. Zlatan Ibrahimović created space for Marcus Rashford with brilliant one-touch passes while benefiting himself from Wayne Rooney and Juan Mata's service. There was a balance in the squad between strength and vision, between pace and technique. It was even reflected in the center half pairing, where Daley Blind's positioning and ability to pick out a pass complemented Eric Bailly's impulsive brute force.
Like his mentor, though, Mourinho also insists on drilling a specific style into his players, rather than developing one that suits their talents. He rates strength and pace while holding vision and technique almost in disdain. His weapon of choice is a club in a league rapidly filling with sword masters. His tactics are Neanderthal in a Cro-Magnon league.
That is why, in the Feyenoord defeat's aftermath, where the referee might have been viewed as unkind to Mourinho's United, whistling twenty-two fouls against the Dutch side to six for his own, but only handing out the single booking, the United manager's response against Watford was to goon up. He did not take into account his side's technical superiority, nor that referees are individuals.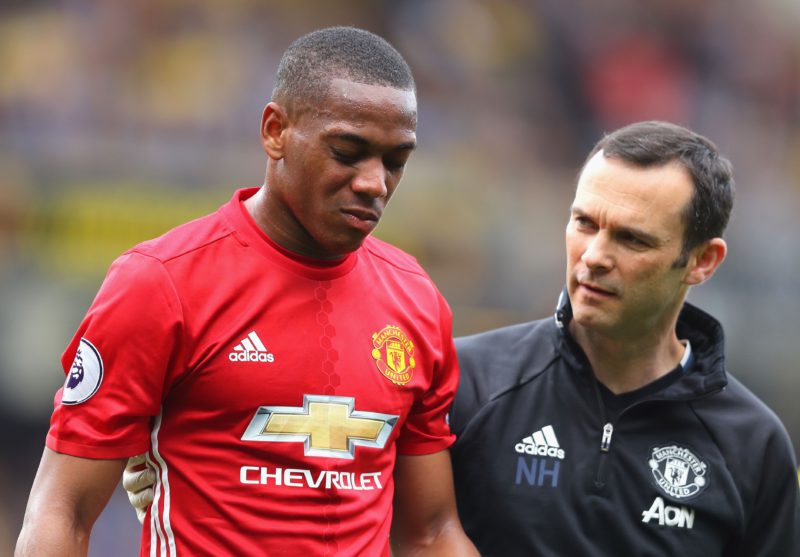 Michael Oliver is not Jesús Gil Manzano. On the one hand, he could have been mistaken for him in a police lineup after not whistling a foul on Miguel Britos for making contact with Anthony Martial from the wrong side of the ball, enabling Watford to score the opener. The defender just barely toed the ball prior to clattering the already woozy Martial, but how many times have we been told that is irrelevant in the modern game? On the other hand, when both sides upped their physicality in the second half, Oliver distributed yellow cards to each in comparatively level fashion.
The problem is he would not have assessed so many to United had its players not lost their composure. As I write this, I'm fairly confident the Northern Loudmouth is also glued to his monitor, fingers abusing keyboard with withering criticism of Wayne Rooney's performance. To be sure, the captain's play was poor, and being asked to shift position with each substitution can't be wholly blamed for the poor corners, free kicks, and wayward passes, or for his continual bickering with the referee and nearside linesman. Still, he was hardly alone in doing so. A frustrated Paul Pogba was admonished for apparently responding in kind to a heckler in the crowd, then booked after arguing a poor challenge. Fellaini was in Oliver's face after his yellow. Memphis Depay emulated Rooney's abuse of the linesman. Finally, although he escaped discipline, the Zlatan put in his two cents after being penalized while contesting a fifty-fifty ball.
Player discipline is the manager's responsibility, and Mourinho is famous for deflecting responsibility rather than taking it on. The Eva Carniero fiasco immediately springs to mind, as does his prior history of criticizing players in the media. When the Portuguese was hired by the United board, many expected the players would soon adopt his winning ways. Unfortunately, they appear to have more quickly assimilated his petulance.
The decision to field a physical starting XI in an attempt to bully Walter Mazzarri's creative side has to be doubly faulted. Not only could United have out-stung the Hornets with a different line-up, they had no answer for the hosts' team defending. Mourinho's one-dimensional plan was to get the ball forward to let Martial, Rashford, and occasionally Ibra run at defenders, just as Louis van Gaal so often attempted last season. The tactic allowed Watford defenders to outnumber and dispossess the United's forwards time after time without concern for any attacking support arriving. Meanwhile, in the United defensive third, Chris Smalling and Eric Bailly were identical bookends failing to complement each other, permitting Watford's attacking support to arrive and create two goals for a deserved victory.
The second Watford goal can partially be laid at Luke Shaw's feet, as Mourinho obliquely did in his post-match presser. Shaw ceded the middle of the pitch to Norden Amrabat, rather than the touch line, allowing the Moroccan to dart inside then slot a pass to Roberto Pereyra, who laid one back to the just-inserted Juan Zúñiga to put past an outstretched David de Gea. While not cutting an intimidating figure, Daley Blind's positional sense might have made him more alert to the Colombian's run had he been in the match.
United's brief ascendancy arrived just after the hour with Mata's belated introduction to the match. Pogba, who is said to favor a more forward role, dropped back, immediately contributing an incisive breakout pass leading to sustained pressure. Mata then began interacting with Rashford, Ibra, Rooney, Fellaini, and Pogba, creating numbers in the attack which had been theretofore nonexistent. Watford found themselves scrambling to cover United's suddenly more unpredictable attack.
Rashford's ephemeral equalizer came after a one-two with Ibra and a headed return pass that caromed back to him off a yellow shirt. It was telling Rooney and Mata were also occupying defenders in the box when the goal came. What might have been had the Spaniard been the one brought on for the concussed Martial in the first half, rather than the less inventive Ashley Young?
In the real world, rather than fantasy, Ibra would nearly give United the lead from a powerful header but for an acrobatic Huerlho Gomes save. United unfortunately chose the moments afterward to self-destruct, with Pogba's outburst, Shaw's gaffe, and the wholesale whinging that followed Watford's regaining the lead. Mourinho had the audacity to lay all that on Lady Luck, his misogyny apparently knowing no bounds.
BT Sport's commentators repeatedly claimed the Portuguese was still searching for the balanced midfield he had enjoyed during both tenures at Chelsea, as well as with Inter and Real Madrid between. That Mourinho had such a balance for the season's first three matches, with Mata and Pogba fronting Marouane Fellaini, seems lost on him and them. The weakness in those elevens was Martial, whose knocks to the head and back, courtesy Daryl Janmaat and Britos respectively, may now sideline him for a period. The simple adjustment is to insert Rashford on the left.
At the back, the manager must see Chris Smalling is not an effective alternative to Daley Blind. But the alternate captain's experience does make him a better option than the rash Eric Bailly.
In other words, Mourinho had it right in the beginning. Yet another schooling at Pep Guardiola's hands may have caused him to revert to his default defensive shell. Such a reaction was the wrong choice, however. Feyenoord and Watford are not Manchester City. Very few teams United will face in any competition this campaign are. A starting XI of De Gea, Antonio Valencia, Bailly/Smalling, Blind, Shaw, Fellaini, Pogba, Mata, Rashford, Rooney and Ibra, will boss the pitch against the vast majority of clubs on the horizon. The manager should go back to that line-up, and stick with it. This is a roster meant to be proactive. What was the sense in letting Van Gaal go if his successor is just as reluctant to attack?