It was all going so well wasn't it? Three wins on the spin not including the Community Shield triumph, new signings coming in and looking the part, pre-existing players looking like they had been revitalised. It was all set to be a promising week of football ahead. Facing our city rivals in the early kick-off, with José Mourinho renewing the rivalry with his greatest nemesis, a European away trip to look forward to, and then a trip to one of our traditionally favourite venues on Sunday.
By Philip Morrissey
Follow Philip on Twitter
So far, it has not worked out quite as planned, however. Not at all. The high pressing that had been on display in the opening few games was absent in the first half of the derby fixture, meaning Man United were on the back foot for most of it. Alarmingly, City's midfield was given far too much freedom to create opportunities. The pedestrian tendencies of Yaya Touré and Samir Nasri were weeded out by Pep Guardiola when he arrived. He has brought in young, hungry bodies that go straight for the jugular. Fellaini and Pogba, in contrast, looked overrun and unable to pinpoint the runs to follow. Ibrahimović did strike just before the break, giving the fans hope for a revival.
Curiously, two of the players introduced to the team found themselves hauled off by Mourinho at the interval. Henrikh Mkhitayran had the excuse of playing in an unfamiliar position with the lingering effects of an injury suffered whilst on international duty for Armenia. Jesse Lingard, who gave the ball away on a few occasions, could have been more effective on the left-hand side.
It is true that the second forty-five was more even. Claudio Bravo should have conceded a spot-kick for a blatant foul on Rooney, then Rashford had an attempt ruled out after it brushed against an offside Zlatan. For all the pressure, City seemed to be relatively solid and compact at the back whilst still threatening on the break. It felt too much like a lost opportunity especially with the absence of Vincent Kompany and Sergio Kun Aguero.
Personnel were expectedly switched in light of the Europa League game in Rotterdam. Some were anticipated, others baffling. Sergio Romero might have hoped to get the nod ahead of David de Gea. Memphis seemed to be on many minds for his first start. Paul Pogba being employed in an advanced position behind the main striker was the move that offered the most tantalising prospect to most, however. Theory can often better than practice as this performance demonstrated. Clear chances and opportunities were at a premium throughout the first half. Rashford tried willingly to take on the defence but often found himself lacking support and crowded out. Anthony Martial, Juan Mata, and Pogba were too distant to set up any dangerous moves. It seemed we were replaying one of the more turgid games from the Van Gaal era.
Frustratingly, the second half followed the same pattern as the first. Mourinho's response was to bring on a triple substitution of Zlatan, Memphis and Ashley Young, rather peculiar to me. The home-team's response was to go ahead. Although Nicolai Jørgensen should have been flagged off-side in the build-up, he was allowed to sweep the ball in for the on-rushing Tonny Vilhena.
Having played for a draw for most of the game, Feyenoord were now ahead. Loading bodies into the area without any degree of sophistication was not likely to break them down now. That is what happened for the remainder of the game however. United's attackers had little room to work, and, too often, the balls provided were of lamentable quality. It may not be the European competition that we all want, but as we are here, surely an effort better than this can be expected? Especially when Sloth from The Goonies was managing to get a game for the home-side.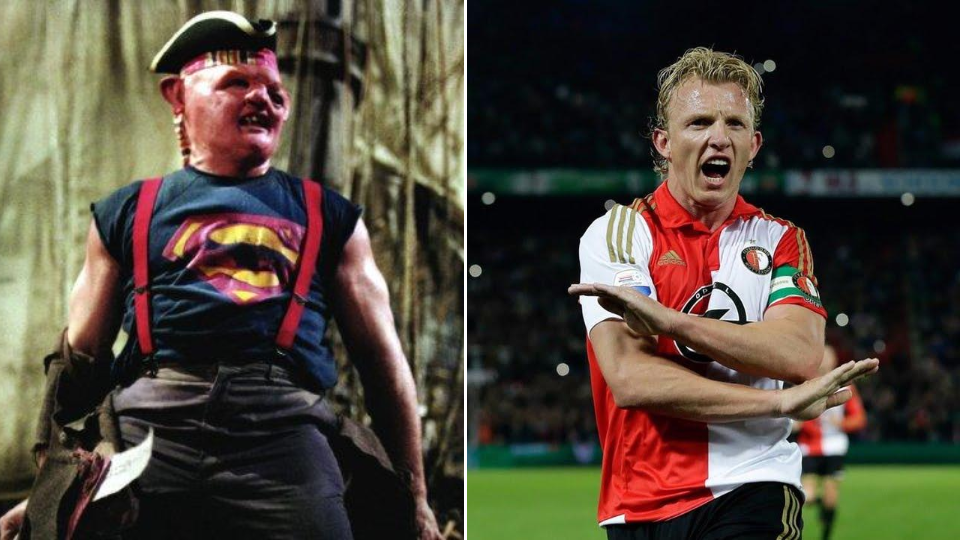 José has promised a return to "a more normal side" against Watford. Whether his characterisation is a reflection of the dismal performance, or the level of believe he has with his secondary players is open to judgement. Certainly more was expected from the lost boys who should be busting a gut to get back into the team. Pre and post-match comments from the boss would not fill many with too much belief though. If Mourinho thinks the Vicarage road outfit are going to be an easy stroll around, he can think again. The Hornets are buzzing (sorry!) after securing their first win in an impressive display against West Ham. They will certainly be hoping to claim their first home points of the season on Sunday. Conversely, United need to respond to their set-backs, and with a little style as well. The pressure is on.