This diary account was submitted by Peter Bolton, a well-known and respected individual within the Manchester United fan base.
Wednesday, 14 September
After the delayed kick-off at the U23s game on Tuesday night due to the lightning and floodlight failure (Manchester United 1-0 Villarreal) we arrived back at mine with two others staying with an early start the following morning.
My alarm was set for 3am with two pickups on the way to Liverpool airport — both car loads arrived on time at 5am. There was a usual queue at security but we through into airport in time for our 6.20am flight to Amsterdam.
Once through to the departure lounge we figured our flight had been delayed UNTIL 12.40pm. Yes, another six hours and 20 minutes wait.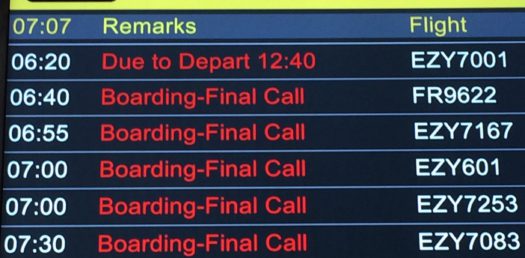 As it happened, loads were kicking off with Easyjet's staff — some of whom were on business for the day, which was understandable. Then we given a £9 food/drinks voucher, so it was back to the bar for us. Breakfast and pints at Wetherspoons but the vouchers didn't last long.
12 noon and we were finally asked to board!
Everyone boarded and the pilot announced "we are all ready to go except one of the cabin staff has gone over her allotted hours and they are looking for a replacement." You just couldn't make it up. They had 6 hours to work that out!
Another full hour on the plane before takeoff and eventually we departed at 2pm (just 7 hours 40 minutes late).
Then it was a quick flight to Amsterdam before catching a train to Rotterdam. The train was pre-booked (paid) for 10.15am train — obviously missed that one — so the next one had to do.
We got a taxi to where we were staying and what a fascinating hotel it is. Floating on the canal, it's best described as a cross between a boat and hotel. There is also a nice veranda open onto to canal which is ideal to have a few drinks and watch the boats go by.
A few hours later and we ended up in town for a few pints.
There was a bar with football on – but was it going to be city, Spurs or Leicester? No, the big game was Real Madrid (great cheer by all the United fans when Ronaldo scored at the death.
"Viva Ronaldo" was the chant).
Then it was back to the floating hotel in the early hours after a very long day.
Tomorrow we turn our full attention to match day. Feyenoord away!