Dear Paul,
Let's get one thing out of the way before I start ripping into one of the best midfielders to ever play the game, and not just in England, but anywhere. I'm with Xavi Hernandez on that one hundred percent.
"In the last 15 to 20 years, the best central midfielder that I have seen—the most complete—is Scholes. [He] is a spectacular player who has everything. He can play the final pass, he can score, he is strong, he never gets knocked off the ball, and he doesn't give possession away. If he had been Spanish, then maybe he would have been valued more."
Throughout your career, you only donned two kits, those of United and England. You were a gravitational force for both sides. More often than not, the game revolved around you, even if it was often in ways your lack of Iberian heritage caused us not to notice. Gravity is invisible in the same manner. Although, like you, every once in a while it lets us know it's around in a big way.
If I tuned into a match, somehow not knowing the Red Devils or Three Lions were featuring, and saw a diminutive ginger commanding the middle of the pitch, it was obviously Paul Scholes. How could anyone not recognize that translucent tan topped with a shock of orange?
Apparently, though, your voice is not as instantly identifiable to me. I discovered this after sitting through an opening forty-five against Hull City during which, for the first time in a meaningful match of the José Mourinho era, Community Shield included, United did not score.
That had me on edge to begin with, having predicted any hope of United winning the title hinges on taking all available points from Premier League jobbers. And let's face it, Mike Phelan obviously learned his craft well under Sir Alex Ferguson. El;se he would never have coaxed maximum points heading into Match Day Three from the first football club to ever appear in the Premier League table and the World Wildlife Fund's Endangered Species List at the same time. Okay not the first, but the KCOM Stadium has to be considered the EPL's drive-thru window of league wins at the moment. I'll have three points and a clean sheet, please. Pardon? Yeah, I'd like chips with that, thanks.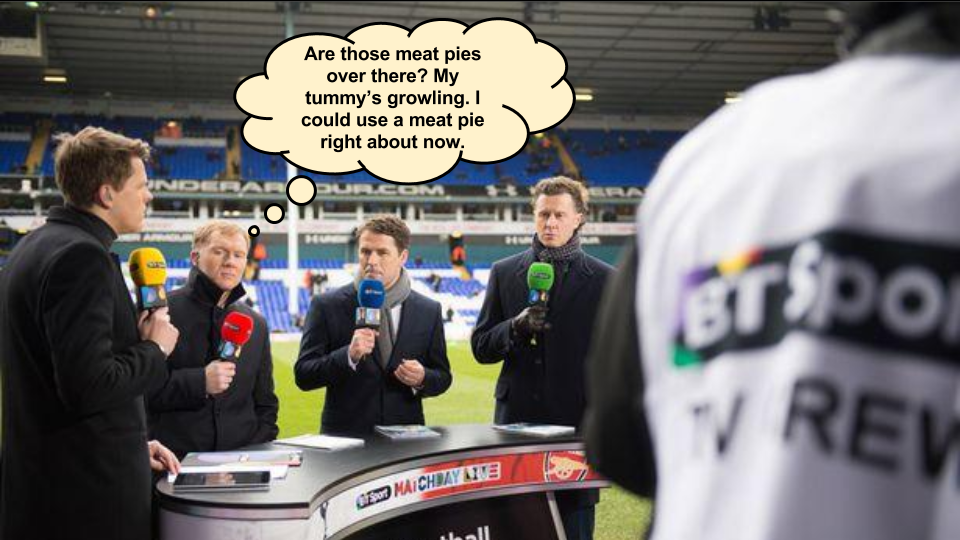 At half-time, the clean sheet seemed a lock, but the three points? Not so much. Hoping to calm my nerves, I opened a new window so I could destroy some unsuspecting sap at online snooker while listening to the lads in the BT Sport studio dissect the first-half play. Half-time shows are a dangerous activity I only engage in to avoid missing the restart. One should never actually pay attention to what is being said. Eventually, you are made to pay for taking such risks, and this was the day the butcher's bill came due for me.
Well into the discussion, the young guy who was never any good at the game asked the three millionaire geezers who'd amassed their fortunes under stadium lights what changes United needed to make to unlock Hull's defense, which was doing a credible imitation of the type of wall Donald Trump wants to build. To my shock, one of them piped up that Mourinho ought to sub out Juan Mata, and that the Portuguese should have done so well before the half-time whistle.
In which universe had he been watching the match? I wanted to bring up the BT window to see who this charter member of the Red Foreman Hall of Fame was, but I was still a half-dozen shots or so from fucking up a perfectly good century break. By the time I'd managed that, the second-half was already underway. I was relegated to muttering about how well Mata had been playing while resolving to watch the post-match analysis, something a person with a mind of their own should never, ever do.
The inevitable result, just as with half-time commentary, is hearing one of your idols say something that instantly transforms him from a football god to, well, there's no better word for it, a dumbass. But I had to know who could hate Mata that much.
The gist of my soon-to-be fallen mystery hero's opinion–although I'm sure you've guessed it was you, and the Northern accent should have clued me in–was that a) Mata was not in the match at all, on which I called bullshit, and b) was drifting inside far too often, to which I said yeah, but didn't you lot just spent the entire first half and interval gushing about the freedom and supportively interchangeable nature of United's play under Mourinho? A trend you all agreed was woefully absent during the reign of Louis van Gaal? I mean, retired footballers make a lot of dosh, but you still can't have your cake and eat it, too.
In the first half, before you opened your mouth to utter those fateful words, little Johnny Kills had shaked and baked a Hull defender out of his shoes, then shot on goal from a tight angle. Next, he headed a cross that would have tucked inside the far post if not for a brilliant diving save from Eldin Jakupović.
As well, he had noticeably won several balls back, snuffing out a handful of Hull counterattacks. In each case, he was the second man in, picking up the loose ball after Antonio Valencia, Eric Bailly, or Marouane Fellaini had separated it from their man. Did you not see any of this? No one is expecting him to fly into tackles like a hairier, stunted clone of Phil Jones, but his support, which, on one or two occasions, occurred as deep as the edge of the United box, is the type of two-way play he refused to adopt after three seasons as Chelsea Player of the Year. We both know that refusal is what led to his sale soon after the prodigal Mourinho's return to Stamford Bridge.
That the Special One kept an open mind with the diminutive Spaniard when they were reunited at Old Trafford is to his credit, and that the latter is now being rewarded for his two-dimensional play is making it very difficult for Henrikh Mkhitaryan to get a game. In the post-match interview, Mourinho was asked about the Europa League draw, and he noted he possessed a sufficiently deep squad to not only play a completely different back four–Matteo Darmian, Chris Smalling, the original Phil Jones, and Marcos Rojo–but to change his attack as well, specifically noting that Mkhitaryan could come in for Mata, an indirect confirmation that the right side of the midfield is the Spaniard's to lose.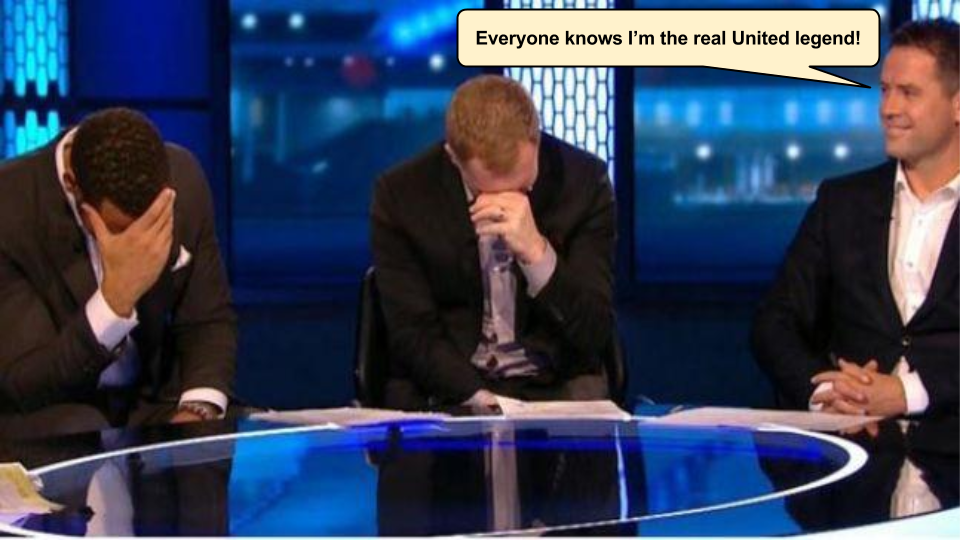 Mata was not as prolific in the second half, although he nearly latched onto a Zaltan Ibrahimović through ball in the six, but was flagged off side by the linesman and mugged by Curtis Davies for his trouble. Slightly dented, but undaunted, he was relieved after seventy minutes by Marcus Rashford. Mkhitaryan also saw a half-hour's work in  the anemic Anthony Martial's stead. United continued to batter on Hull's Trumpian wall, spending all but roughly five minutes of the second stanza in the host half.
In the end, or two minutes short of it, the other of my much-maligned favorites in the squad, Wayne Rooney, produced his allotted one moment of magic per match. Bursting–yes, I'm describing the supposedly overweight and leg-weary United captain's movement as bursting free down the left side, then jigging (!) past an exhausted Hull defender, Rooney squared a ball across the mouth of goal for an onrushing Rashford to either trip over or tap in. Happily, he opted for the latter.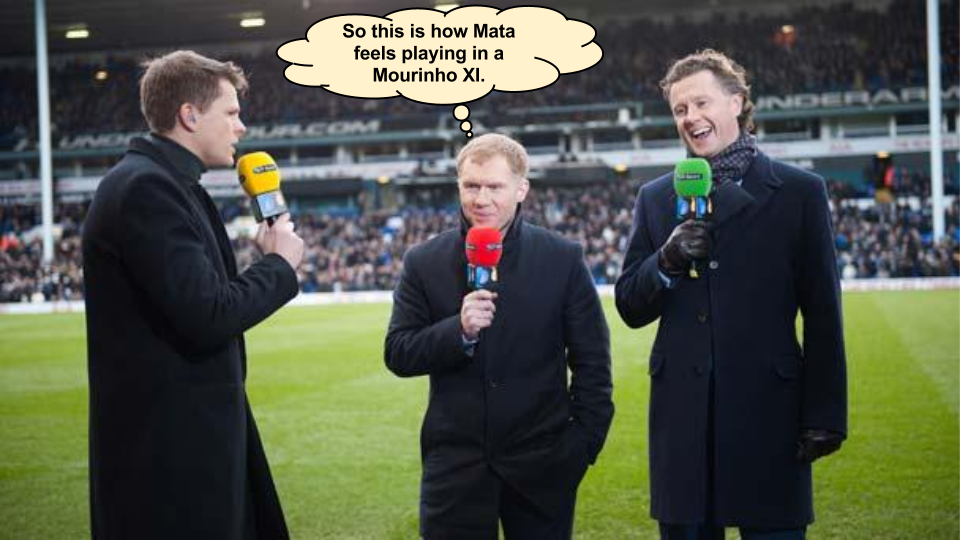 Don't misunderstand. I startled half the patrons in the cafe where I watched the match with my joyous shout and raised arms. On a Saturday falling between the closing ceremony of the Olympics and the start of the NCAA college football season, I crashed through a window they had considered safe from rabid sports fans. Nor do I begrudge young Rashford his own joy, unlike Jonathan Moss, who booked him for excessive celebration. That the announcers spent the entire ninety seconds it took to resume the match slavishly lauding the teenager and ignoring the fact it had been Rooney who had performed the heavy lifting did grate on my nerves, however.
Nonetheless, I was happy to see the relentless United, a beast seemingly retired along with Fergie, return to claim all three points. Not only did it relieve some of the pressure awaiting the squad on the other side of the international break in the first leg of the Manchester Derby, it cooled my anger towards you. Even when you continued to offer up nonsense, I was in a forgiving mood.
At least, you agreed something is wrong with Anthony Martial. The player who, last season, had been the sole person willing to run at defenders upon receipt of the ball, was suddenly the only hesitant in Mourinho's more liberated side. When the ball came to the Frenchman's feet at the KCOM, he seemed to always take a deep breath before dribbling, allowing Hull's defenders to consistently close him down. Whether it's a crisis of confidence after not being used in France's Euro run, or something else, Martial has been, if not the first, at least one of the substituted in every match this season.
Hooray, sort of, for common ground. But then you reiterated your endorsement of Mkhitaryan, noting he's "all about goals." Well, yes, Scholesy. That's almost assuredly why he isn't playing ahead of the new, fully committed, box-to-box version of Mata. If the Armenian is willing to assume more responsibility off the ball, his situation may change.
That I find myself explaining this to you, a freaking United legend, even though I know you're not paying attention, is infuriating. Just a few months ago, I was praising you for standing up for Marcus Rashford after LvG threw him under a North London bus. Now, you've got me supporting José Mourinho over you. You've made my entire life a bigger mess than any ex-wife ever could.
What have you got against Mata, anyway? Is it because he reminds you of yourself, only with a bit of pace? Is it because he's Spanish? Have Xavi's words upset you? I promise they were intended as a compliment. Really, they were.
Whatever the reason, I have to ask you to stop hating on Mata. I know you're better than that, and he simply doesn't deserve it.
Yours sincerely,
A Disillusioned Worshiper.