Georgie, Georgie, they call you the Belfast Boy
Georgie, Georgie, they call you the Belfast Boy
Georgie, Georgie, keep your feet on the ground
Georgie, Georgie, when you listen to the sound
Georgie, Georgie, put a light on your name
April 1970
My mum's annual road trip to Harrods in fancy-schmancy Knightsbridge to buy peanut butter, brandy snaps, and assorted crap was a bloody long drive all the way from Mevagissey, Cornwall, but we were well on the way at last. Her metallic, gun-metal grey Sunbeam Rapier Fastback was belting up the old A38, sometimes touching 65 mph. Ironically, at the same time, I would be touching a turtle's head due to her erratic driving.
While it's quite true she was a member of the Advanced School of Motoring, and the Sunbeams' front grill was accordingly adorned with a shiny yellow badge to prove membership, in those days a 'Roadcraft' practical test and basic exam didn't guarantee an excrement-free road trip. I am jesting, though. Mumsy was quite a decent driver, although she did frequently exhibit an early type of road-rage to fellow road users. Up until the age of 12, as far as I knew, the most popular car on the road was the Vauxhall Stupid Bastard.
On this journey, though, I couldn't have cared less about her driving, nor any other road users. Not even did I care about Harrods' seemingly endless toy department goodies, or the smorgasbord of indescribable Swedish foodstuffs in the food hall. This time, I was going to see my idol, Georgie Best. THE George Best. The Belfast Boy. El Beatle. This was the man that Bob Bishop referred to in a telegram sent to Matt Busby which read, "I think I've found you a genius". To hell with stopping at Stonehenge, I was on the way to London to see a proper legend.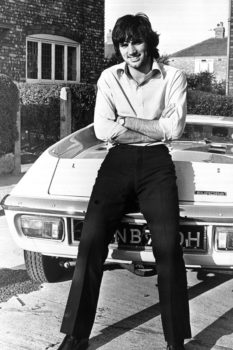 Oh sweet Jesus, can you imagine what Bob Bishop must have seen and thought on that lumpy and muddy Glentoran pitch? I reckon Mr Bishop went home that night and his Mrs was on the end of some sweet Bobby Bishop lovin'!
THE man himself (not Bob) was in London to open a sports shop. I think somewhere near the Kings Road. I knew this because Georgie's fan club told me so some weeks before in the most exciting letter I had ever received. For the eternity leading up to the long drive to the smoke of Londinium, I was incredibly excited. Mum had definitely–absolutely definitely positively–said we could go. She had given me life 11 years before. Now, she said, we could go see Georgie so her angelic status in my eyes reached new heights.
Unfortunately, the majority of local kids hated me because my parents had a bit of money. That wasn't my fault, of course. But kids, especially mean kids, don't know that. All they see is a new car in town, a posh house, and good school shoes. Also, unknowingly exacerbating my problem, I would also sport a pair of bright white 'green flash' plimsolls on the weekend, and was soundly thrashed for doing so by a boy who, for legal reasons, I'll just call Septimus Shitface. If I only knew where he lived now.  In my dream, I would knock on his door. He would open it, fail to recognise me 46 years on, and I would bitch-slap his fat ugly face. Then my alarm would go off.
As a young lad living in a tiny fishing village, post 1966, where all the locals followed either Leed$, We$t H@m, Chel$ea or Totteringham (instead of Exeter City, Plymouth Argyle or Mevagissey Town), supporting United was very much frowned upon, particularly by the bullies. I suppose they were an early version of today's ABU crowd. To$$ers then; to$$ers now.
My Manchester United wristwatch did me no favours, either. I soon learned I had to wear long sleeves if I was not to risk having it removed by Septimus and his mates. As well, my magnificent George Best purple and black football boots made people were very jealous. The boots were laced up the sides in a never-before-seen state-of-the-art design. During games, I had to endure several dozen foot stamps from the other boys, the absolute shits.
In my other dream, I would see all of them tightly packed in an old-school GPO red phone box. I would open the door, throw in 2 gallons of thick, meaty gravy, promptly add 27 angry, rabid rats, then quickly barricade the door. That would be too good for them, though. I mean, who doesn't hate a bully?
Meanwhile, back in the Kings Road: mum parked the car a few streets away from the sports shop, and we walked to the entrance. Already uber-excited, I could hear a kerfuffle from over a hundred yards away; as we approached I saw the front and sides of the premises were cordoned off by lots of metal barriers. There was probably around 200 people outside the shop, many spilling into the road. To me, it seemed like thousands–mostly girls of course. Lost on my tender age, they would all be gloriously moist with the anticipation of seeing Georgie in the flesh.
We hung around the front of the shop for what seemed like hours. The throng of girls in mini-skirts and the accompanying pungent whiff of Mary Quant lippy and eyeliner was intoxicating. Next thing I knew, there were screams piercing through my lugholes like when I would see Slade at the Brighton dome a few years later. A fabulous white Lotus Europa pulled up to the kerb and out stepped my idol. In my head, I'm sure I heard angels sing. My ears were ringing from the screaming but my eyes told me that George stood right there, about 30 feet in front of me, on the pavement, smiling, waving, and looking very much like the fifth Beatle I had read about and seen on television.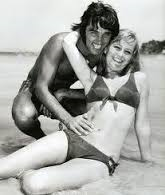 From the passenger side, I think Susan George, though it might have been the reigning Miss World, exiting the car. Whichever it was, the other was probably home waiting. The young lady walked around and took his arm. She was also smiling and posing, wearing a white shirt and–good God almighty–no brassiere! The glorious sixties might have passed but some statements lived on and for a nano-second my prepubescent gaze was caught up in some serious nipplage.
The couple stood there for just a few minutes while the local press took dozens of photos; a handful of policemen a few feet apart holding back the collective moisture. There was no warning of flash photography in those days and for all we knew, epileptics dropped left, right and centre. A million flash bulbs popped. It was intensely exciting; I had never experienced anything like it in my young life. Sadly, though, it was all over very quickly. My quest to get nearer to him, or into the shop for an autograph, was completely futile. The bitches had me and mum severely outnumbered. There was too much damp, and it was all due to Georgie. His impossible handsomeness clearly mandated the Hos came before the young Bros. It didn't matter too much to me though; I had at least seen him in the flesh.
It was only a few weeks before he had scored 6 in an 8-2 victory over Northampton Town in the 5th round of the FA cup. This was the legend that was Georgie Best.
When you're under 10, from a tiny Cornish village, and you see George Best in the headlines and on the telly–I think that was the year ITV ran the hour-long documentary 'Belfast Boy'–then you see that Lotus, the house in Manchester with the glass frontage, and all the fuss surrounding him and his club, your head is totally turned. You're not interested in other footballers like Billy Bremner, or John Bond or Ron Harris.
We all recall Beckham scoring against Wimbledon. At the time he was stepping out every night with Mrs P. Spice wearing God knows what (both of them) and attending the opening of envelopes all over the UK. It seemed there was a right bloody fuss almost every day. But, in the nineties people were used to the fuss. In the late sixties it was almost unheard of, especially in football. A lot of kids became United fans back then. Bestie is partly why the fan base is unmatched in this country and across the world.
We miss you, Georgie x
Article by Dave Cleaver. Follow @Cleavage57 on Twitter.