There's been a familiar sinking feeling over the past three seasons. Pre-match optimism for a good performance and result deflated by yet another tepid display. Last year, the Old Trafford crowd witnessed a paltry twenty-seven goals, with the home side kept blank on five separate occasions. When United did score, they were usually unable to build on it, finding themselves desperately hanging on at the death. Old Trafford as an impenetrable fortress became more legend than reality. The theatre of screams rather than dreams.
Yet, it was not always thus. The mere idea of visiting Old Trafford once filled opposing teams with dread. Many had already lost before they took the pitch. The great Ferguson sides frequently lulled visitors into a false sense of security, then hit without warning. A side would be in the game, playing well, only to find themselves two or three down in no time at all. Even if it was approaching the final minutes, with the opposition somehow still holding a lead, it would not be enough. The pressure would tell. Eventually, they would crack.
Has that lost edge purely been down to tactics from the previous two managers? A whole raft of unwelcome records have taken place during their reigns. From the lowest number of goals at home, to the least amount scored in the first-half, to teams securing their first wins at Old Traffored since the Middle-ages, it has not made for great viewing. If there was any doubt regarding Reds fans' support, this spell has at least shown their commitment to the cause. Attendance has remained high, and extremely vocal.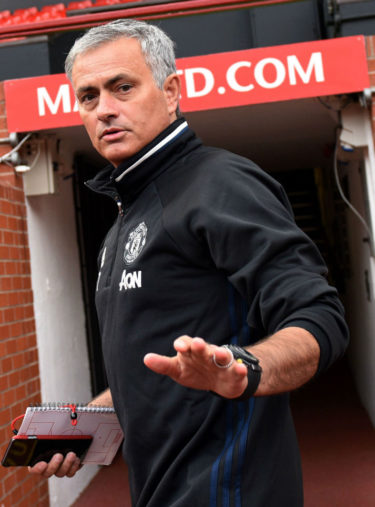 If there is any person more synonymous with home strength, it is José Mouriniho. The Portuguese made his name through an incredible home record whether it was at Porto's Estádio do Dragão (yes, the Dragon's Den), Stamford Bridge, San Siro, or the Santiago Bernabéu. For all the accusations of being dull away from home, his teams were renowned for being explosive in their own digs. Different styles for different occasions. Last year's Chelsea shattered that image, however. Four defeats at home for a defending champion is clearly unacceptable, and led to his dismissal. It was virtually the same record David Moyes had at the same stage during his lone season in charge at United.
Over the last three seasons, Southampton have come away from Old Trafford with seven points. In those games, Manchester United have scored one goal. If there is any one club we need to reverse the tide against, the Saints are it. Tentative play must be replaced by determination and speed. This is the first opportunity for the home supporters to see their summer signings in action, possibly including Paul Pogba's second debut. There will be great expectations. It is up to the players to return that faith, as well as Old Trafford's imposing reputation.