Paul Parker has pissed me off. Apparently he's been out of the game so long he's forgotten how difficult it is. He's forgotten how much he wanted to play, how his aging body slowly, methodically betrayed him. Forgotten how quick his mind still was, even if his legs couldn't always respond. Forgotten to respect. These days, he's just another fanboy. He's happy to jump on the Wayne Rooney Must Go bandwagon, saying the Manchester United captain is slow, overweight, a marketing asset but a playing liability. Well, I call bullshit.
The difference between Parker and Rooney is the latter has contributed far more to the club, and, despite the predominant fanboy party line, has far more still to contribute. Rooney's not nearly at the point where all he's good for is to pop up on some minor media outlet (I mean you, Bleacher Report) spouting off about his betters to get his name back in the limelight. Yes, he's older. He's slower. Can you say Frank Lampard at City, or Andrea Pirlo at Juventus? Maybe he's even spent too much time in the Carrington dining room buffet line. But Wayne Rooney still has enough pace to make the occasional mazy run like the one last season against Palace. He still has the wherewithal to be in the right place to head a wayward clearance past Artur Boruc to give Man United an all important two-goal cushion in the season opener against Bournemouth.
That goal was far more important to the outcome than Zlatan Ibrahimović's, which followed. Yet, the Swede's strike is the one being lauded by every football journalist and his mother. Ibra and Paul Pogba are United's flavor of the moment, whereas Rooney is week old leftovers. This despite the fact Zlatan is just as slow, just as lost for long stretches of matches, and four years Rooney's senior. The difference is probably the tall, more nutritionally challenged former Ajax, Inter, Juve, Milan, Barça, and PSG man hasn't allowed anyone to coach the belligerence out of his nature. No one would dare call Ibra an old, washed up, anchor weighing down his club. Not to his face.
Rooney, by contrast has learned, somewhat to his detriment, to sacrifice himself for the team. He's just not ready, as yet, to make the ultimate sacrifice by leaving the club. And why should he? If you've been watching the few matches when they've been on the pitch together, Rooney and Ibra have developed a definite chemistry. One Ibra apparently appreciates. Their won't be any war of words in the British press like there was with Edinson Cavani in Paris. Rooney and Ibra know where the other is and will be, and create space for one another. If one goes back for the ball, the other occupies the opposing center backs.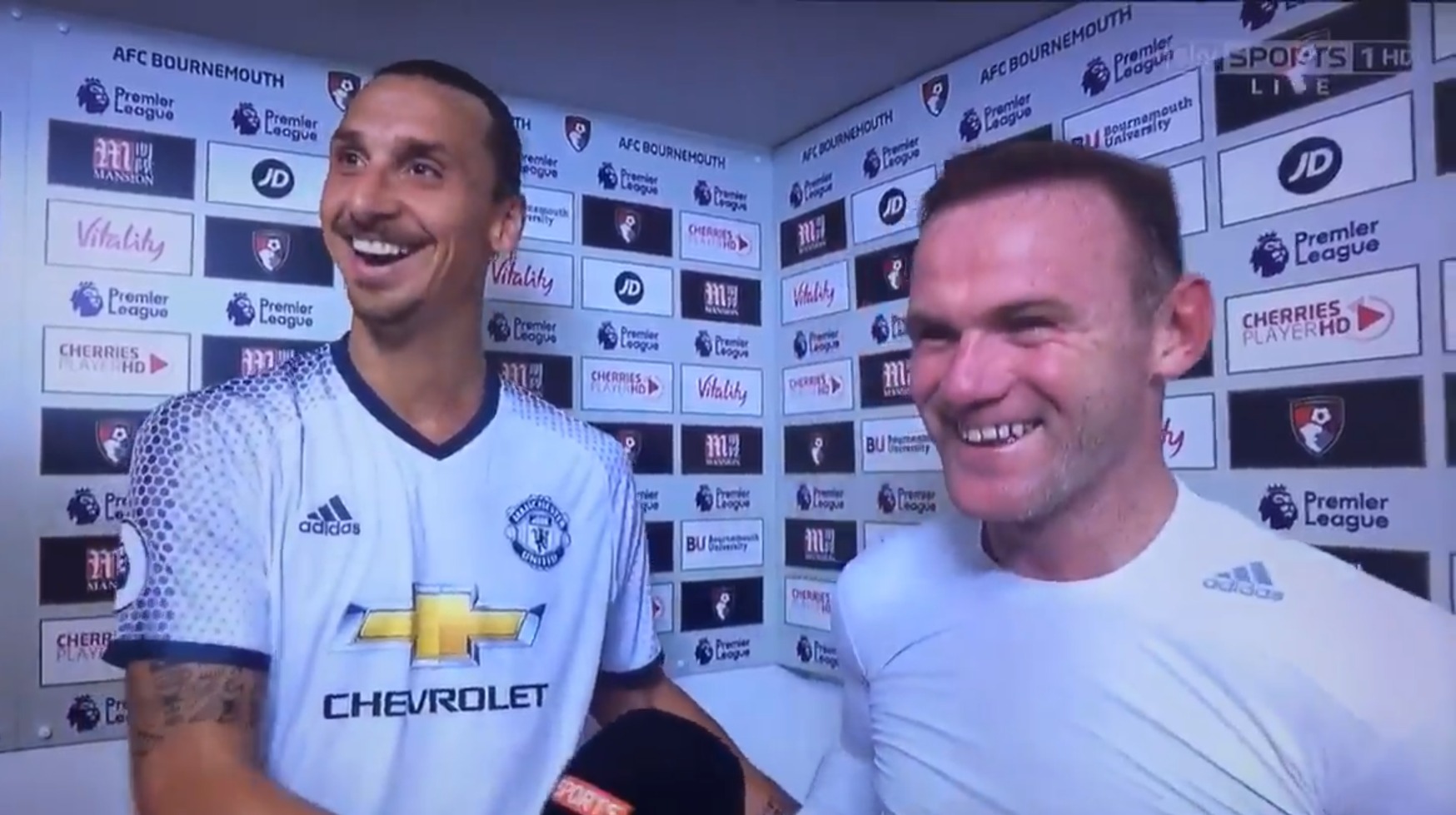 Last season, the lack of understanding between Rooney and Anthony Martial, Memphis Depay, Jesse Lingard, or whoever was a constant criticism. No one filled the space the captain vacated. Alternatively, the fault was given to Louis van Gaal's rigid system, and Rooney's wanderlust. Well, under José Mourinho, the attacking players have freedom to move into open spaces. Just ask Lingard, who admitted as much in an interview after the Community Shield. With Van Gaal dictating playing style, Rooney went goalless in how many matches to start the campaign? With Mourinho calling the shots and a strong partner in Ibra, it took less than an hour for the first tally to come. Expect more.
Despite the trust they've placed in Mourinho, which for me is very guarded, a lynch mob mentality has developed when it comes to Rooney. Much of the rancor is derived from Rooney's protracted contract holdout, during which he or his unfortunately named agent, Paul Stretford, hinted he could sign for nouveau-riche City. Baclava-clad thugs even staked out Wayne's house, hinting in no uncertain terms what might happen should he don a sky-blue kit. No one did that down Merseyside way when Steven Gerrard was flirting with Chelsea. No one did it to Carlos Tevez, either. The attitude with the Argentine was, "meh, let him go to the dark side if he likes." That should tell you how much Wayne Rooney was wanted by United fans. How much he was valued.
When the club re-signed him, Rooney did everything asked. Move into a supporting role for Robin van Persie? Sure. Cover for the lack of talent in midfield? No problem. Move back up front again? Okay. Athletics is all about practice, repetition, drilling yourself into a routine which becomes so second-nature you don't have to think; your actions become instinctive. Except Rooney was asked to learn new roles, develop new skills, to forget then relearn old habits. As he went through this period of forced inconsistency, the squad deteriorated around him. He had no defined role, and no support. Now, he has both. United supporters should be anticipating a renaissance similar to that of Ryan Giggs. Instead, they want their longest-serving player, the one who knows better than any other what it means to wear the United shirt, gone.
The attitude is ridiculous. It's shameful. It's pathetic. It's a betrayal not only of the player who has given so much, but of the United ethos: youth, courage, greatness. Rooney came to the club from Everton as a youth. He showed the courage to become captain for both club and country. Along the way, he has scored 245 goals for United, and 53 more for England. He has won more trophies in a red shirt than any other club legend. Yet, United fans would deny him that indisputable greatness. They have hung a sign in the Old Trafford window: Immortals wanted. Humans need not apply. Now a former player who could never reach the heights Rooney has is pandering to their bloodlust. Paul Parker, you disgust me.