Hello again, loyal Stretty News readers. Welcome to the first Rambling of the '16-17 season.
Seven different countries, thirty-one club honours, top scorer for his country, and a medal haul as colossal as his ego. Some might settle for a calm, peaceful winding down having achieved such incomparable feats in their career. Then there is Zlatan. Any mere mortal would be subject to ridicule had they purred and reveled in their own gift so confidently. The Swede had offers to light up MLS or join the China money spinner. Yet Sunday's evidence, albeit embryonic, suggests United have secured a real coup, a tour de force, a true champion. Someone who defies the physical stereotypes, Zlatan, in truly unique fashion, has become better with age.
United have been bereft of characters in the dressing room since, well, the likes of Keane, Vidic, Evra, and Gary Neville. The Red Devils have lacked players who, when facing up to them in the tunnel, leave the opposition in trepidation, knowing full well they are in for a battle. Players who can, for want of a better phrase, 'mix it', and have stomach for the fight.
Importantly, in Zlatan, and Pogba, too, United can finally boast players with enormous presence. Zlatan's pride itself is a literal presence. The bloke is a unit, not to mention possessed of the ultimate winning mentality. He and Pogba can square their shoulders, relishing the challenge of restoring United to previous heights by reintroducing that long-lost fear factor. The club has signed pretty players of late. It's time to revive the siege mentality, and Mourinho loves to instill it in his sides.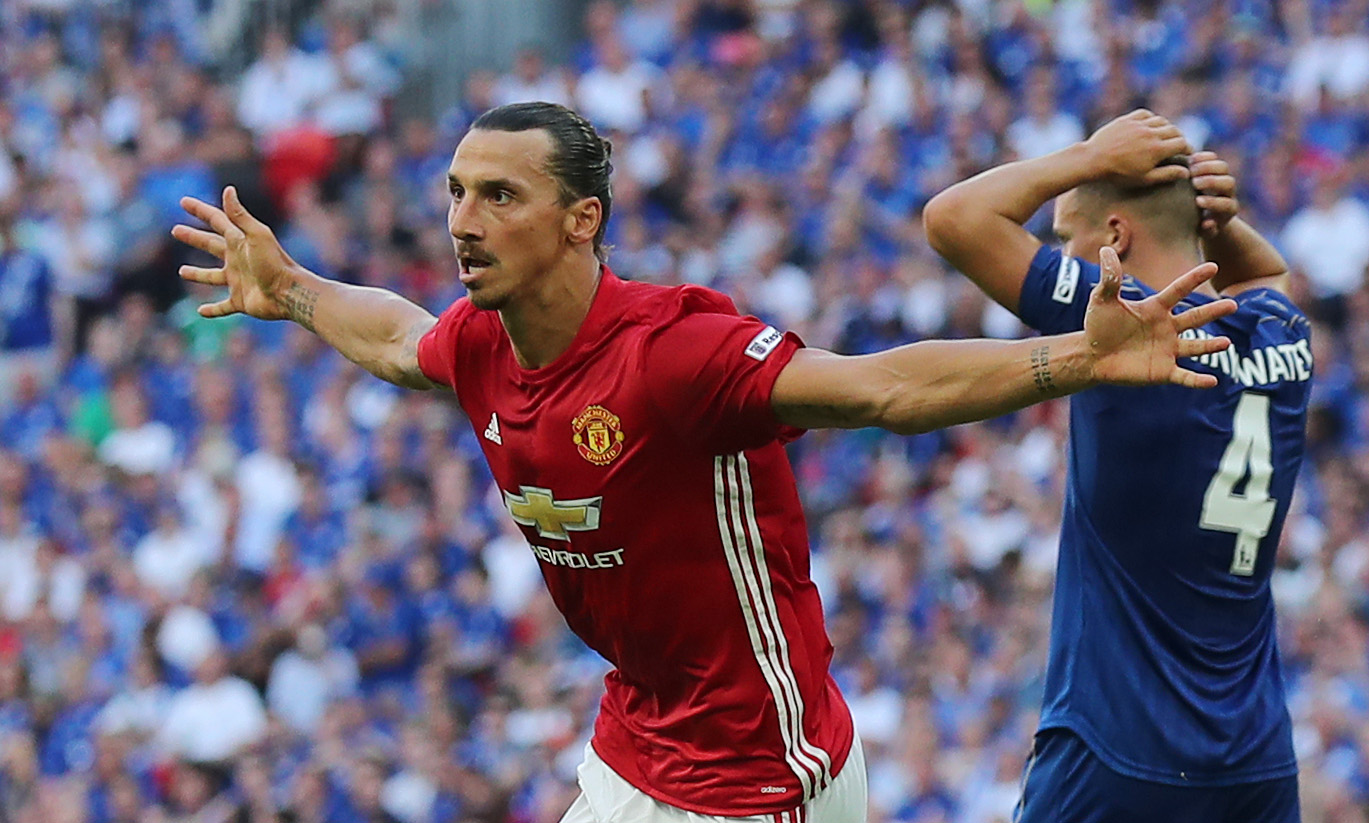 Zlatan was immense in the second half at Wembley. He grew into the game, defenders bouncing off him after the interval. The towering leap over Wes Morgan, the league's best centre-back last year, was a measure of the man. One chance, one goal, when it mattered. Zlatan in a nutshell. He lives for the big moments. United's new talismanic striker delivering a last minute goal to clinch silverware? Strikingly Gallic echoes, aren't they? Like Cantona and, more recently, RVP, Zlatan can be United's driving force.
It would be remiss for me to not shower equally lavish praise on another of United's new recruits. Wembley was the first time my judgmental eyes were cast on young Eric Bailly in the flesh. They liked what they saw. Yeah, he's raw. So was Nemanja Vidic. Yeah, he'll make mistakes, as two barges an on Jamie Vardy and a subsequent booking testified, but what was not to like? Searing pace, calmness on the ball, and bullying strength. Outstanding attributes to boast, really. Vardy is probably one of the stiffest tests in Premier League football, but Bailly got the better of him, on the whole. The man of the match award at the home of football is a fantastic start to his United career. Mourinho has spoke glowingly, effectively saying the world is his oyster once he adapts. The signs are there. He'll have the odd mare and has to overcome the lingo barrier, but I get the impression he'll be allowed all the time he needs to adjust.
Elsewhere, I have to say that using hashtags to express sentiment has plummeted to new depths with the tragically embarrassing #SaveSchweinsteiger inundating any United/Mourinho post. The semi-fit, over-priced, leg-weary German has done little to justify the comments driven purely by outdated romanticism. Our little, lovable Spaniard, Juan Mata, on the other hand, is at huge risk of being binned by Mourinho for a second time. Not one for the CV, that. In typical heartwarming fashion, Juan Mata celebrated the Community Shield victorywith dignity and joy. Inside though? There will have been hurt, anger, maybe even a resignation. Déjà vu is a distinct possibility after the ultimate footballing insult befell him- the substitute being substituted for a supposed aerial deficiency. Anyone buying it? Didn't think so.
With Pogba's arrival, Micki acclimatising, Ibra already doing his thing, Bailly showing tremendous promise, Mourinho has an exciting and vibrant nucleus which will surely make United genuine contenders. This year? It'll be tough but why not? He bought Fabregas and Costa as missing ingredients and look what happened when he returned… Instant success. Characters like Pogba and Ibra can ensure similar rewards can be reaped.
For now? Three points at Bournemouth will be just fine.
Rowlesy.