Steve McManaman and Darren Fletcher are not what I would consider indispensable or irrefutable sources of football analysis. Chronologically speaking, the latter is the third Darren Fletcher in my sporting memory, after the Scottish midfielder who made his name at Old Trafford before moving to West Brom, and the American catcher who played the latter half of his Major League Baseball career north of the 48th parallel for the now defunct Montreal Expos, and then the Toronto Blue Jays. Sussing out which one someone is referencing is killing off much needed brain cells. Growing up in Canada then moving to the States, while all the while being a football fan, has its complications.
And if I ever fail to hear Steve McManaman utter some variation of "O'course 'e does," when asked a question by his broadcast partner, I think I'll be compelled to switch to a news feed to see if the world has mercifully come to an end.
With that off my chest, it has to be said that Fletch and McManaman's observation that United have a glut of midfielders, made during Sunday's Community Shield clash between FA Cup holders Manchester United and reigning Premier League Champions Leicester City, was an important one.
Of course they do. They could probably field an entire eleven just with the midfielders they've got–Steve McManaman on BT Sport.
He's right. At the moment, United have more midfielders than there are ways to serve green eggs and ham. They've got old-creaky-kneed ones who can pick out a pass, and quick little waterbug ones who can zip by your ass. Of course they do, McManaman. There's a hyphenated one, a funny-faced one, and a floppy-headed one. too. Do you like any of these, McManaman? There's a forgotten one, a forgettable one, and a French one, to boot. And let's not forget the one who cost all that loot.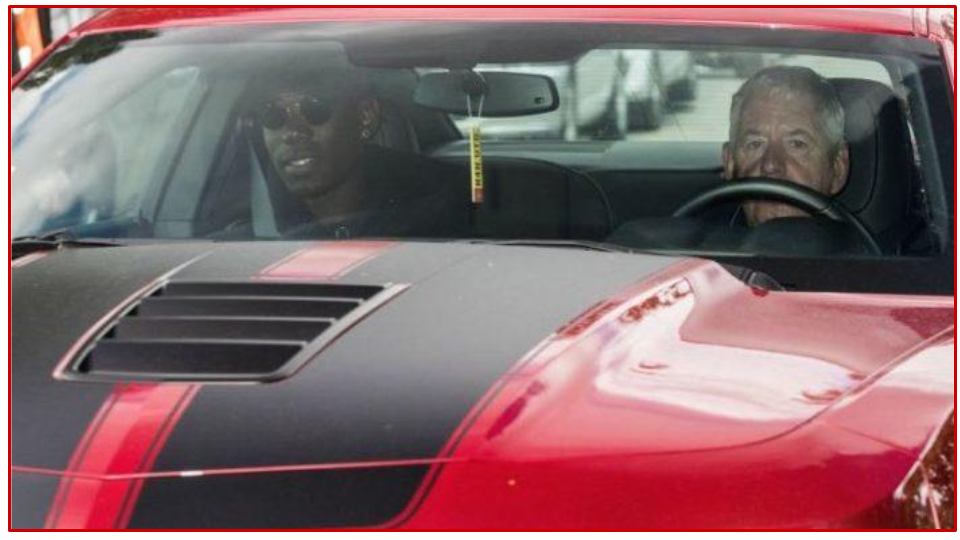 Yes, Paul Pogba's transfer was finally confirmed just before the match began, for £89 million plus add-ons. Monday, he arrived at Carrington for his medical in a souped-up, chauffered, red and black Chevrolet Camaro, with the steering wheel on the American side, and the Chevy logo on the grille. Adidas, eat your blessed little kit-sponsoring heart out. Now, whether Pogba's engine will prove as powerful when he dons one of those Adidas kits remains to be seen. For the money spent, one would hope the highly rated Frenchman leaves smoking tire tracks on every Premier League pitch.
Unfortunately, the deal took so long in coming it will likely be well into September before Pogba is sufficiently fit to be a fixture in the squad. Only then will we see if the 23-year-old can deliver flash and substance in the same proportions, and at the same level, as the man who will take much of the spotlight from him this season, Zlatan Ibrahimović. In the meantime, there is the question of which green eggs will surround the new ham in the center of the Old Trafford pitch?
United' s preseason consisted almost entirely of distractions, and was nearly bereft of football. As a result, players had very few opportunities to impress the new manager, or to absorb his philosophy. Although, if the Community Shield, which José Mourinho approached as a competitive match, can be viewed as an indicator, a few conclusions can be drawn.
First, it was hardly surprising to see Marouane Fellaini shouldering his way through joyous teammates to embrace Ibrahimović after the Swede headed in the winning goal. Earlier in the half, Fellaini had gifted Jamie Vardy the leveler. His tepid back pass brought back nightmares of Memphis Depay's similar gaffe v Stoke. Yes, newcomer Eric Bailly did block Fellaini's pressured retreat, too close to give a pass or even go 'round, but don't feather a ball into the path of perhaps the most fleet-of-foot striker in the league. At worst, concede the corner. Ibra's winner certainly wiped the egg from the Belgian's face.
Given his second-half hiatus last season, you have to believe Mourinho witnessed enough matches to know mental errors are a recurring issue with Fellaini. He's better suited as a center forward than a defensive midfielder. Yet, Mourinho's Rooney Rule probably works in reverse for the Belgian Chia Pet. Fellaini is even less likely to be given playing time in an attacking role under the new boss than he is to be offered a second chance as a defensive mid in an official league match, where critical points rather than a relatively insignificant trophy will be on the line.
As Fletcher and McManaman noted during the broadcast, the Portuguese's three league titles at Chelsea all came after quick beginnings to the seasons. unbeaten runs of 9,10, and 16 matches in all competitions, if I recall their remarks correctly. Such a torrid start will be difficult to match with a United squad still in transition, but even more so with a Sideshow Bob-impersonating disaster waiting to happen in front of the back four.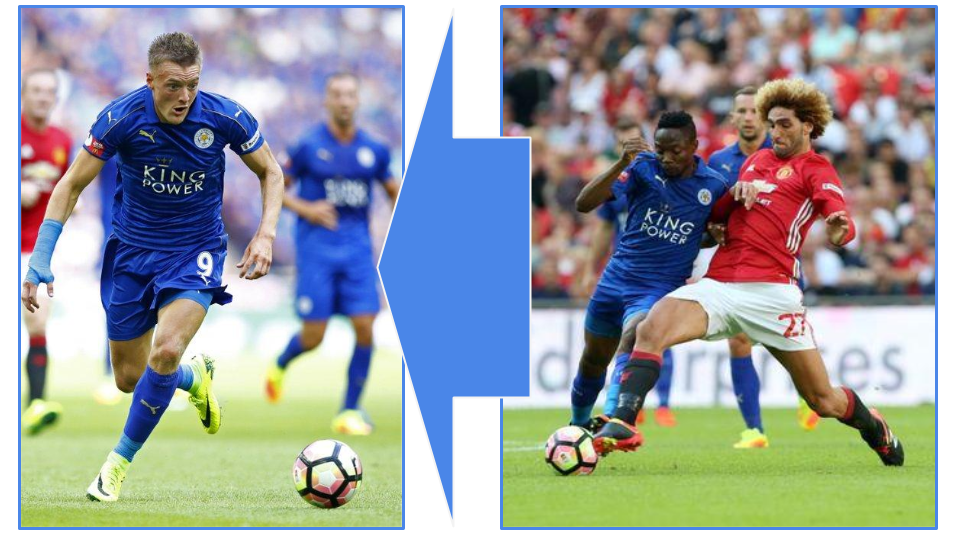 His former boss at Everton and United, David Moyes, has confirmed an interest in Fellaini, as well as the bundle of unfulfilled promise otherwise known as Adnan Januzaj.
If any of those good players want to join me I'd be happy to have them.–New Sunderland boss Moyes.
Upon hearing that quote, the second item on Mourinho's to-do list for Monday morning, after making sure Pogba was assigned a premium parking space, should have been to get on the line to the Scot, inquiring whether he'd watched the Community Shield. If the answer was "no, I didn't see Marouane commit that horrible gaffe," then by all means, strike while the curling iron is hot. Recouping a combined low five figure fee for the Belgians would be a tidy bit of business.
It would also bring into sharper focus Morgan Schneiderlin's role going forward, and perhaps Timothy Fosu-Mensah's as well. Personally, I'd prefer to see the two Frenchmen partnering in front of the back line, with they young Hyphenator providing cover for them. Unfortunately, the manager seems enamored with the cardboard cutout of Michael Carrick that has been hanging around the training facility. Despite his years of service with United, I'd be less upset if Carrick were banished to the reserves than it having been done to Bastian Schweinsteiger.
In his dystopian epic on United's lost preseason, SN's own Northern Loudmouth dismissed the outrage at the German's treatment, suggesting all he'd done, when healthy, was stand around "waving and pointing" for his €10 million/year wage packet. Before he ended up on the training table yet again, however, those gestures were being hailed as on-field leadership that kept United in its defensive shape. I'm not saying Basti deserves to be in the squad. His legs are obviously gone. But he undeniably supported his teammates when he was in the team.
Carrick, on the other hand, was the lone player to back Louis van Gaal when the Dutchman notoriously threw young Marcus Rashford under the bus. Then, on Sunday, despite mostly standing without pointing or waving, but while gifting Leicester a handful of errant passes in his time on the pitch, Carrick was as quick as Gollum sneaking after Frodo and Sam up the steps of Mount Doom when it came to being first in line to collect his winners medal. He was also spry enough to put a shoulder in and not allow Juan Mata to hold aloft the newly won silverware alone, as each player before them had. It seems obvious the Englishman has again made himself the dressing room monitor for the gaffer, and will be rewarded with playing time. Hopefully, though, only until Pogba is match fit.
If Schweinsteiger's treatment was an early indication Mourinho is his old insensitive self, his use of Mata against Leicester was to be expected.
Jesse Lingard was given a surprise start ahead of even Henrik Mkhitaryan.  Coupled with Antonio Valencia on the right, the Armenian promises to balance the club's width and create the goals which were so lacking last term, but he should really come with his own spell-check app. An inability to spell his name is as likely a reason for sitting him as any.
With Lingard, though, United's attack was as direct as funny cars waiting for the green light on a quarter mile track. Carrick and Fellaini regularly punted balls forward for the youngster or Anthony Martial to run onto, or for Rooney or Ibra to lay off to the pair, or Luke Shaw. Then, it was off to the races, as one of the three would streak towards Kasper Schmeichel's goal, taking on defenders like kamikazes dive bombing the WWII Pacific Fleet. Lingard's goal may have justified such an extremely vertical strategy, but it's incredibly naive to think he'll be able to recreate such a run in a meaningful match even once, let alone with regularity. He hasn't suddenly become Lionel Messi.
When Lingard unexpectedly picked up a knock, Mourinho had a choice between his two Spanish waterbugs, Ander Herrera and Mata. The latter was United's leading assist man last season, but, having been shunted aside once by the Portuguese, it wasn't shocking to see the younger, less disciplined Herrera come on. Then, he too was injured, and, if no one had yet figured out how to spell Mkhitaryan, Mata was the only remaining option.
United's fortunes immediately changed when he was introduced. Rather than trying to run through defenders, Mata, Rooney, Ibra, and the rest began to work the ball around. McManaman had actually shown the foresight–o'course he did–to call for United to start forcing the Leicester center halves to move laterally, thereby creating spatial gaps and opportunities. Mata's play allowed that to happen.
True, it was Valencia whose cross found Ibra, the Swede's left shin and boot "blatantly" offside, although his samurai man bun was in legal position to head home the winner. Yet, the confusion and space was afforded by the bearded Spaniard's creativity. Until Mata came into the game, the Swede had been coming back to look for the ball frequently, a tactical error another legendary pundit, Michael Owen, empathized with during the intermission. He correctly noted that the man in search of his 31st trophy belonged in the box. Moments before the goal, The Zlatan had softly redirected into Schmeichel's waiting arms a carom that had arrived too quickly at his feet to apply the necessary force and direction to put United ahead. He was in the box, though, and Leicester were struggling to deal with a suddenly unpredictable Red Devils attack.
When the goal came, however, time winding down, and an assistant coach at last in possession of an Armenian/English dictionary, Mourinho decided to bring on Mkhitaryan to kill some time at the death. Naturally, the man he chose to remove was Mata.
I needed to take off the smallest player because we were expecting a lot of long balls–Mourinho
While it admittedly takes only one cross to create a goal, I don't know how many the Portufguese thought Leicester could launch in the remaining minute or less of added time after the substitution. Nor did he comment on Mkhitaryan's only contribution having been to contest the ball near the corner flag, where Mata's height would have been irrelevant.
The Spaniard, already jaded by past history was visibly displeased to be taken off. The Manchester Evening News' Sam Luckhurst tweeted regarding the normally placid number 8's visible frustration.
Mata – at full-time – was fine. After he was subbed he wasn't (and rightly so). TV viewers don't see as much off the ball.

— Samuel Luckhurst (@samuelluckhurst) August 7, 2016
Perhaps, Mourinho doesn't appreciate Mata's creativity due to his defensive limitations, but those are hardly in the same league as Fellaini's. What's more, with the club in four competitions, he is easily the most capable cover for Mkhitaryan in the squad. Other clubs are interested, and his sale could replenish a hefty percentage of the money that went out the door for Pogba. For me, he is too valuable an asset to be moved, however. Especially as it is likely to be to another Premier League side, such as Everton. The competition for the top four places is just too open to gift a competitive rival a game-changing player.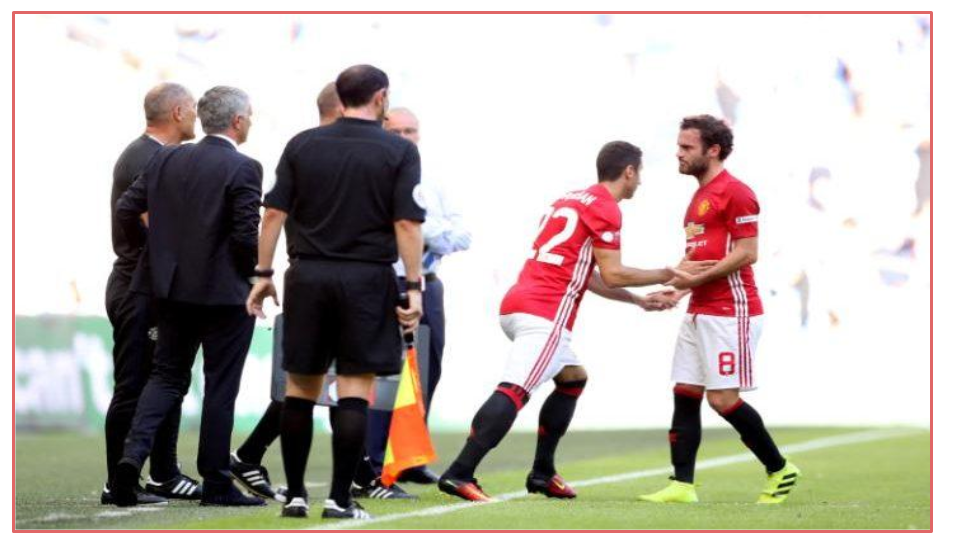 Along with Januzaj and Fellaini, there are other midfielders who can be sold or loaned out to get the squad down to a manageable size where everyone can get a game here and there. Schweinsteiger is either retiring or being sold, and Andreas Pereira needs some seasoning. Hull could use a young player or seven to fill out the squad. Perhaps it would benefit Herrera, as well,  to get regular minutes elsewhere this season. To my mind, that is better than selling Mata.
But what do I know? I'm listening to the sage advice of Darren Fletcher, Steve McManaman, and Michael Owen.