There's a Friends episode which shares its title with this column. Well, the part before the colon, anyway. As for the part after, the American sit-com gives us a peek at bad Ben Stiller, rather than José Mourinho. In the show, Stiller plays Tommy, a seemingly nice guy who starts dating Jennifer Aniston's Rachel. Unfortunately, he has a hidden mean streak which is only revealed to Ross, Rachel's ex, and poor Ross can't convince the rest of the group Tommy has a dangerously explosive temper.
You see where I'm going with us. Mourinho also throws nasty tantrums when things don't go his way, and Man United should probably stop dating him. It's true. Really, it is.
Okay, so I know everyone who's followed European football for the past dozen years understands exactly how petty and immature the Special One can be. I also realize the majority of United fans are desperate after dating the chastity-belt-wearing virgin, David Moyes, and that tease Louis van Gaal. I can hear them asking, "Do you really call an FA Cup putting out? At best, it's a hand job."
So, Reds faithful (double entendre intended) are willing to hook up with Mou, even though they know in three years he'll be saying, "It wasn't me, it was you." All they want is a few glorious romps in the sack before changing the relationship status on their Facebook pages. In other words, most United fans are sluts, in it for the sexy trophies.
I like a sexy trophy as much as anyone not named Donald Trump, but I do have a measure of dignity. That's why I feel outraged at the manner in which the club is permitting Mourinho to treat Bastian Schweinsteiger.
Don't get me wrong. When the club originally purchased the German from Bayern Munich for €20 million, then gave him a €10 million/yr wage packet, I felt like they had paid 2017 Mercedes S Class money for a 1989 Vauxhall with over a half million kilometers on it. I felt like Zach Galafianakis had won The Bachelor. I felt like I had ordered the Chateaubriand 16oz at Miller and Carter, only for the waiter to bring me peanut butter and jelly. Schweini's knees were on borrowed time with United on the hook for the past-due interest.
Basti's one goal in 31 appearances last season pretty much validated those feelings. A three-game ban between a pair of extended stays on the trainer's table reinforced them. Yet, he was useful when interchanging with another of Nebuchadnezzar's clay-footed statues, Michael Carrick. In the season's early doors, when the pair were healthy, LvG would start one, then bring the other on at the hour-mark. Being like-for-like players in more than their brittle nature, the change was seamless. Both could control the pace of a match, and pick out critical passes in transition.. As well, Basti was a natural leader on and off the pitch. So much so, Jogi Löw made room for him in die Mannschaft's Euro '16 squad as captain.
Mourinho, however, appears confident United will either close the deal for Paul Pogba, or will have time to sign another player before the window closes.
"We will sign one more player!" Mourinho targets one more summer signing. ? https://t.co/wbUitHESix

— BT Sport Football (@btsportfootball) August 3, 2016
Fair play to him. In that light, Mourinho sees no need to keep two aging, fragile midfielders on the roster to come off the bench, spell younger replacements in cup matches, and provide leadership behind the scenes, and he has chosen Carrick. I can't argue the point. Other than the Englishman having served at Old Trafford for a much longer period, it's a case of six of one, and a half-dozen of the other. Moreover, Zlatan Ibrahimović is already stepping into the mentoring void created by the German's absence from the first team.
The problem is the blatantly disrespectful manner in which Schweinsteiger's exit is being handled. Mourinho has exiled him to training with the Under-23s. Bayern CEO Karl-Heinz Rummenigge and former Rekordmeister coach Ottmar Hitzfeld's as reported by Stephen Buczko for ESPN FC sum up the treatment perfectly.
[It shows] a lack of respect…He was not number 15 in the pecking order, but a key player, a world champion and a personality. He also has an outstanding character. A player like him hasn't deserved that at all–Hitzfeld
I could hardly believe when I read it. This never happened before at Bayern Munich and never will happen.–Rummenigge
Some might feel Bayern are ones to talk, given their recent break-up with Mario Götze. The player stated he wished to stay and fight for a place, but the club's hierarchy was brutally honest in telling him he was no longer in their plans. The difference is Götze was permitted to train with the first team while the club explored all possibilities, then negotiated a deal with the side from which they purchased him, Borussia Dortmund. They did this after having unexpectedly lost Sporting Director Mattias Sammer, who resigned for health reasons in early July, as well as in the face of rumors the player's work ethic was lacking, and against their reputation for mercilessly pillaging the BvB roster to maintain their place atop the Bundesliga table. In other words, they acted with class.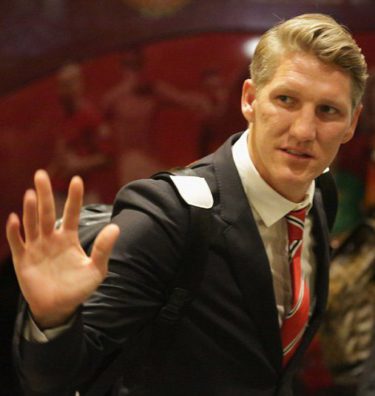 In fact, the affair probably will end up with the German being allowed to leave on a free transfer, whereas his continued presence with the first team would have emphasized his leadership qualities, and perhaps allowed the club to recover a portion of its ill-advised original investment. To quote Ben Stiller, all Mou sees is a "big, goofy idiot, with a goofy idiot hairdo."
Say goodbye to the big goofy idiot, I guess. It wasn't you, Basti. It was us.