When my uncle told me I should be grateful I was alive, I politely agreed. It went without saying. I knew he was trying to encourage me. When my sister said it soon after, I did and felt likewise. Friends who came to visit me in hospital offered the same mantra, and still I nodded acquiescence.  Even when it became an annoyingly recurrent theme with each old mate I encountered once I was back on my feet and out in the world, or on Facebook, I politely affirmed the sentiment. Inside, however, I began to ask myself what they were all on about? I'd been run over by a hit and run driver, true, but I wasn't suicidal, for crissakes. If I was, I'd be angry he didn't do a proper job, not that I'm walking with a cane, unable to kick a ball in anger or lace on a pair of skates to play some hockey. Yes, I'm grateful to be alive, you numpties, but everyday, every time, someone new asks what happened I still have to come to terms with the fact I can no longer live the life I did before that jackass decided to ignore the red light. They all mean well, but fuck.
Now, irony of ironies, I find myself at the keyboard the morning after watching Portugal stun France in extra time of the Euro 16 Final, wanting, no needing, to say that Dmitri Payet's late challenge, forcing Cristiano Ronaldo to leave the match not thirty minutes in with anterior cruciate ligament damage to the left knee that will likely sideline him four to five months, might be the best thing to ever happen to the greatest player in the world not named Lionel Messi. Yes, friends and neighbors, I, too, am a numpty.
There is something to be said in my defense, though. Being bedridden for eight months didn't reveal to the world another side of my personality. It didn't allow strangers and mild acquaintances to see I wasn't the asshole everyone said I was. Yes, that might be because I am, thank you kindly, but this isn't about me. It's about the former Manchester United star and current Real Madrid prima donna everyone loves to hate.  The revelation he may not be such a cad was the hidden gift in Ronaldo's personal tragedy.
The stage had been set earlier in the month when, across the Atlantic, that other guy in the world's greatest argument quit international football in tears after failing for the third consecutive time in less than two years to carry his country to victory in a major tournament final.  Those tears were either a six-year-old's fist clenching, foot stamping temper tantrum at continually being denied the shiny toy in the window, or hypocritical frustration with his national federation's seemingly intractable corruption, take your pick.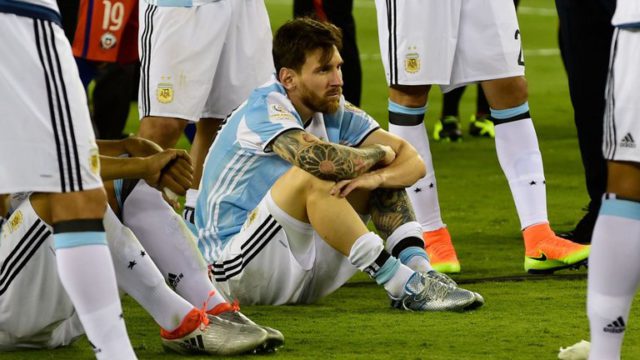 I say childish because, hey, life isn't easy, even when you've got more money than God, and can play him off the pitch to boot. Quitting is a sign you've started believing all those fans who have deified you. Get over yourself. Get over the failure. Pick yourself up and try again, now matter how many times it takes. Be a man, for crissakes. If you need some guidance in that regard, I don't know, watch the end of Tin Cup.
I say hypocritical, because a fortnight later, just days before the France-Portugal clash at the Stade de France, Lionel Messi–in case you haven't yet cottoned to who I'm talking about–was handed a suspended sentence of two years in prison for income tax fraud. His father tried to shield Leo from prosecution, falling on the proverbial sword by saying he handled all financial affairs so that his boy could focus on football.
Of  course, if you're an Argentina or Barcelona fanboy, which the presiding judge evidently was not, it's conveniently naive to believe Messi didn't understand everything was being done to minimize his tax burden and fatten his bank account, the law be damned. For those of you who are, all I can say is be real, people. None of was want to pay our taxes, and virtually all of us fudge the amount when and where we can. If we're audited, it's a bitch, but we just hold up our hands and say, "Qué vamos a hacer?"
In that sense, we are all Messi, or, to be more accurate, he is us. He's not a villain for being as greedy as the next guy, but he is when he doesn't take responsibility for his own actions. Bullying your club into an ill-advised Twitter campaign by insinuating they haven't given you sufficient support during your trial isn't being a hero. It's making a play for more money to cover the €3.5mm you and daddy are light after being fined by the Spanish court. Hashtag, none of us are Messi, in that regard, and what conclusion can people draw from such actions other than Lionel Messi is no different than Cristiano Ronaldo?
Except, Cristiano Ronaldo showed us on Sunday that, while Leo Messi has turned out to be nothing like his public persona, neither is Cristiano Ronaldo. The qualities so many adoring supporters have attributed to the Argentine, that he's quietly humble, and a team player, turn out to be what the Portuguese is all about. Who knew?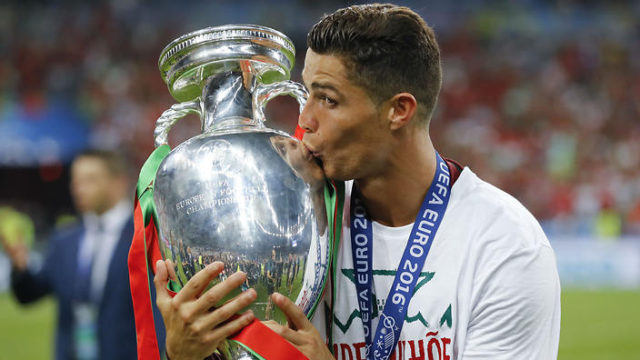 Sure, Messi didn't trash the host US side after manhandling them in the Copa America semi-final, like Ronaldo disparaged Iceland after the Euro 16 darlings stole an early goal, then parked the bus to earn a 1-1 draw in the group stage. Messi stands off to the side when his teammates surround referees lobbying for opponents to be booked, whereas Ronaldo still tries to buy fouls, even if he gets back up and in the play rather than throwing tantrums on the turf as he did in his early career.  Messi doesn't do adverts clad only in his skivvies, or let the paparazzi snap photos of him sunbathing on his mega-yacht. I don't even know if Messi owns a mega-yacht. On the other hand, even when there are buses parked close at hand, Ronaldo doesn't throw his teammates, coaches, or federation under them. The closest he came was admitting he did not appreciate then manager José Mourinho's defensive approach in the first leg of the 2011 Champions League semi-final.
"No, I don't like it, but I have to adapt to what is asked of me. This is the way it is. We have a strategy. Being honest, it is true that we did not have a shot on target when it was 11 against 11, but 0-0 is not a bad result at home. We could have gone [to Camp Nou] and scored. We didn't play well, but the game was under control."
That's hardly scathing criticism. As well, in the same interview, he sympathized with Mourinho over the perceived officiating bias in Barcelona's favor.
"I feel bad for us and for Mourinho – because it always happens to him. Barcelona are a great team but these guys have a lot of power off the pitch too."
It boils down to being a poor loser, rather than a spiteful one, but I never said Ronaldo was perfect. Neither man is.
What we learned this July about two men who almost always get their way is how they react when they do not. When he fails to rid himself of the choke label attached to his international play, or fool the taxman, Lionel Messi quits or tries to deflect the blame to others. When Ronaldo, labeled as selfish and arrogant, and with far less quality around him, goes down injured, he does neither of those things.
Sure, it wasn't surprising to see him back on the bench after getting his leg wrapped. It would take a selfish teammate, indeed, to not watch the outcome of such an important match. It was stunning, however, to see him up on one good leg, patrolling the sidelines like a modern day Long John Silver, enthusiastically exhorting his teammates on in the dying minutes of regulation and throughout extra time. It was inspiring to see him delivering water to tired players during breaks in the action, patting them on the back, squeezing their arm, whispering advice and encouragement in their ears. You can do this. Keep fighting. You can win. It was gratifying to see him in the middle of the mob when Eder finally scored. It was heartwarmingly hilarious to see him joining Fernando Santos in the coach's box, afterwards, imitating his gestures, echoing his shouts, and then, with a hundred-twenty minutes and two more added winding down, doing his best Fergie imitation, admonishing the referee to look at his watch.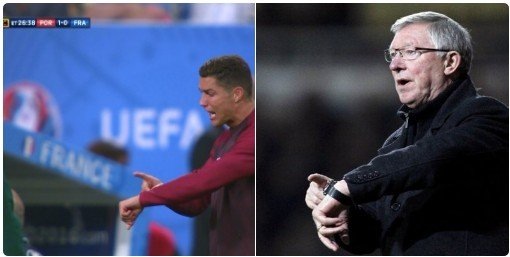 Later, it was amazing to hear his teammates speak of the motivation he offered them during the intermission, how Eder proudly boasted to anyone who would listen that Cristiano had told him he would score the goal to make Portugal champions of Europe. No, Ronaldo  could not carry them on the pitch as he so often had, astoundingly gifted on two legs. So, instead, he carried them from the touchline on one.
In the other clubhouse, a downcast Antoine Griezmann showed the class to predict Ronaldo would win the Ballon d'Or. If he does, it won't be a rather mundane season on the pitch, by CR7 standards, that seals the deal. Rather, it will be an exceptional ninety-five minutes when he couldn't be, but still managed to show us what football is about, that does.