I don't like ferrets, and with good reason. They're bloody thieves, the lot of them. Once upon a time, I had a roommate who kept two as pets. He used to cuddle them against his neck, cooing their praises, then hold them out to me, asking if they weren't the cutest, furry little slinkies I'd ever seen. Meanwhile, I was going through socks like Serie A clubs go through managers. Just as I was beginning to think the urban legend about holes in the space-time continuum forming in the backs of washers and dryers was true, I arrived home after a long day's work (slaving to keep myself in socks) in the nick of time to catch one of the brazen sneaks wriggle out from under my bedroom door, incriminating evidence clutched in his teeth, and scurry off into Greg's room, chittering with derisive laughter as he went, his short legs somehow sufficiently nimble not to trip over the sock, my bloody sock, trailing under his elongated body. Little bastard. Apparently, he and his partner in crime could also slip under the back of, then climb up into the sock drawer, as though my bureau was Fort Knox, and its contents gold ingots. Little fucking bastards.
At the time, I was still a relative innocent. Oh, I won't deny that, in the moment, I wanted nothing more than to slip the two remorseless miscreants into a pair of tube socks, knot the ends around the balcony rail, then let them swing until they suffocated. Boy, did I want that. But that's not the type of innocent I mean. I'm talking about not-completely-clued-in-to-the-workings-of-the-world innocent, wherein you do know you'll have to find another place to live if you deliver unto your roommate's darling little pets the death they so richly deserve, but don't yet realize pretty much anyone on the entire planet with a bit of ambition is, for all intents and purposes, a ferret.
Before I go any further, I should probably make it clear that generalization doesn't include the intrepid Stretty News editor. It's safe to say Dale OD is not the ambitious sort. Going on holiday for a fortnight while leaving the unopened bill for the site's domain address sitting on the stand just inside the door precludes that. As does leaving contributors and readers alike to wonder whether SN had gone the way of other (more) legendary blogs, such as Run of Play, The Equaliser, and A More Splendid Life, that is to say into the big Cyber Heap in the Cloud. No, that is not the stuff of ambition, and is therefore in no way ferret-like.
During the extended Stretty News blackout, however, I did find myself thinking a great deal about ferrets. All sorts, too. American ones, British ones, Dutch-Italian ones, political and footballing ones. You name it. By the time the lights went back on at StrettyNews.com, I'd decided the Chinese have it wrong; 2016 is not the Year of the Monkey, but the Ferret.
You've got Nigel Ferret–sorry, Farage–stealing Britain away from the Europe, then chittering boastfully to the EU Parliament's face about stealing Britain back, as if it had ever really gone anywhere, and suggesting "most of them had never done a job," blissfully unaware the MEP burying face in palm behind him was a cardiac surgeon and holocaust survivor. Then there's Donald Trump showing up in Scotland, tweeting about the joy and rapture Scots are feeling after the Brexit vote as he reopens Turnberry Golf and Country Club with swastika embossed golf balls strewn on the lawn before his podium and wall-mocking Mexican flags fluttering in the breeze.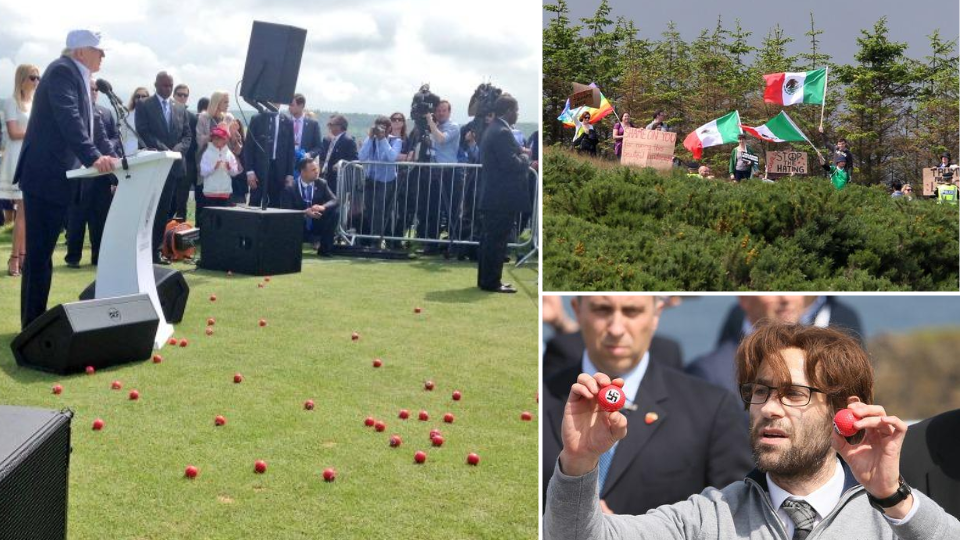 Personally, I can't decide which insult from the Twitter barrage in response to his completely erroneous notion a Scottish public who voted overwhelmingly to Remain were celebrating Leave's referendum victory was my favorite. "Weapons grade plum" is certainly up there. along with "incompressible cockwomble." For purposes of this rant, however, the winner has to be:
Scotland voted to stay & plan on a second referendum, you tiny fingered, Cheeto-faced, ferret wearing shitgibbon. https://t.co/iKyEIxf8ej

— Hamfisted Bun Vendor (@MetalOllie) June 24, 2016
"Ferret wearing shitgibbon." It sums up Trump's bombastically ignorant persona perfectly while satisfying even the Chinese by merging the Years of the Ferret and Monkey into one harmonious riposte. Nothing hamfisted about this bun vendor, if you ask me.
Then, while the Cornish and Mackems basked in a victory which might prove more costly to them than any other group in the UK, Roy Hodgson's England squad demonstrated how depressing leaving Europe will likely be for the British. England was shown the door, as Gary Lineker noted, "by a nation with more volcanoes than professional footballers." Iceland is also so close to the North Pole, it lives in the dark for half the year. Given the sense of entitlement, both in football and European politics, so many British cling to long after the fact, some observers might say Icelanders only have it half as bad as the country they sent packing. Of course, this observer's own US side were so embarrassing in the Copa America quarter-finals they made Argentina look like Chile, and I have friends who actually believe Donald Trump will "Make America Great Again." So, who am I to criticize?
Rumor has it the FA might be interested in Jürgen Klinsmann, though. If that's true, hey, by all means. Can I throw in a pair of freshly washed, only slightly nibbled tube socks?
As 2016's ferrets go, Woy's thievery was the least tangible of the lot, but probably more dear to those who still clutch vainly to their sense of English history and entitlement. He stole all the joy in watching England play. That is not to say previous regimes wrapped themselves in glory, but the squad was at least interesting off the pitch. John Terry supposedly cheating on his best mate, then hurling racial epithets at his center-back partner Rio Ferdinand's brother Anton. Ashley Cole shooting Chelsea clubhouse staff with an air rifle. Peter Crouch cheating on his pregnant wife, or was that Wayne Rooney? Fabio Capello throwing trays of spaghetti against the wall, hoping a little harsh discipline would stick. Under Hodgson, all that excitement and passion disappeared, as did the best part of Wayne Rooney's form, with nothing to replace them. Maybe England should have hired Harry Redknapp, after all. Now, there's a ferret!
With Hodgson now out of the England picture, Man United fans can go back to playing with their new Portuguese ferret. For the red half of Manchester, José Mourinho is Nigel Farage and Donald Trump rolled into one. He's promised to give them their club back and make it great again.
Getting their club back ironically means severing ties the last remaining icon from the club's most prolific dynasty. Ryan Giggs will not keep his position as assistant manager under Mourinho.
Making the club great again almost certainly means the departures of Juan Mata and Ander Herrera. The pair have shown both outstanding class and loyalty in their time with the club, apparently to no avail. The elder Spaniard has already been sold once by Mourinho, who, along with not valuing class and loyalty, didn't rate Mata's defensive play. Showing the club's primary assist man the door because he isn't the best at winning back the ball is a bit of a head scratcher for someone who, in his first presser as United boss, admitted he preferred specialists to versatile players. Is he also going to release Morgan Schneiderlin because the Frenchman's nose for goal is worse than a hay fever plagued basset hound's. The answer to that is obviously no, because, with the exception of his center forwards, when the Portuguese says he values specialists, he really means defensive specialists.
During that presser, the Special One applied a Machiavellian touch in setting the stage for Wayne Rooney's Old Trafford exit. Mourinho adamantly stated the current club captain will not be a deep-lying midfielder in the new set up precisely because he does have a nose for goal.
"Maybe he is not a striker, not a No. 9 anymore. But with me he will never be a No. 6, playing 50m from goal. Yes, his passing is amazing but mine is also amazing without pressure. Many players have a great pass, but to put the ball in the net is the most difficult. He will be a No. 9, a No. 10, a No. 9.5, but never a No. 6 or a No. 8."
Unfortunately, while Rooney's nose may still be in its prime, both his first touch and step, especially in heavy traffic, are well past it. It's very difficult to envision him establishing a partnership with Zlatan Ibrahimovic under those circumstances. Never mind Ibra isn't exactly known for creating space for strike partners. Rather the Anti-Swede tends to demand they surrender the ball and make way for him. Given Rooney no longer possesses the physical tools to play ninety minutes in front of goal, and, despite the flowery praise, Mourinho assuredly knows it, as the contradictory quote "maybe he is not a striker, not a number nine anymore…he will be a number nine" demonstrates, one has to wonder whether the Scouser has a place in the new side? Earning northwards of two hundred thousand sterling per week, it's unlikely he'll be coming off the bench. Although it's just as improbable a smaller club, even Everton, would take on his wages even if they could negotiate a fair purchase price, it wouldn't exactly be shocking to see Rooney at the Stadium of Light or Olympic Stadium in the New Year.
Worst of all, past history tells us in two or three years, when his machinations leave United facing an even greater crisis, you can be sure Mourinho will do a Nigel Ferret , proudly proclaim his job done, and leave the mess for some sockless soul to sort out.