I awoke in my dreams last night to a wonderful realization the past six months–reviling Louis van Gaal, then making my peace with him when faced with the threat of José Mourinho becoming Manchester United manager, and finally seeing that peace ultimately turn out to be even more worthless than Neville Chamberlain's, with the Dutchman sacked like The Danzig and the media [alleging] day after agonizing day the club was in the final stages of contract negotiations with the Portuguese–a wonderful realization it was all just gossamer webs forming in my mind in the wee hours of April 1st.
Then I woke again, this time into consciousness, with a pressing urge to empty my near-bursting bladder. Sleepily, I did so. Unfortunately for that wonderful realization, my bladder has an impressive capacity, the time it takes to relieve being far too long for Morpheus to stick around, as I now wish he had, even though I did my best to hasten matters by sitting rather than standing. Thus, fully awake, I flushed, stood, pulled up my tidy whiteys, adjusted the elastic band, walked to my desk, a hand pushing tousled hair from my eyes, then scratching my balls, and sat down. The cushion loudly imitated the gaseous emission which ritually announces the commencement of my morning emptying of said capacious bladder. I"m almost certain it was the cushion, anyway, even though second and third attempts at sitting failed to recreate the sound. Leaving the assumption unconfirmed, I powered up my laptop for a peek at any news of football interest I may have missed, being five hours behind GMT here in sunny Fort Lauderdale.
The photograph which greeted me, here reprinted as the cover image for this rant, there sitting squarely below a headline reading "Mourinho Appointed United Manager," transformed those gossamer webs into mason block walls and iron bars. The bastards had actually done it. Several thoughts ran through my mind like insulation around primary copper wiring delivering the message my favorite club was well and truly fucked. First, I thought Mouphistopheles was very well groomed for his unveiling, cleanly shaven, hair the envy of every piña colada sipping werewolf in Trader Vic's, suit both well tailored and immaculate. Second, his head was still much too large, though. Third, the slyly evil grin coupled with aforementioned uber-cranium made him appear a cross between the Great Gazoo and the Cheshire Cat. Fourth, the bastards had actually done it. Fifth, this is probably a sign Donald Trump is going to become President.
Fuck.
There were three or four blissful days there while the United board, also known as the bastards who actually did it, dithered over a) confirming Louis van Gaal was actually sacked, and 2) announcing they had gone and done a Robert Johnson. Think of it as walking around with old, unchecked lottery tickets in  your wallet for as long as possible. Don't tell me I'm the only sap who does this. Just like me, you know the odds of actually winning are too astronomical, and your luck worse than Harry Whittington out quail hunting with his best friend, Dick Cheney. So, you leave the worthless chits in your back pocket to keep alive the hopeless dream of being a rich motherfucker nobody can touch for the rest of your life.
In the same vein, I spent most of this week foolishly clinging to the hope the extended silence was Ed Woodward doing his honest best to screw up negotiations, much as he'd done with Ander Herrera and Pedro Elliezer Rodriguez Ledesma (whose full name apparently translates into He Who Rides The Bench Wherever He Goes). What a time to finally get it right, Ed. Although, by right I don't mean caving final say on all transfers, including the loaning out of  budding young talent like Marcus Rashford and Cameron Borthwick-Jackson, to the guy who numbered among his signings at Real Madrid the ghosts of Ricardo Carvalho and Michael Essien,
I know, I know, that isn't fair. He also signed younger players such as Mesut Özil, Luka Modrić, and Sami Khedira, and benched established veterans like Iker Casillas and Sergio Ramos. As well, he admittedly let the players actually drive the bus rather than park it, most of the time. Besides, San Iker was washed up. Not like Essien.
Look, here's the God's honest truth. I'm not going to argue Mourinho's tactical abilities, playing philosophy, or eye for talent. Those are subjective qualities which, even so, I freely confess he has in spades over me. What I find horribly disconcerting as a Manchester United supporter is the state in which Mou typically leaves a club when he bitterly departs two or three years down the road. With the obvious exception of Real Madrid, who possess the resources, influence, and ruthless savvy to make Donald Trump look like a suburban mom selling Girl Scout Cookies, I think the polite term is disarray. The more frequently used one is right fucking mess.
Stamford Bridge faithful were overjoyed to see their prodigal son of perdition return, delivering another Premier League title in his second campaign back. Then the trap door sprung, dropping them through, the  noose they'd gleefully ignored choking their hopes, their feet dangling just above relegation. Inter, meanwhile, have spent a half-dozen years wandering the mid-table desert in Serie A since Mourinho's departure, whereas they had won the Scudetto three years running before his arrival. it's true some like to blame the treble winning side's disintegration on Mou's successor, Rafa Benitez. Never mind that the medical staff had begun using carbon dating to confirm the age of virtually every player in the first team before Rafa arrived.
There isn't any doubt in my mind Mourinho can improve the United squad in the short term. I fully expect them to return to the top four next season. If Mourinho is a better manager than his predecessor, Louis van Gaal, he should at least match what the Dutchman achieved in his first season in charge. Am I right? In fact, he should surpass LvG. I wouldn't be shocked if United pipped Spurs and City to the title in 2017. I just wouldn't be proud. If, in 2018, Mourinho went on to break La Liga's current stranglehold on the Champions League. I'd still be waiting for the trapdoor to drop in 2019. Knowing it's coming, that there's a noose around my neck, how can I possibly enjoy any success the Devilish One brings in the interim? How could anyone?
I'd say it would be like being Adam Johnson's parents, cheering on their precious child's every goal, his progress from Middlesbrough to City to the Three Lions, except they didn't know what was coming. The didn't feel the noose, or see the trapdoor under their feet, until their ruin was well into added time. Maybe that's too extreme an analogy for some. Mourinho isn't an angel, but he'd never be so despicable as to ruin an innocent young girl's life behind a locked hotel room door. Would he? No, but he had no compunctions when it came to destroying the career of a mature, educated, groundbreaking woman, doing so on the pitch, in the tabloids, on the telly, for all to see, and merely to deflect the blame for his squad's collapse from himself. I'm not all that certain which is more evil. I know I feel ashamed to admit I support the club he now manages.
I almost want to leave, but where would I go? The only compelling club I can think of is Rangers. They're returning to the SPL. Moreover, I hear they've signed Joey Barton. The Old Firm will be back in business in a big way. I couldn't ever love another club as I do United, though.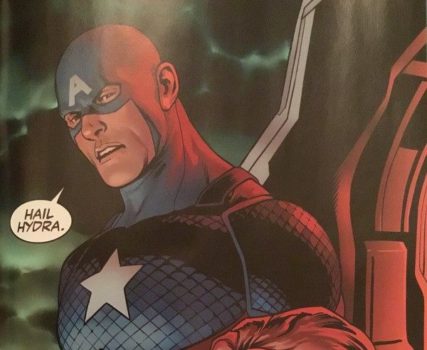 Maybe I could take a break from football. I hear Marvel's turned Captain America into a super-villain. Fitting that plot twist into my brain could take two or three years.
No, Mourinho or no Mourinho, soul or no soul, I can only stick by my club, hoping the board comes to its senses sooner rather than later. Maybe they'll realize they don't have to accept starting anew every two or three years, like your average club. Maybe they'll realize there are still coaches who can build a dynasty. There are managers who can mold a club's identity, solving its problems in-house rather than in the media. There can be another Alex Ferguson or Matt Busby. In fact, I can think of an alumnus who has amassed the experience many United fans wish Giggsy or G-Nev would hurry up and gain. Someone who has already shown he can transform United back into a perennial contender in both the Premier League and Europe. Who? You should know, if you call yourself a United supporter. If not…well, that's a lottery ticket I'll keep in my pocket to check another day.