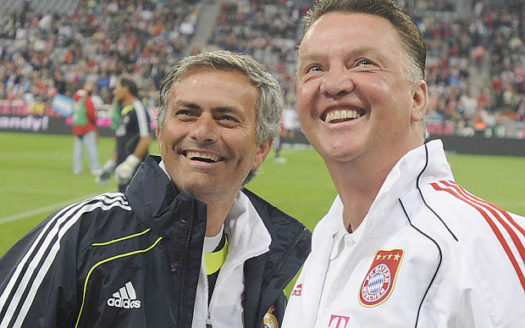 No sooner had Louis Van Gaal got his paws around England's most decorated trophy, to draw United equal with Arsenal for the most FA Cup successes with twelve, news was breaking that the Wembley showpiece would be the Dutchman's last donning a suit with the United badge emblazoned on it.
Before anyone could possibly digest the fact that Jesse Lingard was capable of scoring a world-class goal on the grandest of stages and United had pulled themselves off the canvas to stage a throwback comeback akin to the glory days of Sir Alex Ferguson, Twitter was on the cusp of meltdown and the talk of the watching world was not of a stunning United win against the odds but the fact football's worst kept secret had been revealed at then of all times.
From the club's perspective, with Woodward, Ferguson and every other hanger on-er in attendance, this was quite simply an abomination, an embarrassment, a cock up. Another one.
Yes, United fans have ultimately got what they wanted after a season of turgidity, boredom and unexpected insomnia remedies, including one very pleasant gentleman a few rows in front of me yesterday who seemingly bought his ticket to expend all his energies into launching relentless obscenities in the direction of the Dutchman- somewhat souring the viewing experience of all those around him. Some might say that the viewing experience has been tough watching at the best of times under Van Gaal's stewardship but to vent spleen in Van Gaal's finest moment and last hurrah in charge was almost as embarrassing as the leak that was to soon follow.
There is a time and place for everything as the old adage goes. Before the dust had settled on a brilliant achievement in a turbulent season quite frankly met neither of those criteria. Van Gaal should have been allowed to have his moment and walk into the sunset amid celebration not a PR embarrassment. A club of United's standing in the world game, let alone the English game, should never act in such an undignified and ungraceful manner to a man who afforded the United fans the rare sanctuary of some happiness and ended a lean spell without a trophy. Van Gaal's curtain call will ultimately not be remembered for leaving on a notable high but for the crass negligence of someone higher up for allowing a leak to overshadow a momentous day for the likes of match winner Lingard and fellow local lad Marcus Rashford. Their first titles, hopefully of many at United, have been belittled by a classless incident not befitting of a club as proud as United.
Of course, this would not be the first egg on face moment from boardroom level at Old Trafford in recent times: Ferguson going AWOL and refusing to answer his phone when M***s' fate was similarly sealed acrimoniously, coupled with Woodward reportedly needing to be home for a broadband connection to be fitted was scarcely believable, it was that humiliating. They say silence can sometimes be more powerful than words alone- yesterday's quietude from those calling the shots at United in response, or lack of, to all the Mourinho mayhem spoke volumes. For captain Wayne Rooney, who took the bull by the horns yesterday in search of winning the trophy that had long eluded him, to field questions about the manager's future rather than basking in the glory of winning England's most prestigious trophy was once again bordering on the farcical. For the players, who have seldom tasted success in United colours in this transitional squad, to have their celebrations marred and undermined after a slip of the tongue somewhere among the celebrations yesterday leaves a sour taste.
United fans and players alike experienced a true emotional roller-coaster- anguish at going behind with little time to play, hope as Juan Mata provided a timely, rapid equaliser, fearing the worst when Smalling inexplicably pulled back Yannick Bolasie to receive his marching orders, sheer ecstasy when Jesse Lingard produced a rocket from nowhere and the realisation that three years of relative decline had yielded some ticker tape and silverware that we became so accustomed to in yester year. It made the timing of the 'announcement' all the more scandalous, the champagne for Van Gaal should not have included that cruel aftertaste. The fact he could not fully savour delivering his promise of a title at the home of football and walk into the Algarve sunset a week later on cordial terms has put another blot on the Old Trafford boardroom copybook. The leak was unceremonious and poor play from suits who ought to represent the club in a better light. Even if it was agent Jorge Mendes who was the culprit for the revelations to be documented, the club could have done better to keep it under wraps when yesterday was about cherishing a superb comeback to win what could be a breakthrough trophy for this set of players.
Not for the first time this campaign, I am just polishing off my latest serving of humble pie. As recently as the Bournemouth match in midweek, I privately questioned the selection of our new hero Jesse Lingard- confused as to what he brings to be table- my argument being he lacked the level of composure required to sustain a successful career at United, I mean that's what brought an end to another local lad Danny Welbeck's United career, am I right? He wouldn't have even dreamt up yesterday's turn of events as his head hit the pillow on Friday night: Playing for your boyhood club in a final is one thing in itself, but to come off the bench, having seen Marcus Rashford's dream end sadly prematurely, and score the best and most important goal of your career to win the FA Cup? It is beyond fairytale stuff. Whether Mourinho takes to him remains to be seen. He will need to take his game to another level offensively in both goal and assist tallies, but his work-rate and defensive qualities are in keeping with a Mourinho type of player.
Horrendous timing undoubtedly, but United have finally secured the appointment that they required and should have made three seasons ago. Mourinho has always angled for and fancied the United job deep down, is the most successful Premier League manager ever, is a proven winner (yeah, we know about this season) and has the quick fix trait that United crave to get back to where we belong.
People will wonder about the youth, but he will surely give the players their head if they are deemed good enough: Marcus Rashford will surely be a case in point. People will question the style of play- glossing over the fact Chelsea were free-flowing at the start of his last title winning team and resilient when they just needed to get themselves over the line- qualities that United teams post-Ferguson have been distinctly bereft of. He will upset heads and you can imagine a turnover of players will soon be in full swing- having known that the job was his for a good few months.
Yesterday was an unacceptable PR mess on what should have solely been a day of celebration, but finally United have their man who can deliver a return to the good times, not that Ryan Giggs could not, but he simply was not ready in what was United's biggest appointment since Ferguson. The club could not afford to spurn Mourinho again and to give the job to someone who has managed four games in his life and been part of two failed regimes could have been curtains.
Yesterday saw a mix of the despair, sublime, euphoria and ridiculous. Lingard's winner was the best we, as fans, have felt in a good while. Mourinho's appointment, once the dust has settled, should spread further optimism that we will soon be back where we belong.
Thank you for ending on a high Louis. Over to you now, Jose.