It's said a woman has the prerogative to change her mind. With that in mind, I stood naked before the mirror Sunday morning to conduct a personal inventory on the off chance I'd subconsciously done a Caitlin Jenner. The man boobs were alarming both in size and lack of firmness, but the body hair and same old genitalia were thankfully reassuring. My moment of panicked insecurity was brought on by an evening of nightmares inspired by published rumors, from unreliable (ESPN) and reliable (BBC) sources alike, in the immediate aftermath of Manchester United's FA Cup victory over Crystal Palace. You see, once upon a time, long, long ago, I admired José Mourinho, and once upon a time, not all that long ago, I had no use for Louis van Gaal. Both views have polarized, however, over the full course of this Premier League season.
Watching Mourinho flail about wildly in the media, searching for someone, anyone, other than himself to blame for Chelsea's disintegration from defending Premier League Champions to relegation fodder, was pitiful. Whereas I'd been willing to blame Roman Abramovich's sense of the aesthetic for the Portuguese's original exit from Stamford Bridge, Rafael Benitez for the demise of a treble-winning Internazionale squad, and egos both in the Real Madrid squad and the Bernabeu boardroom for their failure to appreciate the transformation the manager was attempting to bring about, my thick head finally began to see the pattern the Special One's abbreviated tenures at all these clubs revealed. Find anyone to blame but yourself.

The truth is José Mourinho expends resources rather than cultivating them. Cannibalism, rather than architecture, is his modus operandi. His presence may help in the short run, but it spells long-term doom for virtually any club which employs him. Perhaps, like Real Madrid, United have the financial resources and depth in their youth system to be immune to the rot and disease Mou leaves in his wake. Seventh, fourth, and fifth placed finishes in the league, respectively, over the last three seasons will test those financial resources when trying to attract the talent the [alleged] new manager will surely demand, however. I would dearly love to see Zlatan Ibrahimovic and his dedication to winning don a red shirt for a season or two, but at what cost would it come? And how much more would be spent on aging veterans who may win in the early doors, but almost certainly will crowd out the youngsters LvG, admittedly out of necessity, has introduced into the first team but who also represent the club's future?
Mourinho's rumored caveat requiring final say on all transfers–and the wise observer will anticipate that to mean both incoming and outgoing–will almost assuredly deplete the youth ranks. His history elsewhere tells us so. Is he likely to have patience with Jesse Lingard, whose FA Cup game-winner rewarded that of Van Gaal? What about Cameron Borthwick-Jackson, Timothy Fosu-Mensah, Andrea Perreira, Matteo Darmian, Guillermo Varela, Donald Love, and Paddy McNair? What about Marcus Rashford? Or Ander Herrera?  Will they be given time and encouragement to find their way into the starting XI, or like David Luiz, Ryan Bertrand, and perhaps Eden Hazard, will they find themselves disillusioned and attempting to rejuvenate their careers elsewhere? Is the new boss likely to reconsider his view of the club's leading assist man, Juan Mata, whom he once sold despite the Spaniard being the Blues' player of the year three seasons running? Unlike yours truly, José doesn't seem the sort to look too keenly into the mirror. Women may be able to change their minds, but leopards keep their spots for life.
In all fairness, Mourinho did study at Van Gaal's feet in Barcelona. Memphis Depay's exile and the criticism directed towards Rashford after the Tottenham defeat suggest that is where he may have acquired his unforgiving attitude. On the other hand, the Dutchman has shown the ability to adjust. Media outlets were rife with rumors Van Gaal had lost the dressing room when most of the players rose to the eighteen-year-old's defense. Not too many clubs, especially youthful ones, are capable of winning seven of nine matches all on their own after rebelling against a manager, however. The only defeat in that stretch was a fighting one against a West Ham outfit riding high on the emotion of playing for their legacy in their last match after a one hundred and thirteen season residency in the Boleyn Ground. The lone draw came against the eventual Premier League Champions, Leicester City. Having claimed twenty-two of a possible twenty-seven points after the supposed falling out, only the ignorant would believe the inmates are running the Old Trafford asylum. Both Van Gaal and Mourinho employ negative tactics in the clubhouse (as well as on the pitch) to challenge their players. The difference is LvG apparently recognized in the White Hart Lane uprising the unity he had been seeking to instill in his young squad and adjusted his approach.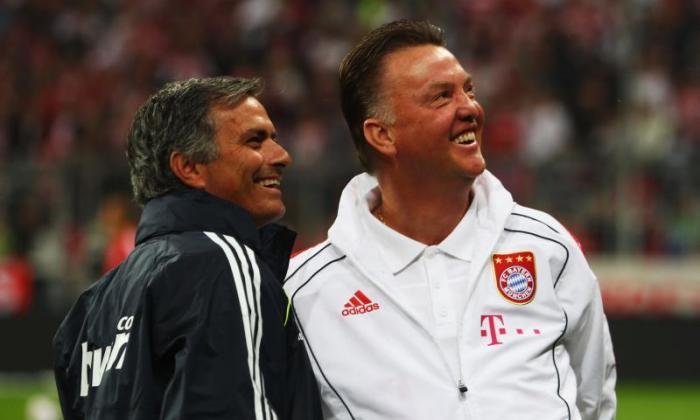 Perhaps that adjustment came too late for many. Not so for me. Much has been made of the constant tinkering, confusing tactics, and lack of consistency in the United side this season. If you lose your car keys, though, do you suddenly start commuting by bus, train, and taxi for the rest of your life, while the car rusts away in the garage? No, you keep looking for the keys, searching everywhere, even in the most unlikely places, until you find them. The time it takes may cause you to be late for work, or, in United and LvG's case, a Champions League place, but, and I repeat, you look until you find them.
What is it I think Van Gaal has found? Principally, he's discovered a thirty-something Wayne Rooney is neither suited for leading the line, nor for consignment to the trash heap. Rather, he can be the leader this club needs as a deep-lying playmaker. Although that ability began to make itself evident in Sir Alex Ferguson's final season, then developed on through the David Moyes catastrophe and into Van Gaal's first year with United, events and outside influences caused the club to move away from the idea. Rooney's performances in the FA Cup Final and the loss to West Ham, though, have proven he remains the catalyst for United's success.
The captain was first plugged into the midfield as a stop-gap measure because, beyond the aging Ryan Giggs and Paul Scholes, and Michael Carrick's brittle bones, the United midfield was lacking any force or creativity. Acquiring Marouane Fellaini, Morgan Schneiderlin, Juan Mata, Ander Herrera, Bastian Schweinsteiger, and Daley Blind transformed that former need into a glut. Meanwhile, Robin van Persie and Javier Hernandez were proving inadequate as scoring threats. Understandably, Rooney was the fall-back option. His versatility has always been evident, though more often criticized than lauded because supporters and media prefer a glamorous leading man to an adaptable jack of all trades. So, he was thrust back into an attacking role, with expectations he would easily rack up twenty to thirty strikes.
Except, he had lost a step, costing him the time to control the first touch and turn towards goal. In the midfield, he could receive the ball in space, often while already facing the opposition goal, pick out a pass, or make a marauding run like the one which drew four or five Crystal Palace defenders to one side of the pitch, allowing him to cross for Fellaini and Mata, marked by only one defender, to combine on a chest and volley for the equalizer in the FA Cup Final. Both his ability and will were there for all to see, but that wasn't the case when Schweinsteiger, signed to free Rooney up to play forward, was healthy, and several other new faces were clamoring for attention.
Because those investments had to be accommodated and Rooney was typecast by the media as a center forward, Van Gaal was forced by outside pressures to spend too much time on the wrong options. Heading into this off-season, however, the midfield is more clearly defined. We know that Rooney can distribute the ball working in tandem with either Schneiderlin or Schweinsteiger, and that the creaky-kneed greybeard Carrick is likely not coming back. We also know Mata, while not a winger, can have an impact from the right side, especially with Rooney picking him out and Martial occupying multiple defenders, and that Herrera is a capable alternative, although the side seems to lose its attacking focus when both Spaniards are on the pitch.
The squad's needs are evident, as well, and, as should be expected from a club one result shy of Champions League football, they aren't as many as those seeking a Lancastrian galactico project would have you believe. A dynamic center forward, be it Ibra or another option, and a tall center back, a healthy Neven Subotic for instance, to help Chris Smalling deal with set pieces, would put United in the mix for the title. The notion requiring a speedy counterpart for Anthony Martial on the right side was disproved by events at Wembley. Virtually all United's dangerous attacks were generated from the right side, with cunning and technical ability easily substituting for pure speed. Mata's early strike which forced a diving save from Wayne Hennessy, the first half cross that a waiting, for once unmarked Martial shot wide, Fellaini's volley off the post, Martial's header off the other post, the aforementioned equalizer from Rooney's mazy run–which, although it began on the left side, drew the Palace defenders to the right side of the pitch–and Valencia's cross into the eighteen which caromed to Lingard for the Cup winner, were all right-sided movements.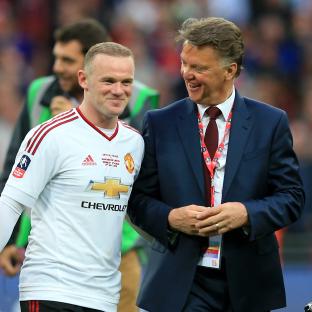 The loudest complaint regarding Van Gaal has been an emphasis on possession rather than attack. Yet, those six scoring chances at Wembley, as well as Carrick's missed volley after a promising run into the box to latch onto a cross from the left side, suggest United are finding multiple ways to attack in LvG's system, no longer relying on Martial's penetrating runs to produce offense. Despite being defeated at West Ham, which exiled them from the Champions League, the final contest at the Boleyn Ground also exhibited an attacking intent and fighting spirit, again led by Rooney. It isn't just one or two games I'm talking about here. Ten goals in their final half-dozen league matches, which translates to sixty-three during the course of a full campaign, a significant improvement over forty-nine, suggests the final product isn't the one-dimensional side on show for most of the season. Does the United board really want to leave their car to rust in the garage even though LvG has finally found the keys?
Losing out on Champions League football is admittedly a very expensive argument to overcome by claiming you lost your keys. The club and Van Gaal's stated goals were not met, ultimately designating the season as a failure. The temptation for rash action is great. The season was not, however, a failure of colossal proportions. You know, like the one the [allegedly] incoming manager orchestrated at Stamford Bridge. It was a minor step back from the prior season, sixty-six points rather than seventy, fifth place rather than fourth, with goal-scoring the obvious culprit. It was not a free fall from being Premier League Champions to desperately wondering how to stave off relegation. Drastic solutions, therefore, are not required. Patience is. Wayne Rooney's slump and Memphis Depay's failure to settle in were the primary causes for United's impotence. With the captain's situation addressed, the right signing or two, rather than a new manager, should adequately resolve the issue. It's [allegedly] too late to be saying this, but handing the keys to a demolition driver is simply asking for worse trouble than the club is already in.