I do sometimes wonder about the priorities of my fellow modern football fan. The desperate grasping for another, largely undeserved taste of Champions League football. Reaching for an indelibly dull dream. A dream which seemingly crashed and burned amidst high emotion and rank, bloody stupidity in the East End of London on Tuesday night.
It's hard to tell which was more galling. The gutless performance padded out by woeful West Ham defending and the wonderful Anthony Martial. Or the gushing, coverage given to West Ham's farewell to their old ground before moving to a stadium they'll likely fail to fill on a regular basis. Watching the shimmering orange and bling ridden lovable geezer/horrible slimeball David Sullivan pretend that a sizable group of his club's fans (unless you believe bloated, conspiracy theorist Jonathan Pearce) didn't let the club down by smashing up the United team bus was a bad start to a bad night.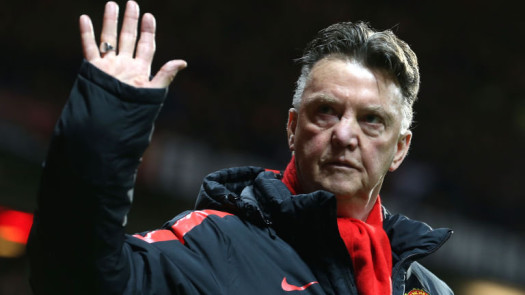 No one should be surprised of course, despite the favourable treatment West Ham gets from the media, that the club isn't exactly rampacked with saints and angels when you consider their nauseating chairman and lifelong fan. If I have to hear anymore pie-in-the-sky stories about the humble, east end boy made good I might well be inclined to suicide by impaling myself on one of Sullivan's dildos.
Thankfully Van Gaal soon enough saw to it that he was the chief antagonist for Manchester United fans again. As he has been for nigh on two years now. Consistently lowering expectations, criticising fans who have the cheek to ask for their ticket prices to be justified with some entertainment. Unfortunately, Van Gaal apparently thinks we ask too much to not have to watch the footballing equivalent of a Nickelback concert every week.
The visitors were totally dominated in the first half and the hosts should have been out of sight. With West Ham conspiring to turn several glorious opportunities into half chances with woeful finishing, Van Gaal's men miraculously went into the break only a goal down. For a while it seemed as if the Dutch Houdini may pull off his incredible escape act again once an inexperienced 20-year old dragged his team kicking and screaming into the lead.
However, it wasn't to be once Winston Reid plundered a winner to capitalise on some Keystone cops defending. Its little wonder Van Gaal's troops blew it. The once great manager delivered another puzzling team selection for our most important game this season so far. Herrera and Schniedlerlin, deprived of the consistency of regular football and half decent man-management, were dropped in like puzzled junior cadets into the middle of a raging warzone. Daley Blind looked what he is – a jack of all trades and master of none; Valencia, equally useless on the wing or at the back was…well…useless and as for Rojo, hopefully the memory of him in a red shirt can be expunged next season.
Then again maybe it won't, his consistently folly may yet be saved by his manager. Van Gaal should have been out the door in December. Instead the lamest of lame duck managers continued in his role supported by executive vice-chairman "Old Gil" Woodward. A man so inept at his job he makes Jeremy Hunt look like Nye Bevan.
It is becoming horribly clear that Van Gaal, no matter how the season ends, will limp on in a job he doesn't deserve to keep and seemingly doesn't even want anymore, if his needlessly contrary attitude is anything to go by.
Even if United were to secure Champions League football via the equally expensive ineptitude of Manchester City, is it really worth it? Is it worth, at best, limping into the last 16 of an increasingly boring competition for another season of Van Gaal's visual torture?
Another summer of spending vast sums of money on the wrong players?
Another summer of false hope dashed by October?
Another season of Van Gaal informing United fans that they should be happy that a staggeringly expensive squad laboured to a scorless draw with the 12th placed team in the league? A point salvaged after an equalizer was scored by Fellaini when he tripped, fell over and the ball bounced off his backside amd into the net after the goalkeeper's hands were chopped off by the Belgian's sharp elbows?
Another season of wondering whether United will score a goal at home before the year 3153?
I don't think it's worth it. Things are miserable enough for most people without worrying whether their football team will bore them into a sleep so deep they'll wake up a century later to find a nuclear winter and the decapitated head of Lady Liberty laying atop the remains of the Bishop's Blaize.
Do the sensible thing United, get yourself a new manager. Almost anyone would do. Even the outgoing President of the United States of America.