Yes, you read the headline correctly, and no, I haven't lost my mind. In no way, shape, or form do I think Louis van Gaal has significantly improved Manchester United, which was his mandate upon taking over for David Moyes. The problem is, rather than making them worse, he's actually made the squad a little better than it was when he walked in the door. For most United fans, yours truly included, his slow progress–like watching an inchworm run a marathon–hasn't been good enough. Unfortunately, when it comes to the board making a decision to move on from the Dutchman, the fact he's made some progress isn't bad, not in the actionable sense.
If Ed Woodward and his cronies consider the injuries to key players–Luke Shaw lost for the season with a double fracture to the leg, Bastian Schweinsteiger on the shelf for the second time this season due to knee ligament damage suffered at the end of March with die Mannschaft (the two knocks reminding United fans Schweini has long been the German equivalent in durability to Robin van Persie), Wayne Rooney also straining knee ligaments just as he was finally rediscovering his form, not to mention the succession of defenders who have spent more time on the trainer's table than the pitch, Marcos Rojo and Phil Jones topping the list–in the face of all that, they might come to the conclusion the tidal wave of criticism directed towards Van Gaal by the media and supporters is not justified.
It is, however. While the lost man hours certainly mitigate the Dutchman's culpability in what is almost certain to be the club's second fall from the top four in three campaigns, they don't erase it. His shortcomings have as much, if not more, to do with United's mediocrity. The table, like the camera, doesn't lie.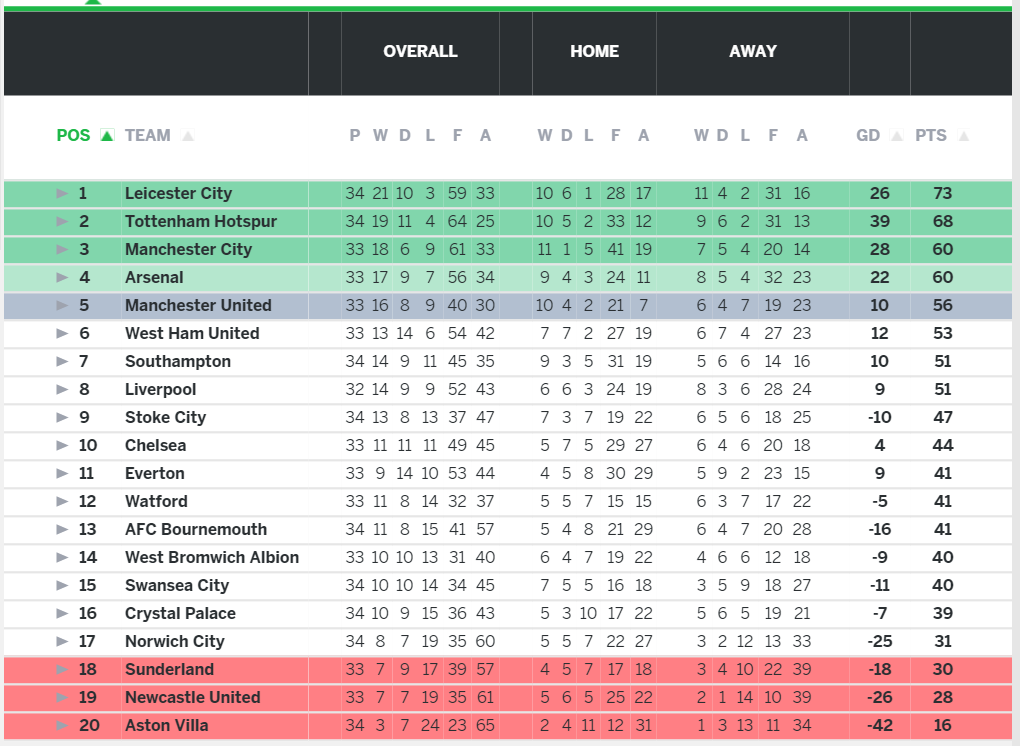 Tottenham might suggest the fixture list occasionally tells a fib. Despite being both the Premier League's most prolific goal scorers and its chintziest conceders, each by a distinct amount, Spurs are scratching their heads at being five points behind leaders Leicester City. The Foxes do have a valid claim to the top spot, trailing only Spurs and Man City in goals scored and the London club and Man United in goals allowed. Being at or near the head of the list in those two categories always has a club in the title talk. United, checking in on just the defensive side, are like a parent trying to get a word in while their teenage daughter gossips to a friend on her cell phone. They're only hearing one side of the conversation.
Were he United Nations Secretary-General when an asteroid collided with Earth, wiping out almost all life, Louis van Gaal would be the type of politician who tries to deflect any responsibility by claiming to have solved global warming. Similarly, he ignores United's woeful goals-scored tally, which would leave them twelfth in the table, just behind Bournemouth, were it the competition's deciding factor. Instead, when critics bemoan his side's lack of aggression, he cites United's goals-against record as setting the foundation for future titles by instilling sound defensive play.
To a degree, he has a point. The old adage teaches scoring wins matches whereas defending wins titles. You do have to win matches to claim any title, however, and United have rarely been able to mount a credible attack while maintaining their defensive discipline since the 3-0 drubbing at the Emirates killed their early season momentum. In the interim, they've seldom been able to score more than two goals in a Premier League match. Reversing that result against Everton immediately on the heels of that Gunners defeat can be put down to an emotional response from embarrassed players. Otherwise, there are just three league matches, Newcastle, Stoke, and the return fixture against Arsenal, in which the side displayed overt aggression throughout a match.
Alarmingly, United yielded five goals in two of those contest, only managing to dominate on both sides of the ball against Stoke. When you consider the rumored player uprising after the manager threw Marcus Rashford under the bus in the wake of the Spurs defeat, Van Gaal's inability to blend his young players' attacking talents into an organized, defensively sound system, as Mauricio Pocchettino and Claudio Ranieri have managed at their respective clubs, seems to be down to an inability to communicate with or trust in his players.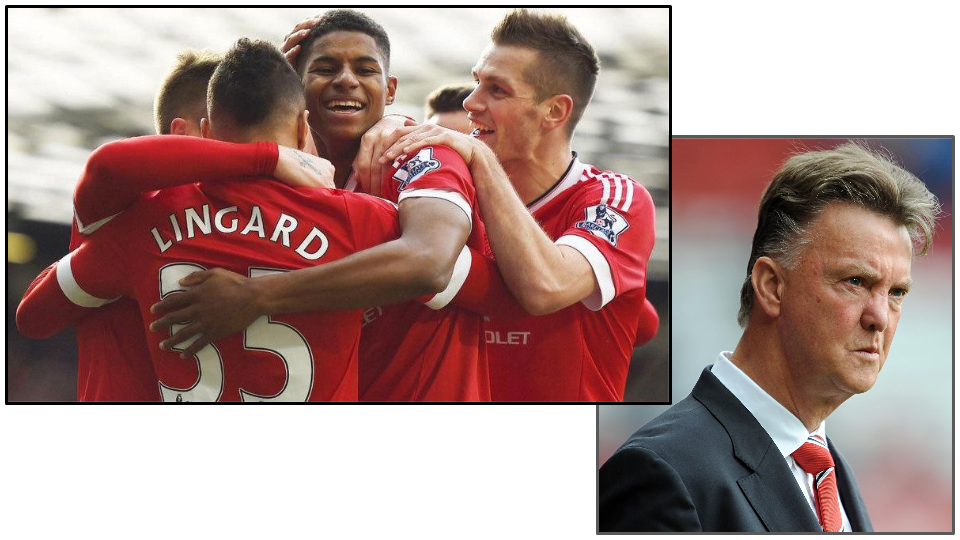 And yet the board is said to be considering a replacement, in José Mourinho, who has suffered those same failures at his previous two clubs. Initially, such deliberations appear to be madness. What they are, however, is a product of Van Gaal's success installing a strong defensive system. Mourinho's many championships utilizing a similar style dangles a tempting apple before Ed Woodward and the rest of the board, a nifty sleight of hand keeping their eyes focused elsewhere as the Special One sprays a fire extinguisher over the smoking rubble that is Chelsea's season, one rescued from relegation's jaws by Guus Hiddink, and the memory of his acrimonious feud with Iker Casillas and one-time United target Sergio Ramos.
Coupled with the club's own past glories and the parallel struggles of City, Chelsea, and Arsenal, Van Gaal's minor successes seductively suggest the club is a mere step away from another dominant Premier League cycle. Unfortunately, such delusions discount the strength of Pochettino's work at White Hart Lane, Pep Guardiola and Antonio Conte's pending arrivals at the Etihad and Stamford Bridge, Liverpool's likely re-emergence under Jürgen Klopp, and the fact Arsène Wenger's repeated failures reveal just how difficult taking that last step truly is. The one board member who sees through the illusion is Sir Alex Ferguson, but the voice of a man who brought the club twenty-eight trophies in twenty-six years has been marginalized by the single act of picking the wrong man to succeed him. As if Fergie's track record suggests he's in the habit of making the same mistake twice.
No, on the whole, Louis van Gaal has not been bad for Manchester United. That's what makes the present situation even worse.