When you've been raised on champagne and caviar it's difficult to look forward to grape Kool Aid and Oreo cookies. At first glance, the equivalent of kiddie treats are the stakes for Manchester United, however, as they go into White Hart Lane on Sunday for what is essentially the defining match of their underachieving season. Rather than A-listers always at the front of the line for domestic or European glory, United have become the geeks trying to slip a ten quid note into the hand of an unimpressed UEFA bouncer to sneak into the Champions League party.
A quick look at the table suggests fourth place is not an unrealistic target. United are just a point behind Man City, who are stumbling to the finish line under lame duck manager Manuel Pellgrini. After failing to get past Liverpool in the Europa League, though, matters aren't so simple. The Merseysiders' credible draw against BvB in the Westfalonstadion places them a home win away from the Europa League final four. Given Dortmund is easily the most imposing club remaining in the competition, it's well within the realm of possibility that, should the Reds defend Anfield against the German invasion, they could be crowned Europa League champions. In such an eventuality, fourth place wouldn't be enough to get United into the Champions League picture. Talk about being hoisted on your own petard. As long as Liverpool continue to play on Thursday nights, United are faced with overcoming a five point deficit to Arsenal in the campaign's final six fixtures to reach their minimum goal for the campaign.
With such a depressing outlook piled atop a string of disappointing performances this season, it's easy to understand why United supporters are finding it difficult to conjure up any excitement or anticipation ahead of the Spurs clash. There is cause for hope, though, and need, with more than just a European place at stake, to evoke a sense of urgency.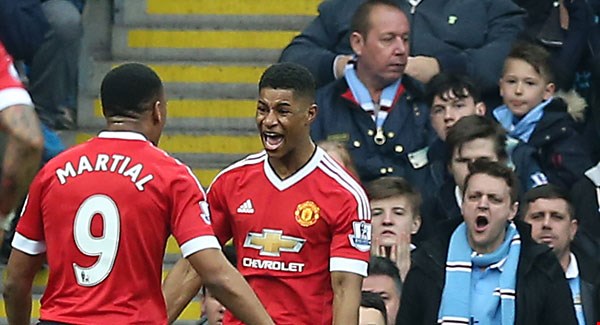 Although even further behind improbable Premier League leaders Leicester City than United trail the Gunners, Tottenham still believe they can overtake the Foxes for the title if they can win their remaining matches. There is no question they'll be up for the contest for that reason alone. What's more, if the London squad appreciates how far they've come under Argentinian manager Mauricio Pochettino, they will be looking not merely to defeat United, but grind them to dust. Pochettino has been put forward as the only decent alternative to José Mourinho should the United board decide to grant the fans' wish to terminate Louis Van Gaal's contract a year early. Victory against the Red Devils would reinforce the belief Spurs are the club with the talent and resources to further his career. Defeat would stoke the embers of doubt in his mind that perhaps they aren't. Those who miss United's lost penchant for attacking football would sell their souls to lure Pochettino to Old Trafford and thus deliver a karmic poke in the eye to the ambitions of the lately less than Special One.
So, despite the lack of fanfare, Sunday's match may be the most important in the post-Fergie era. Not only does any hope of Champions League football lie in the balance, not to mention United's continued relevancy to English football,  but the club's future, direction, and identity, are all twisting in the wind. Spurs win, and United supporters face two or three years of negative football under an arrogant leader who history tells us will leave under a dark cloud of his own making. Then, who knows? There are no safety nets across the mouth of that abyss. But if LvG's squad can rise to the occasion, as they have against both City and Arsenal in recent weeks, Pochettino may come north, bringing with him an adventurous, imaginative brand of football designed to remind Old Trafford's denizens why the place was not so long ago known as the Theater of Dreams.
The question is whether United can do it? After all, Harry Kane has seemingly usurped Wayne Rooney as the Three Lions figurehead, and has eclipsed him in the league, as well. As you look down the rest of the lineups, you find Tottenham have an answer to every United positive. For each Anthony Martial, there's a Delle Alli. You have a Juan Mata? We've got a Christian Eriksen. Roll out your Morgan Schneiderlins, Chris Smallings, and David de Geas. We'll see them and raise with our Moussa Dembeles, Jan Vertongens and Hugo Llorisses.
Tottenham are in the title conversation for a reason. Defeating them will not be easy. It's the big matches Van Gaal's young side appear to relish, though. As noted, they've showed their promise against both Arsenal and City of late. Overall, they've performed better against tougher opposition this season. Take a look at the overview below.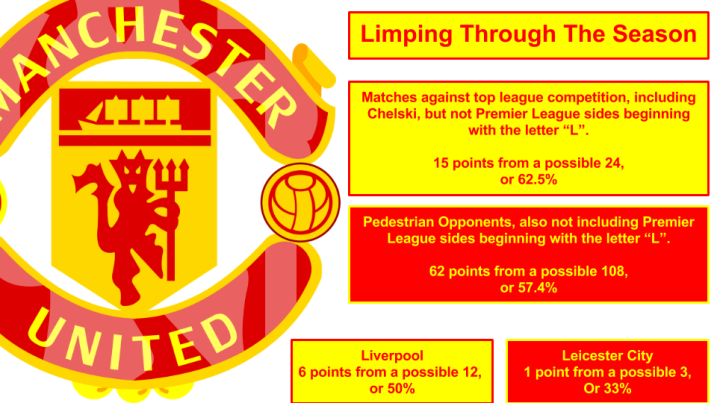 Why are Liverpool and Leicester results separate from the rest, and why is Chelsea listed as a top club? Simple. The point being made is United are more motivated by big matches. Without bringing Sam Allardyce into the discussion, it's a matter of perception.  The problem with Liverpool is that they've been in a rougher patch than their Mancunian rivals over the past season or so, which has led to a mid-season managerial change. Yet, for all the animosity, a clash against the Merseysiders has lately been viewed as a match which should be won. Despite Chelsea's even greater struggles this year, leading to their own managerial switch, the same couldn't have been said when approaching a tilt against the Blues. And obviously, the early season draw against Leicester was then seen as a winnable contest against a group of pretenders. That the Foxes were for real is only now being taken as gospel.
Enthusiasm is the one edge a young squad like United can take into this match against Spurs. Veterans mark such matches on their calendars but grind out consistent efforts throughout the year. Youngsters look at these encounters as moments when they can make their mark. If you're a United supporter, you'll be praying they do, and that the manager in the other dugout takes notice.