Zlatan Ibrahimovic is thirty-four years old. He is not a team player. Put a microphone in front of him and he is guaranteed to not only talk endlessly about himself, but piss off half his own club's supporters and every single fan of every other team in whichever league he happens to be playing. He is football's Donald Trump, the ultimate narcisssist. Believe it or not, though, these are all reasons Manchester United should sign the man I like to call the Anti-Swede.
The only thing more important than scoring goals to Ibra is doing so with an unreserved, inconsiderate, insensitive, and completely disrespectful fuck 'em all attitude. And like the nation of former Vikings who have "evolved" from looting and pillaging without mercy to nodding politely and paying taxes through the nose without complaint, United have traded their once-intimidating reputation for a milquetoast manner which has even relegation fodder licking their chops at the thought of meeting the Red Devils on the pitch. He made Sweden relevant again as a footballing nation, and Zlatan can do the same for the red half of Manchester.
But he'll be thirty-five before the next Premier League campaign is two months old, the doubters will say, and United has always emphasized youth. They don't sign players well on the downhill side of their careers. Well, except for former Liverpool icon Michael Owen, who managed to poach a goal here and there off the bench for Sir Alex Ferguson, and another thirty-five-year-old Swede, Henrik Larsson, whose three goals in 13 matches while popping in for a brief loan stay during boyhood club Helsingborg's winter break had Fergie vainly begging him to stay. There are always exceptions to any rule.
Neither Owen nor Larsson played a key role for an entire grueling Premier League season, which Zlatan would have to take on in order to transform United back into world-beaters (if you don't count Barcelona). Unlike part-timer Owen, the fitness-obsessed Swede's four goals in PSG's 9-0 fourth-on-the-trot title clinching demolition of Troyes last weekend, bringing him to 38 goals and 14 assists in 38 matches across all competitions for the season, suggests he will be able to handle the workload. Perhaps his ratio of 4 goals in 8 Champions League games is a more realistic target for Premier League life, but if he threatens 20 league goals for United what supporter wouldn't be happy? As well, his attitude is in direct opposition to Larsson's reluctance to remain in the spotlight at United rather than ease into retirement with Helsingborg. Ibra lives to tread the boards on the game's biggest stages, and always seems to deliver virtuoso performances.
Maybe he's up for it, the doubters will admit, but for selfish reasons. He'll always put himself before the team, they'll claim. Zlatan's own antics fan the flames of that argument. Still, people forget he was frozen out after moving to Barcelona to fulfill his boyhood dream, but rather than distracting everyone from the La Liga campaign by engaging in an all-out feud with Pep Guardiola, he stayed largely silent, contributed when given the opportunity, then moved back to Serie A to temporarily resurrect AC Milan's flagging fortunes, while continuing his lifelong habit of playing Bruce Lee with all comers.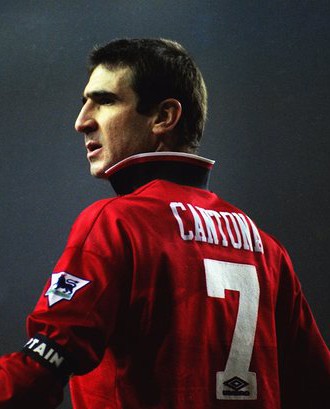 Yet, why should such behavior shock United supporters? Isn't the club famous for signing a player with a penchant for scoring important goals, but who was fiercely independent and completely willing to kick some ass at a moment's notice? I think his name was Cantona, or something like that. Then there was that Irish nutter who acted similarly, but without all the goals. Or has United followed a parallel evolutionary path to Sweden, going from merciless raiders of the Premier League landscape to the footballing equivalent of–shudder-–ABBA? The Frenchman was revered at Old Trafford, but even he can't claim to have impacted United to the level Zlatan has managed virtually everywhere he's been. Barring his second seasons with Il Rossoneri and Ajax, Ibra has lifted a league trophy in every one of his fifteen seasons with six different clubs, playing a pivotal role in each, excepting his time at the Nou Camp.
If that's what a clubhouse cancer brings, I'll happily forego the chemotherapy. So, I suspect, would Wayne Rooney. Why not? The Scouser has made way for big-money signings like Dimitar Berbatov and Robin van Persie, changing roles like a bit-part actor to suit the needs of the club. He did the same when Cristiano Ronaldo emerged as the club's most potent goal-scoring threat. Besides, given the mauling he's suffered in the press this season, you'd think Wazza would be happy to see someone else paint a target on their forehead, taking the heat off him.
Where would Rooney play with Ibra leading the line? Perhaps behind him, where neither Juan Mata nor Ander Herrera have managed to stake an irrevocable claim, or deeper in the midfield, where Bastian Schweinsteiger and Michael Carrick haven't shown the fortitude to endure, nor Morgan Schneiderlin the enterprise. Perhaps at Goodison Park, where he began his career. As much as I believe Rooney's been unfairly vilified, when you compare his recent record with that of Ibrahimovic, it really doesn't matter where the current captain ends up. United needs the attitude adjustment Zlatan can provide and which Rooney has unfortunately shown he cannot deliver.
In a desperate, last gasp effort to discredit the Swede, the doubters will try to hit me with both barrels. Why would he come to United when City, Chelsea, or even Arsenal would offer a better chance at a fourteenth league title in a fifth competition? And what about him being the Donald Trump of football? Surely you don't think President Trump would "make America great again?"
No, I detest the Donald, and don't think he could make anything great, because he really isn't a team player. He brags about getting out of the real estate investment market before the bubble burst, but has no qualms about selling his name to investors too stupid to follow his example, denying he bears any responsibility for those who use his name to fleece working stiffs who thought Trump was actually involved in their projects.
Ibrahimovic, despite his insensitivity, is the opposite. He values his name above all else, always putting in the requisite work to produce the results necessary to lead a championship team. Selling out rather than taking on a challenge in earnest would be anathema to him. He went to Milan when they were fading, and PSG when they were just getting started. Ibra doesn't just want, but needs to be the prime moving force, not a complementary piece. At Arsenal, that role is taken by Arsene Wenger. At City, it would be worse with Pep Guardiola taking up residence at the Etihad in 2016-17. United is where he would have the most influence, even more so than at shell-shocked Chelsea.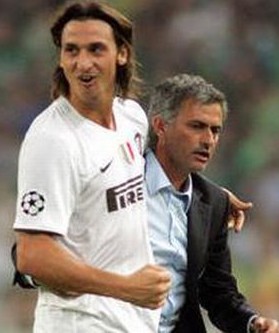 In fact, the only argument I can imagine for not signing Ibra is United would bring in José Mourinho, a super-ego who has already demonstrated he can not just co-exist, but thrive with the Anti-Swede in his clubhouse. The board might fear Ibra and Van Gaal would clash, or, should they give the Dutchman the sack, Giggsy, G-Nev, or some other less pedigreed gaffer would wither under the Zlatan stare. But Mourinho in charge? Talk about your malignant cancers. Handing the Special One the keys to Old Trafford actually would be like installing Donald Trump in the White House. If it means the club decides to travel down that road, please, I beg you, forget I ever brought up the idea of signing that guy in Paris. What was his name again?