The world is full of mama's boys and daddy's little girls. That's just the way things are. For whatever reason, many parents bond best with children of the opposite gender. I mean, every sport has its clichéd human interest pieces in which male athletes wax poetic on how their mothers sacrificed their personal lives by schlepping them back and forth to endless games and practices throughout their childhoods, so much so soccer, hockey, and football mom have become ubiquitous terms in our lexicon, each bound only by the geographic limits of the athlete's chosen sport. On the other hand, the Williams sisters were notoriously over-managed by their dad, and Mary Lou Retton and Kerri Strug, two of America's most cuddly, adorable Olympic gymnasts, were doted on like a proud papa by their normally curmudgeonly ursine coach, Bela Karolyi.
The flip side of the coin, the strained relations between many mothers and daughters or fathers and sons, is why we have songs like A Boy Named Sue and movies like Mommie Dearest. Although, to be fair, Joan Crawford was an equal opportunity abuser. For those too young to know who I'm talking about, think Darth Vader and Luke Skywalker, which, now that I consider it, is the ultimate sci-fi translation for the iconic Johnny Cash tune. Just sub in "lightsaber" and "Luke" in the appropriate places in the first verse, and "Mos Eisley" in the fourth, and you're kicking and gouging in the intergalactic mud, blood, and beer.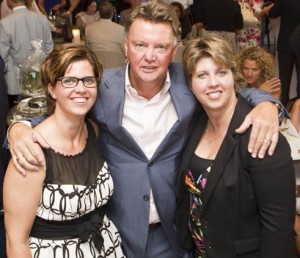 More to the point, however, these relationship dynamics also go a long way towards explaining Louis van Gaal's problems at Manchester United. Here is a man who has been photographed numerous times, his arms around two smiling daughters as he beams like Bela Karolyi, the girls obviously thrilled they so resemble their mother no one has ever told them they have their father's nose. Yet, as Mike Smalling will attest, van Gaal can't remember key players' given names in press conferences to save his life, or their embarrassment. On more than one occasion, he has admitted he prefers to maintain a professional distance from his charges. Perhaps the closest he has come to being a father figure to his players, rather than their boss, was when he dropped trow in the Bayern clubhouse to challenge his squad to grow a collective pair. Unfortunately, such an act will get your average well-meaning father imprisoned for sex abuse in today's more "enlightened" society.
And this is the key difference between Louis van Gaal and Sir Alex Ferguson. While the latter has been knighted by the Queen, I won't insult your intelligence suggesting either will ever be confused for a gentleman. Each man has shown his nasty side too often for that, both with referees and players who fall out of their good graces. Of the two, however, Fergie was easily the kinder, gentler soul. For example, there's Jaap Stam and David Beckham, who were banished to Rome and Madrid respectively. Despite falling afoul of SAF, the pair were allowed to continue playing elsewhere, and with big clubs to boot. Roy Keane, too, although his destination was Celtic Park's less exotic confines. Victor Valdes, on the other hand, was vindictively sent into the stands to do S-F-A for the better part of an entire season, before being loaned out to Belgian side Standard Liège, rather than sold, as if LvG was saying "I'm not finished screwing with you yet, boyo."
If Sir Alex had no use for a player, he'd wash his hands of him, whereas Van Gaal keeps them under his boot heel. Why? Because Fergie had a personal relationship with his players. He actually liked them and understood what it meant to be young and impetuous. When Beckham and Wayne Rooney came to United, each had an undisciplined rashness which often proved costly. In response, they might get the hairdryer treatment, or even sit a match here or there, but they were never buried. Cristiano Ronaldo would lie prostrate on the ground when dispossessed, pouting at the official who failed to award a free kick. It took years to coax him into getting up quickly and tracking back. Ashley Young, while hardly in the same class as the others, had a reputation for diving. Yet, he wasn't all but forgotten as Memphis Depay was after his poor effort against Stoke.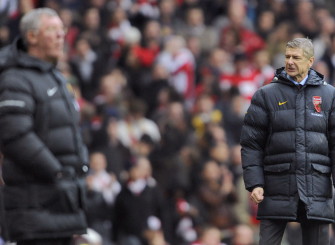 Van Gaal expects his young players to show a seasoned veteran's maturity. When they fail to meet his initial expectations, he loses all trust in them. Fergie understood youngsters still view playing top-flight football as an adventure to be enjoyed rather than a profession to be ground out. Consistency is not in their nature. They need to gain experience to act like experienced players, which takes time. The Scot understood his "lads" because he retained a bit of the swashbuckler in his character even into his seventies. Remember when Arsenal came to town during an injury crisis, and SAF, forced to field seven defenders in his starting eleven, told them to attack without mercy, much to Arsene Wenger's surprise and ultimate dismay?
Even the players who didn't realize their potential under Ferguson were given every opportunity to prove their true value, and many went or have gone on to success elsewhere. Phil Neville forged a career after United at Goodison Park, as has Darren Gibson. Nicky Butt became a Newcastle mainstay. Alan Smith, who proved not Cleverley by half as an attacking player, but a tenacious holding mid, also enjoyed a stretch at St James Park before descending down into Leagues One and Two with MK Dons and Notts County. Tom Cleverley himself has gone from Aston Villa to the blue half of Merseyside, and Chicharito is now enjoying a renaissance with Bayer Leverkusen in the Bundesliga.
Van Gaal doesn't have such patience with the youngsters in his care, despite some brilliant moments here and there. A pirate's life is not for him. Ferguson's carrot and stick combination minimized the poor results from inconsistent play during his long tenure. His players knew he was being hard because he cared. The Dutchman's less balanced approach quickly disillusions his charges, kills their enthusiasm, shatters their confidence, and has left once hopeful supporters wishing the LvG's stay at Old Trafford will be even shorter than expected.
Unfortunately, those who are excited at the prospect of José Mourinho stepping into the Dutchman's clogs fail to remember the Portuguese's greatest success has always come through trusting veteran players at the expense of developing youth. If Man United are to return to their former glory, it will have to be with a coach who embraces youthful imperfection, has a sense of adventure, and doesn't view his squad as a bunch of boys named Sue.