I live in what is usually balmy South Florida, although this morning was a brisk fifty-eight degrees Fahrenheit. It could have been worse. My favorite uncle in New York is experiencing temperatures well below freezing, with the "feels like" approaching sub-zero, again Fahrenheit. He's smarter than I am, however, and was therefore surely sleeping in. Unfortunately, he wasn't the only one. Seven-forty-five comes five hours earlier in America's eastern time zone than it does in Sunderland, but you wouldn't have known from Manchester United's sleepy start at the Stadium of Light.
Three minutes into the contest, the anti-Geordies were up one-nil courtesy Wahbi Khazri's seeing-eye free kick. The Tunisian has an appropriate name, considering his effort was wobbly, and the result crazy. Somehow, the less than thundering delivery found its way through Anthony Martial's wickets, then skittered just inside the far post, beyond a surprised David de Gea's reach. Not the type to scream at teammates every time he's required to make a save, which is more frequently than most of his more vocal brethren in the goalkeeper's union, the Spaniard gave the young Frenchman a withering glare, as if to say, "Quelle partie de mur ne comprenez-vous pas?" Given Martial would be unable to stop the eventual winner, also from a set piece, yelling may have been the better option.
But that's getting ahead of ourselves. United would temporarily level matters, but only six minutes before the break. In fact, they didn't manage their first shot on target until the half-hour mark, a volley from Juan Mata at the top of the box, completing a now familiar movement involving Wayne Rooney and Anthony Martial, albeit this time sadly straight into Vito Mannone's arms. The former Arsenal stopper waited so long to be tested as, with the lead, Sunderland's eighteen was more densely populated than Mumbai. Ladies and gentlemen, your home side's manager, Sam Allardyce.
A similar combination authored by the same Red Devils trio finally put United on the board. Mata again found himself at the top of the box, a sensible place to be when you know a side is parking the bus and will be deflecting crosses left and right. On this occasion, his shot forced Mannone to lunge desperately to his right. At full stretch, Francis Ford Coppola's first choice for the part of Mafioso Number Three could only parry the ball onto the waiting Martial's foot. The ex-Monaco lad then cheekily chipped it over the hawk-nosed Italian's vain attempt to head the lob from all fours.
United thus went into the clubhouse on the ascendancy. It would seem they used the time to catch a bit more kip, however, emerging from the locker room like a somnambulists' convention, sleepwalking through most of the second half, allowing Sunderland to regain the initiative. A couple year's back, Big Sam had everyone laughing at the suggestion he could manage a Real Madrid or Barcelona as well as any of the more storied names who've actually been trusted with the task. Apparently he is the one person in the world who answers "flair" or "creativity" when someone poses his name in a game of word association. If a Sam Allardyce side is dominating the attack, you know the opposing manager hasn't exactly lit a fire under his charges. Whatever happened to the days when Louis van Gaal–a man who has managed Barcelona, and Bayern Munich to boot–would frighten the bejesus out of his players by dropping his trousers to show them he, at least, had a pair? His young United charges could have used such a wake-up call today.
With the Mancunians offering little in the way of attack, it was inevitable Sunderland would score again, capitalizing on yet another new defensive error, and once more from a dead ball situation. This time, it was a corner which found Lamine Koné unmarked. Heading it into the ground, the Ivorian defender gave Anthony Martial a second opportunity to place some part of his body in front of the ball to prevent a goal. Blocking shots is seemingly not the Parisian's thing, though, much as heading back to his keeper is not Memphis Depay's.
United's other left-side attacking sensation came on at the hour mark for Jesse Lingard, whose sole contribution to the match was causing me to wonder whether it was Beavis or Butthead he resembled–I can never remember which is which. Although he didn't score, Memphis proved he can be just as dangerous as Martial from the Labour side of the pitch. Unfortunately, neither seems capable of making an impression from the Tory wing. Martial faded into the background, from an attacking standpoint, anyway, when he shifted over to the right. As mentioned in a recent column, LvG's elevens tend to stall when a pair of players with similar skill sets find themselves together on the pitch. That goes for the M&M boys as much as it does for Mata and Ander Herrera or Michael Carrick and Bastien Schweinsteiger.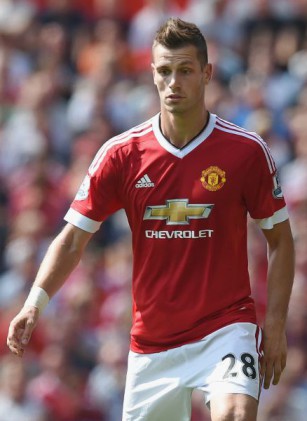 Plain and simply put, United do not have a complementary threat for either Memphis or Martial in order to spread defenses. Signing someone who thrives on the right, rather than another lefty, such as Ed Woodward's rumored fantasy Gareth Bale, would give the club an attack which doesn't allow defenders to overload one side of the pitch. Forced to  do without such a person, Van Gaal removed the offensively challenged Morgan Schneiderlin when introducing Memphis. That the former So'ton star was even on the pitch was startling. Yes, he is adept at disrupting attacks, but his transitional skills are severely limited, consisting entirely of waiting to tap the ball to whichever teammate rushes to within ten feet when he gains possession. To be fair, he did somehow find himself in the corner to the right of Vito Mannone's goal early in the second half and he alsoescorted Wayne Rooney on one charge up the middle, like a lost Labrador retriever invading the pitch. It's a toss up whether his mere presence disorienting Rooney and causing him to lose possession was more tragic or comical.
In another LvG headscratcher, Schneiderlin was in the line-up because Marouane Fellaini was completely absent, not even making the trip. According to the Manchester Evening News' Simon Bajkowski, the Belgian wasn't injured. Rather, Van Gaal was merely resting him for rotational purposes. Why now, when Fellaini's greatest asset is his aerial ability and Sunderland is a side loaded with tall players, coached by the man who rejuvenated Andy Carroll, an overlapping fullback's dream, at West Ham after the pony-tailed BoyZone groupie's disappointing time at Anfield?
Maybe it's redundant to stress both Black Cat goals came from set pieces. Admittedly, one was from a free kick which never gained an altitude greater than two feet, and Fellaini's legs are far more spindly than Martial's, but still. Even though many United supporters have little time or use for the Belgian Super Fly, this was the time, this was the use, and Louis gave him the weekend off. Without losing sight of the irony, you have to ask where the Dutchman's head is.
The only positives to take from the result are West Ham lost on the day and the top four teams in the table pair off Sunday, limiting the potential damage to United's fading Champions League hopes. Like sleeping in on a frigid winter's day in New York, that's cold comfort, indeed.