There are pros and cons to everything. For instance, when one takes advantage of Ryan Giggs' unexplained absence at a match wherein Manchester United suddenly wake up to discover good things happen when they score goals, it can be quite the laugh to watch your editor tweet the word "satire" several dozen times in reply to outraged readers. On the other hand, when Giggsy's granddad sadly passes the next morning, you might feel a pang or two of regret for penning the piece even though the butt of the joke was actually Louis van Gaal. With that in mind, I've combed the internet–pun intended–before introducing my next hair-brained theory. Happily, I can report everyone in Marouane Fellaini's life appears to be in the peak of health, his girlfriend has not been arrested for shoplifting, and the Forestry Commission is not debating whether to designate his out-sized afro a protected wildlife habitat. Therefore, I feel reasonably secure in asking whether the Belgian might advance his career by converting to a more traditional hairstyle?
Like the Giggsy spoof, there is both a good and bad side to Fellaini's game. Ungainly as he appears, jogging about the pitch like a stork with its nest perched atop its head, one cannot question his passion and work ethic. On the other hand, his sense of adventure makes him a liability as a defensive mid and his penchant for heading directly at goalkeepers is frustrating when he's employed in an attacking role. As a result, there are many tortured souls who love United but wonder why their number twenty-seven wasn't shown the door with David Moyes or at the earliest opportunity after the former Toffee boss' departure.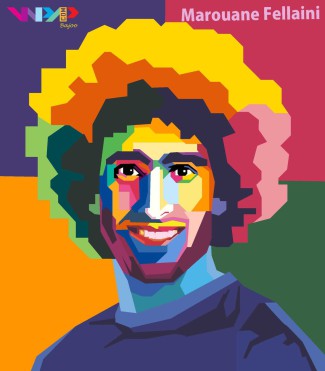 Stretty News' own Northern Loudmouth can't understand why Van Gaal consistently plays him while Morgan Schneiderlin and Ander Herrera watch from the bench. The only possible theory he can imagine is the Dutchman has a bizarre fetish for "post-modernist performance art." Personally, I'm quite happy to see Schneiderlin sit. In the last few matches he's started, the Frenchman has been exposed numerous times and, over the entire campaign, shown no inclination to spark the transition to attack as he did at Southampton. Fellaini may suffer from bouts of wanderlust, but in small doses that can be a good thing. Think Daley Blind's FA Cup goal at Pride Park, when the centerback surprised the Derby back four by continuing his run all the way into their eighteen. Conversely, Herrera is wasted on the bench. The problem there, however, is Juan Mata has proven far more effective in a central role than his compatriot and he himself was when deployed on the wing. One undeniable truth when it comes to Louis van Gaal's system is there's no room in his starting eleven for redundancies. Each player fills a singular role and when two like-for-like players are on the pitch simultaneously there is confusion rather than fluidity. Regardless, if any Premier League manager would be considered the artsy type, it'd be have to be Liverpool's Jürgen Klopp. The German even has the Andy Warhol specs.
Rather than expressive artists, Van Gaal, like many Dutch managers, appreciates versatile players. Such players might not be as solid in one aspect of their game, but their paradoxical combination of unique talents and interchangeability makes for a more adaptable squad. It's partly why LvG stuck with Wayne Rooney so long despite the Scouser's protracted slump. Having players like the captain, Blind, and Fellaini, who can contribute on both sides of the ball, is a bonus. Thus, you're more likely to see Fellaini than the one-dimensional Schneiderlin supporting Blind and Chris Smalling, and Mata than the more rash tackling Herrera for the remainder of the season.
If I prefer Fellaini to his colleagues, why then would I suggest a visit to the barber is in order? Simply put, it's the aforementioned tendency to head balls directly at opposing keepers. The Mighty Aphrodite has done so on a confounding number of occasions in the last few months. I've wondered whether it's something in his technique, but the eye test suggests the problem lies elsewhere. He's more frequently well-positioned than not and his timing is near-perfect. As for coaching, United has it in spades. Giggsy often handles training, and with his many years providing service, you'd think he'd notice any technical deficiencies. Besides, the last time I blamed the Welshman for something, it didn't go well.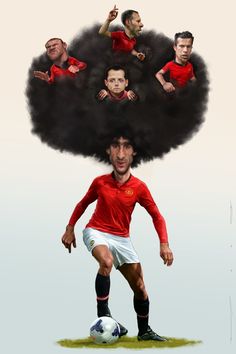 Process of elimination therefore leaves Fellaini's distinctive coif. I'm not an engineer or physicist, but to my untrained mind it seems Marouane's ability to redirect lofted balls with precision is hampered by his do's absorptive qualities. It gathers in the ball like a catcher's mitt does in baseball, surrounding the ball on all sides and cushioning its momentum. Also like a baseball glove there's just one option for release: straight ahead. The ball is physically prevented from making any sort of glancing blow. In order to afford himself greater options, directionally speaking, the Belgian Chia Pet may be best served by removing his prodigious permanent.
One can easily understand he may be reluctant to take such advice. His hair makes him instantly recognizable; it's part of his identity. He may even have a Samson-esque phobia regarding the prospect of cutting his locks. If it could make him a better player, though? A few more goals would certainly raise his standing in Many United supporters' eyes. Hell, even Northern Loudmouth may come around.