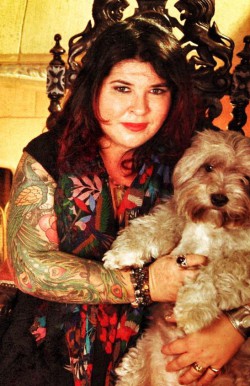 A quick check of the astrological charts revealed no significant realignment of the stars for 12th January, 2016. How then to explain a six-goal outburst on the night between the Uniteds Newcastle and Manchester at St James Park? The home side hadn't registered a goal in their previous four matches and, in what has become a tradition under the so-called stewardship of owner Mike Ashley, are mired in yet another relegation battle. Their Mancunian namesakes may as well be in the same position given their status in the eyes of supporters and pundits alike, a reputation earned through a combination of poor results and a playing style with all the zest of beef stroganoff night at the local nursing home. Yet, if the Zodiac is incapable of explaining the sudden attacking mindset of both clubs which puzzlingly rendered, for Man United at least, the same disappointing results, perhaps a mental health professional is needed.
The Red Devils took the early lead through a controversial penalty. Mike Dean pointed to the spot when Chancel Mbemba, looking over his shoulder, realized Marouane Fellaini had created a bit of space to possibly head in a cross and reached backwards, flailing desperately. Fellaini's header, as it frequently does, then found an opponent's body rather than the back of the net. Dean adjudged it a deliberate handball despite one BT analyst–the one not named Glen–suggesting his arm was extended in the natural act of leaping and his back was to Fellaini, making it impossible for him to deliberately handle the ball.
Newcastle supporters will no doubt heartily agree with that assessment, but BT had no need to give them further ammunition by consulting Howard Webb, he of the reputation for long being in Sir Alex Ferguson's back pocket. Sergeant Webb of the South Yorkshires provided less than a full endorsement of his former colleague, noting an extended arm was within the rule book's parameters for an unnatural position, but then wondering whether Dean was in an optimal position to make a definitive call. He had no comment on the replays which clearly showed Mbemba looking back in dismay and flailing his arm like an American footballer or baseballer desperately trying to flag down a ball traveling hopelessly over his head.
Despite making the correct, if debatable, call, Dean wasn't through with controversy. Not by a long shot. First, he denied Newcastle a clear first-half penalty. Then, after the break, awarded one to the Magpies, booking Chris Smalling in the bargain following a tussle in the box between the center back and Aleksandar Mitrović. While my favorite BT analyst this time heartlily supported Dean and attacked Smalling's poor marking, it seems to me a player should forfeit any claim for a penalty when he has one hand on the back of a defender's head and the other around his throat. As Don Henley sang in Victim of Love, "I could be wrong, but I'm not."
On the whole, though, Dean's gaffes cancelled each other out, and the Mancunians must bear the blame for dropping two points alone. They came into the match having allowed just seventeen goals in the league, second best in the Prem, one behind Tottenham and fronting Arsenal by the same margin. But, as they showed in their final Champions League match v Wolfsburg, Louis van Gaal's charges cannot strike a balance between aggression and solid defending. For them, it's one or the other.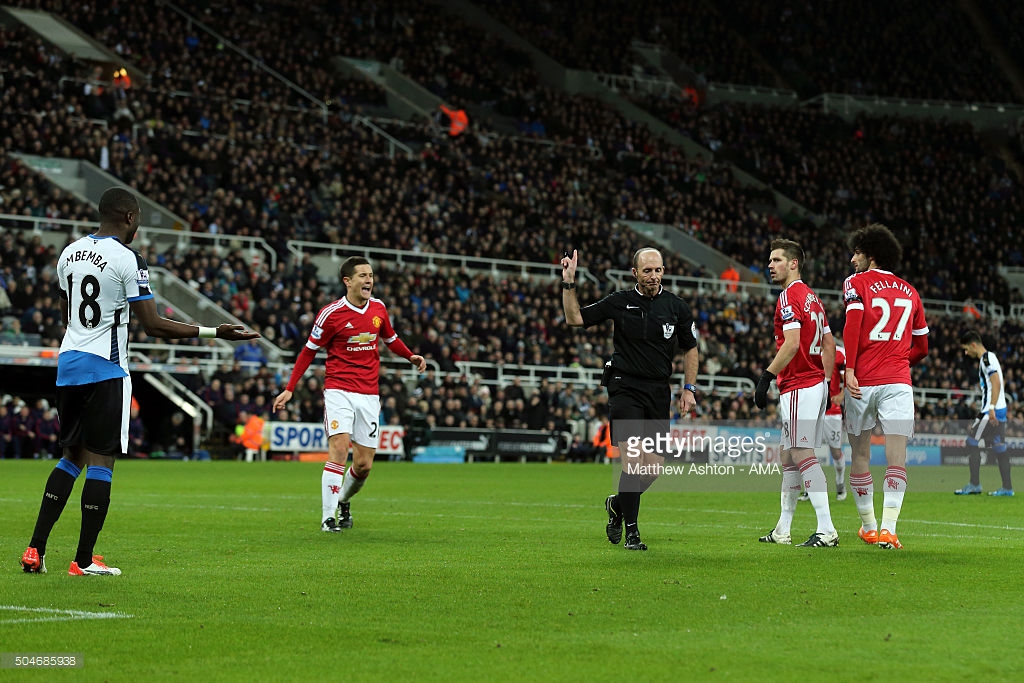 A two-nil lead evaporated and so did a three-two advantage. As game as Toon proved on the night, the match could have been put away on several occasions.
Fellaini, without any interference this time, headed a beautiful cross directly into Tim Krul's arms. As mentioned here and elsewhere, this is a disturbing trend from the Belgian chia pet. Someone really must explain the concept of scoring to him.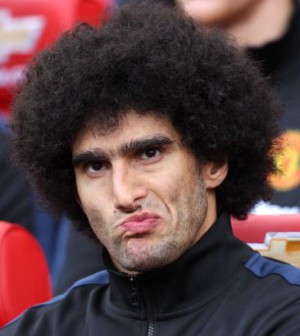 Then Jesse Lingard, who had earlier reminded his elder statesman Wayne Rooney how to finish, driving home a volley from the captain's assist moments after the Scouser failed to do likewise when the roles were reversed, missed a sitter at the conclusion of perhaps Man United's best movement on the evening, taking his time to drive a curling shot over the far post when the near side was wholly unguarded. The wasted opportunity finally brought some emotion from Van Gaal, seated as always on the bench. BT showed him thrashing about wildly and startling Ryan Giggs from his nap with a loud shout. The youngster was substituted for Memphis shortly afterward, making a belated and unconvincing show of stretching his quad when he reached the bench.
The current resident of Niche à Chien Van Gaal provided his side with a spark which quickly led to Wayne Rooney–likely upset at being shown up by the departed Lingard–scoring from the top of the eighteen after Newcastle failed to control a deflected shot. BT's camera quickly focused on the visitor's bench, where LvG could be seen gleefully writing in his notebook. Ladbrokes currently has "12/1/16–Rooney finally scores from run of play" at even money as the most likely entry. The goal occurred just as the game clock reached seventy-nine minutes, and as unlikely as Roo finding the target may have seemed to all, the gaffer surpassed him for playing against type, bounding from his seat to yell and gesticulate from the coach's box five minutes later. Promising as the development may have been to masses of suffering Man United faithful, the act appears to have been performed to instruct his side to play keep-away in the corner with far too much time remaining. Hey, if the fans can call it a day early to beat traffic, why not the players?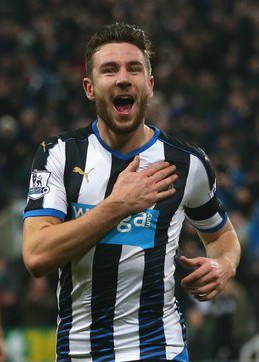 The price for reverting to a cautious approach was a confident, determined Newcastle pressing the matter at the opposite end, where home-grown Geordie Paul Dummet equalized at the outset of added time. The tally was remarkably like Rooney's, the only difference being the volley caromed just inside the post off a hard-done-by Chris Smalling's elbow. Being Manchester United's best defender apparently doesn't come with the perks it once did.
What to think of the match? If you're Steve McLaren, you've guaranteed yourself at least one more pay packet. If you're Louis van Gaal, for whom that's inexplicably been a non-issue, it's further proof your side knows not who it is, who it was, nor who it can be. Worst of all for those who live and die with the red half of Manchester, if you're David Moyes, you're looking at the whole mess with a strange sense of closure.