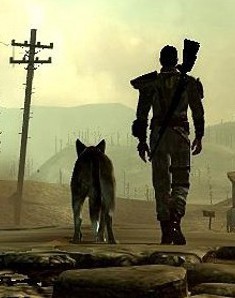 Have you ever heard of Todd Howard? No, not Tim Howard, the former Manchester United and current Toffees goalkeeper. Nor Todd Howarth, the Aussie midfielder who plies his trade for Bayswater City in Western Oz. If you know the latter, I'm tremendously impressed because the eight regional "National Premier" leagues which comprise Australian football's second tier, and for which relegation is a factor, are not permitted even a sniff at promotion to the top flight A-League. To say, then, Howarth is toiling in obscurity is the ultimate in Down Under-statement. No, Todd Howard is an American video game designer best known for bestowing the Fallout series on a planet of young (and old) gamers who, unlike ISIS, prefer to do their wanton killing in the virtual world and from the comfort of their boudoir or car-seat filled rumpus room rather than in a train station, nightclub, or office daycare center.
Full disclosure: I am not a gamer. In fairness to the rabidly bloodthirsty souls among you, that's more a result of being all thumbs in every area except the one in which it would be to my benefit than any distaste for violence or killing. I am just as averse to FIFA16, NHL16, or even Donkey Kong as Halo, Call of Duty, or Fallout. I prefer table-top hockey, foosball, and even Subbuteo as indoor games, and getting on the ice or out on the pitch myself when able. I've even played paintball on occasion.
I do have a healthy distaste for violence and killing, however, falling into the can't-we-all-just get-along demographic rather than the typical blow-away-everyone-in-sight-with-your-AK47-and-figure-out-who-was-actually-a-threat later crowd. Although I have concerns regarding stunted social interaction and conditioned indifference to real violence resulting from video gaming, and even normal everyday texting (for the former, obviously), I'm not one of those advocating violent games be banned. As long as you understand the difference between pixelated and corporeal beings, feel free to run amok.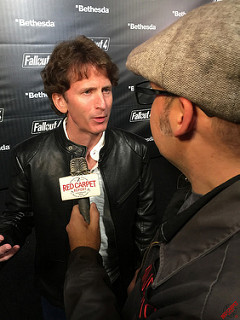 So why bring up Todd Howard? It's a combination of three factors. First, he's demonstrated, in the virtual sense at least, he's as ruthless as they come. Second, he's also shown the ability to adapt to opposing strategies. Third, video-game design is a collaborative effort, requiring extensive communication and man-management skills from the person in charge. Howard's status as a Yank does mean it's statistically improbable he has any knowledge of football tactics. Yet if Northern Loudmouth can think outside the box, nominating Daniel Day-Lewis and Michael Sheen as potential successors to the lame-Dutch Louis van Gaal as Man United manager, citing the extensive research method actors employ to master their roles, surely I can do the same. Like Day-Lewis and Sheen, Howard is a candidate from a medium which demands attention to the minutest details to render a realistic experience.
And, as Loudmouth has also noted on more than one occasion, Ed Woodward has remained in charge of Manchester United transfer business for two-and-a-half years despite having no grasp of the football side of the business. The fallout–pun intended–from Woodward's inept reign doesn't exactly lend credence to Howard's candidacy as the Red Devils' next field boss, but the gaffer's position is one in which it is possible to lean on subordinates to a far greater extent, both in formulating a playing style and making in-game tactical decisions. Ryan Giggs, having been promised the top job himself, likely wouldn't be too chuffed at the prospect of sitting quietly alongside another outsider on the player's bench, slouching ever deeper into his hooded parka as the poor results mount, but surely a suitably credible assistant could be found among the rest of the United alumni. Ole Gunnar Solskjær perhaps? He has the experience. Roy Keane might do it. He's been amazingly willing to share power in his last two appointments. Paul Scholes is another option, although subordinate status would probably offend him. On the other hand, it's exactly the out-of-leftfield idea another former loose cannon in the United midfield would find appealing. After all, along with his thespian turns and anarchic political advocacy, Eric Cantona has backroom experience in America with the reincarnated Cosmos. Options do exist.
[Yes, yes, I see you. Put your hand down, Nicky Butt.]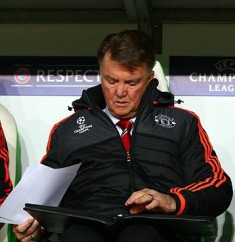 Possessing the ability to empower and work with others may be an advantage Howard enjoys over Van Gaal, but it isn't enough to succeed in a highly competitive arena, especially with no previous experience at any level. As well, sitting motionless in a chair, even with a state-of-the-art joystick rather than a notepad, won't get the job done. That's where Howard's ruthlessness and adaptability enter the picture.
As I mentioned earlier, Howard demonstrated both in developing the fourth installment in the Fallout franchise. It turns out the previous interfaces had, at least in his view, a fatal flaw. Ironically, the issue was certain gamers were utilizing a pacifist method, not unlike United's current possession-oriented approach, to defeat the game's artificial intelligence. Winning without killing any characters had become a sort of cult challenge among some players.
Howard apparently took the challenge personally in developing Fallout 4. What's the point of living in a post-apocalyptic dystopia if you're unwilling to spill any blood, to wreak a little mayhem? The idea of negotiating your way out of danger was a personal affront to the game's creator.
"I can't tell you that you can play the whole game without violence–that's not necessarily a goal of ours."
To counteract this abhorrent philosophy, Howard tried to force players to commit murder. One of the first challenges mandated the extermination of several factions of enemy raiders. It's true one especially persistent gamer found a way around that edict, but he spent more than seventy-five hours discovering a successful stratagem. The non-violent route was also made more difficult in that Howard sought to stymy such efforts by placing obstacles at both ends of the philosophical spectrum. He limited, and in many cases eliminated, a pacific character's ability to broker a peaceful solution, and also held them responsible for motivating others to do the dirty work. Talk about tactical nous!
It's also true the few who overcome the new interface cannot do so with a clean conscience. There may not be blood on their hands in the literal sense, but it's there in the figurative. Call it an immoral victory. While such manipulations take away the joy of the game for idealists, there is a direct parallel between Howard's methodology and that of football managers who emphasize "defense first" to so-called purists' dismay. So, while Howard's relentless attacking tactics are not invincible, it takes great skill, patience, imagination, and probably luck, to overcome them. Is that not the quality of manager a club like United seeks?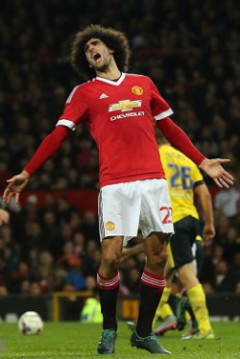 The devil is in the details, of course. One of the initial–and decidedly ironic–challenges Howard would face in assuming the reigns at Old Trafford would be to cure his attacking players of their recent tendency, when not clattering balls off the woodwork, to shoot directly at opposing goalkeepers. Marouaine Fellaini has been the most prolific Red Devil at increasing enemy keepers' save percentages. The Mighty Afrodite deflected United's best chance to get back in the Stoke match, from a perfect Wayne Rooney pass to the center of the six-yard box, directly into Jack Butland's waiting arms. It was merely the most recent in a long line of missed opportunities in all competitions. His one goal in that interval, scored from his knees, only failed to find the keeper because Artur Boruc was not on the Bournemouth goal-line to intercept.
Still, the Belgian is not alone among the United squad in committing such folly. Anthony Martial, Memphis, Juan Mata, Rooney, Michael Carrick, Bastian Schweinsteiger, and most recently against Chelsea, Ander Herrera have not been able to steer the ball to the open portions of goal from close range. In the young Spaniard's defense, he was perhaps too close to Thibault Courtois to do so, and he did force the Blues number one to at least dive to keep the ball out. Regardless, if Todd Howard can teach his players to hit the broad side of the barn rather than the farmer guarding the door, he is possessed of the murderous intent which the current United eleven so desperately lacks. It's said a squad takes on the personality of its manager. If the notion is true, Manchester United couldn't do better than to install Howard as their next boss.