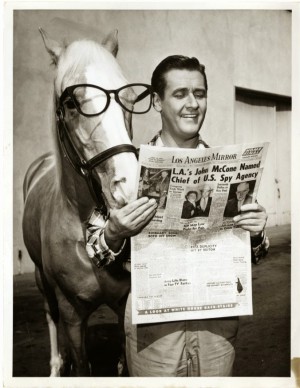 For anyone not familiar, Mr Ed was the name of a talking horse in a successful 1960's US comedy show, guiding his klutzy owner through life as well as causing mischief for his own amusement. Frankly, a fictional talking horse would be a far more effective chief executive than our very own Mr Ed, as in Woodward. With all the talk over Van Gaal's future–and despite the Dutchman's moaning, rightly so–Woodward has largely escaped criticism.
What really grinds one's gears about this is that Woodward should not escape criticism. If anything, he should cop more flak than the manager. Woodward has been more incompetent and clumsy than a western military bombing run in a Middle Eastern country. As I have highlighted before, United are in desperate need of a sporting director/director of football to handle the football side of things while Woodward conducts the search for United's official toilet seat partner.
However, as Van Gaal's reign has lurched from depressing boredom into a full blown crisis and after three years of baffling decision making I'm starting to think Ed Woodward should be gone altogether. Though he resembles a rejected Jim Henson Muppet design, Woodward is a competent banker (not hard) and a shrewd commercial dealer, but in the realm of football he is about as useful as a chocolate teapot. His embarrassing conduct in the transfer market, terrible media relations, and rubbery, disturbingly chinless face are beginning to tarnish the club. He is comparable to former discarded Nike mascot and highly paid rent-a-quote Garry Cook, who after one too many silly outbursts and PR disasters was forced to resign from his executive role at Manchester City.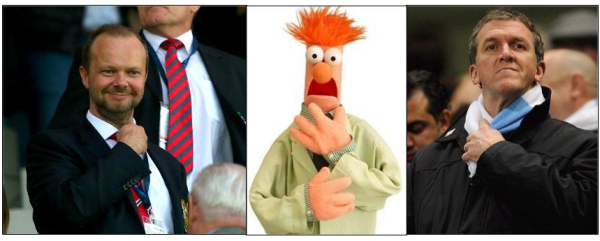 Woodward is walking the same tightrope right now. His first season at United was shockingly inept. Botching transfer deals, overpaying for a Belgian Sideshow Bob tribute act, and leaking Moyes' sacking to the press before the poor bugger knew himself was a comedy of errors. Even his one success, the capture of Juan Mata, looked like a bungled bank heist. He paid too much and being terrified of any request to sell Wayne Rooney, a man so far past his best his best is in the Bronze Age, he refused to meet any of the Stamford Bridge crew face-to-face. Presumably he hid in a massive nuclear bunker somewhere, which the club wasted money on building instead of buying a sorely needed centreback.
Nevertheless if Van Gaal does indeed resign or leave by "mutual consent," Ed Woodward needs to follow him out the door. Should he remain, the club's high standing and reputation will continue to be torn up and tossed down the toilet.
If (or more likely when) the irascible Dutchman is given the flick, the question is who should take over? Giggs seems to be the logical front runner by the heady virtues of being nearby and being Ryan Giggs. I was once sold on this idea but the longer things have gone, the more I feel a clean slate is needed. Mourinho is the media's favourites–and Mourinho's favourite–but how a protégé and younger version of Van Gaal is a wise choice is a question that needs addressing.
We've gone for the long-term option in Moyes and tried the get-rich-quick scheme with Van Gaal, so it's time for United to go completely leftfield and have some fun. Employ a top method actor in character as a football manager to do the job.
Is Daniel Day Lewis free right now? You could do a lot worse than signing up the greatest method actor since Marlon Brando, in character as Alex Ferguson, to do the job. His commitment to studying characters and the subjects of his work might see him bring the glory days back to Oh Tee and become the greatest football innovator since Rinus Michels.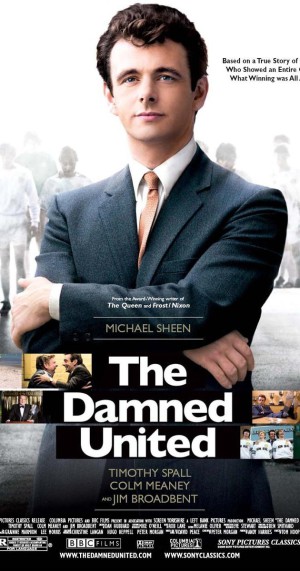 In fact such is his talent, at worst he will do a better job than United's current manager and immediate predecessor. At a push he could impersonate the more relevant 1994 Louis Van Gaal.
Does Michael Sheen fancy playing Brian Howard Clough again but for a longer stint this time? Clough would have certainly fancied a go at the United job, so why not pick the next best thing? Sheen delivered an almost perfect impersonation of an English footballing great, let's have him in character with Tim Spall as Peter Taylor inspiring United to glory by scouting and buying players nobody has heard of who turn out to be brilliant.
Some of you may accuse my suggestions of being unhelpful and silly. Well, I am a writer, so being unhelpful and silly is part of my job. Furthermore, my suggestions still make more sense than anything Ed Woodward has managed in his two-and-a-half year tenure as Chief Executive. Goodbye Edward, we will at least miss laughing at you if not anything else.