Because if my eyes don't deceive me
There's something going wrong around here

–JJackson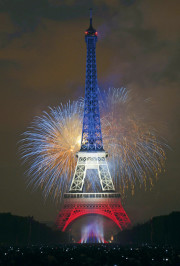 Life is never dull. There is always something around the corner when least expected. For instance social media has unfortunately rendered dogs and cats dressed as celebrities or politicians all too commonplace. Now that pet impersonators are de rigueur we find Donald Trump sweeping Republican presidential polls as excessively as his famous comb-over and David Beckham named People's Sexiest Man Alive at forty, two and a half years after his retirement from the pro ranks and just a few days after his sixteen-year-old son replaced him in a UNICEF charity match at Old Trafford. The magazine's accompanying photo/video shoot shows Becks working out and, in fairness, his well-maintained physique does give new meaning to the term dad bod.
But there are some things which are just not normal, that you'd never–and I mean never–expect to see or hear. For a football fan Leicester City sitting atop the Premier League table in the third week of November is definitely on the list, and a mate asking whether you think Manchester United are looking past their midweek Champions League match against PSV Eindhoven to Saturday's first place v second tilt at the King Power Stadium is right next to it.
If that isn't sufficiently certifiable for you, consider the Foxes are where they are despite yielding twenty goals in their first thirteen matches.
They say that looks don't count for much, and so there goes your proof.
No other club above fifteenth in the table has reached that level of defensive frailty. Although their twenty-eight goals scored, largely fueled by Jamie Vardy who in equaling Ruud van Nistlerooy's scoring mark–ten straight Premier League matches–has masked their vulnerability to this point. Will he break the record against the Dutchman's former club? Keep in mind, too, Leicester is coached by a venerable Italian manager, Claudio Ranieri, well seasoned in the thuggish art of Catenaccio. On the other hand United is the only top flight club to have kept their goals allowed total in single digits and they are managed by another Dutchman who studied at the feet of Johan Cruyff, a master of free-flowing Total Football. I'm not a church-going man but I find myself wondering whether this is a passage plucked straight from Revelations. Is the end of days upon us? I'd ask Arnold Schwarzenegger but he's secluded himself away on a Colorado mountaintop to meditate with Axl Rose.
More insanity: Leicester is the fourth club this season to sit alone atop the Premier League, following in Man City, Arsenal, and of course United's footsteps. I'm not sure that's ever happened before. Has it? I'm pretty sure it hasn't. I'm not a statistical nerd and Google isn't exactly forthcoming on the matter so I'm going with a "first time for everything" based on the notion if it had occurred in the past it surely would have been the type of wild season people would bring up all the time. Unless of course the Bookmaker's Guild has conspired to cover it up after suffering massive losses.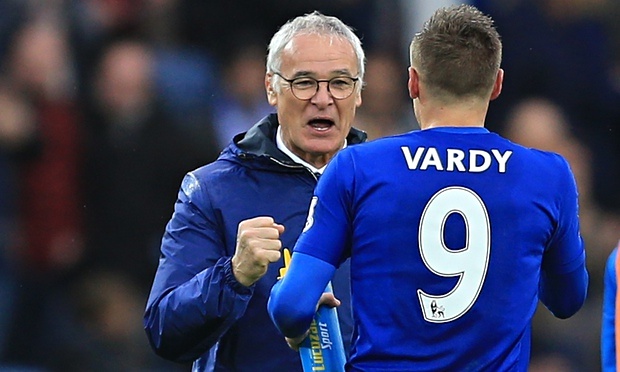 Blackburn are the only squad outside the Billionaire's Club–United, Arsenal, Chelsea, and City–to win the title in the Premier League era and, as the Foxes now are, were faced with the challenge of keeping United out of the hen house to do so. The Riversiders had some help from West Ham, however, with the Irons living up to both their nicknames in hammering out a season-ending draw with the Red Devils when a Mancunian victory would have seen them sitting on twenty-one rather than twenty titles today. Of course Match Day Fourteen does not enjoy the final word on eventual champions. Nor will Ranieri's lads be able to rely on outsiders to cling to their narrow lead; they're very much on their own. Moreover the combination of United's stingy defense and Leicester's far more generous group suggest a story more in line with Sir Alex Ferguson's first Premier League title, when an upstart Norwich City faded in the season's final weeks.
Foxes are trickier to cage then canaries, however, and the season is still young. Of course, with all due respect to PSV, Man United fans have a week to both scratch their heads and rub their hands in glee, wondering how it came to this and anticipating the opportunity to once again stake a claim on that elusive twenty-first championship. Oh, and those of us in America get to gorge ourselves on turkey in the bargain. Who could ask for more?