Ian Patterson is joined on Google Hangout by Joey Tabor from across the pond to preview Saturdays encounter versus West Bromwich Albion.
Content at Stretty News TV is finally free flowing again following an exclusive interview with Stoke City defender Ryan Shawcross.
The lads take 16 minutes to preview Manchester United v West Brom and your feedback is greatly appreciated.
Offer
ApolloBet have a special one-time only sign-up offer for United fans. Anybody that signs up before 3pm on Saturday afternoon, deposits and places a £10 bet on United to beat West Brom, will be paid out at odds of 5/1* – instead of roughly 3/10 with most other bookies. You will be paid out cash for the original odds (3/10) and then paid the enhancement (so roughly £50 as a FREE Bet) – you can then use this FREE Bet on any market.
Effectively, on paper (of course, nothing is played on paper in football) that looks a relatively straight forward £60 for anybody that goes directly through the link in this thread. In addition – If United fail to win, you will be refunded/given back your £10 stake..so it's virtually a no lose situation, especially if you are one of the many that do like to have an accumulator/bet of a weekend.
Of course, United aren't having the best run at the moment, but after the midweek win against CSKA Moscow, surely the enhanced odds are worth playing? Goals have been a problem in general, but as with most things in football things can quickly turn around and quite frequently you see a side that can't score suddenly get 4 or 5 in one game.
Surely this is worth a go guys?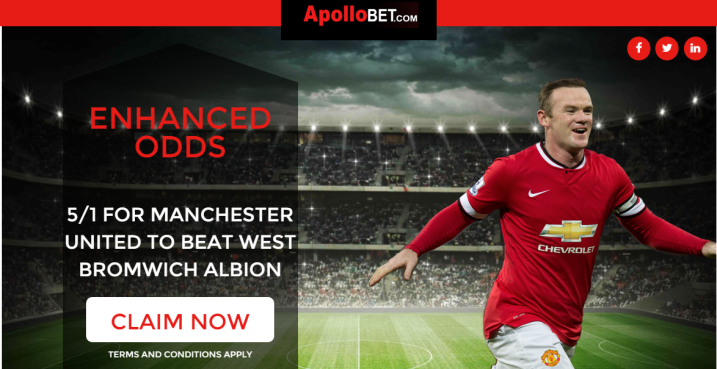 Please sign up through THIS link only >> http://bit.ly/UTDVWBA